The future of Star Wars is TV. On the immediate horizon is Obi-Wan Kenobi, which will finally make its debut next week after years of anticipation. To follow later this year will be the first season of the spy thriller Andor and the return of old friends in The Mandalorian Season 3. In 2023, Ahsoka will continue the events of the MandoVerse, and Leslye Headland's The Acolyte figures to be part of next year's equation as well.
Less certain to the public is the road ahead for Star Wars on the big screen. Previously slated for a December 2023 release, Patty Jenkins' Rogue Squadron has fallen victim to the latest theatrical delay in the galaxy far, far away. Instead, Taika Waititi's untitled film now seems poised to be Star Wars' next venture into theaters, though a specific release window remains undefined. Michael Waldron is currently penning the Kevin Feige-produced Star Wars film, another project that will play a large role in the franchise's future.
But how defined is that segment of the future? The beginning of Lucasfilm's time under Disney is infamous for lacking a plan, a decision that proved costly for the companies when the sequel trilogy was met with harsh criticism. Fans will be relieved to hear that, going forward, there is a plan - one they can expect to learn more about sooner than expected. The natural question is if Lucasfilm will be taking influence from their Marvel Cinematic Universe counterparts, which has recently been addressed by the head of the company.
Lucasfilm Has a Road-Map, But No Phases
In an interview with Vanity Fair, Lucasfilm President Kathleen Kennedy discussed the plan for Star Wars' theatrical future, calling it "a road map:" 
"We have a road map. I would say that Taika's story fits more specifically into that. Rogue Squadron…we kind of pushed off to the side for the moment. Patty is developing the script further. Then we will talk about how that connects to the central spine that we're working on."
Kennedy noted that there are filmmakers she has in mind to work with, but is seeking someone who can "come in and make the overall commitment" like producers Jon Favreau and Dave Filoni:
"There's a couple of [filmmakers] that we've been in conversation with over quite a long period of time that I'm hoping will come in and make the overall commitment that Jon and Dave have made. That's ideally what I would love to see happen in the feature space."
When asked if Lucasfilm planned to follow the MCU's style of storytelling phases, Kennedy declined the notion and instead spoke of a need for "persistent storytelling:"
"I wouldn't go so far. Kevin is an anomaly—an amazing one. But [the goal is] definitely having somebody make more of a commitment. I hesitate to use the word trilogies anymore because Star Wars is much more about persistent storytelling."
Kennedy was then asked about director Rian Johnson's involvement with Lucasfilm. She claimed that, while he remains involved in discussions with the company, his other projects have kept him out of the company's immediate plans because he "hasn't had the time to devote:" 
"Rian has been unbelievably busy with Knives Out and the deal that he made at Netflix for multiple movies. I've had meetings with Rian; he's somebody that's come in as part of our little brain trust discussions along the way. He remains very committed to what it is we're trying to do. He just literally hasn't had the time to devote."
According to Kennedy, there's "a three, four, five-year commitment" waiting for whoever they're interested in that can commit that kind of time to the franchise: 
"That's what I'm saying: Anyone who comes into the Star Wars universe needs to know that it's a three, four, five-year commitment. That's what it takes. You can't step in for a year and shoot something and then walk away. It just doesn't work that way. So it requires that kind of nurturing."
Lucasfilm Looking For Commitment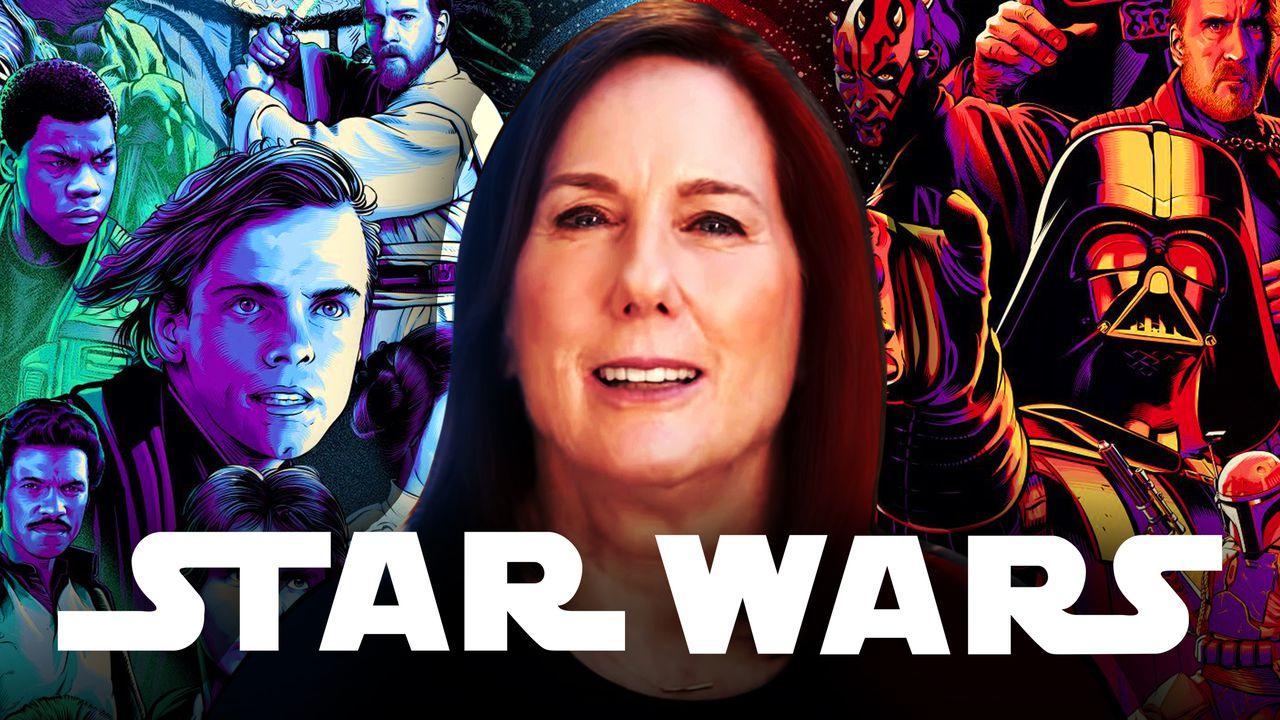 It appears that Kathleen Kennedy has learned many lessons following the sequel trilogy debacle. Many Star Wars fans remain irate over the lack of a plan for three films, and Lucasfilm knows the approach was unacceptable. To rectify this, Kennedy is looking to find filmmakers who are willing to follow in Jon Favreau's footsteps - diving deep into the Star Wars universe and remaining immersed in the work until a project like The Mandolorian is fully fleshed out.
Word of Taika Waititi's film falling more in line with the plan mapped out is intriguing. Kennedy has discussed the need for the franchise to deviate from the eras of the Skywalker saga, and one has to figure that Waititi's story would be a starting point for that. Perhaps rumors of an Old Republic-era movie are true, and Waititi's movie will be connected in some way. It's a fair bet that series on Disney+ in the coming years will have ties to what comes next on the big screen as well. 
With all of that in mind, there are even more questions about the future for Rogue Squadron. It seems as though the movie was greenlit before the current road map was established for Star Wars, and after delays incurred due to creative issues, it appears that there were some second thoughts coming from Lucasfilm.
If the film doesn't serve a purpose for the company's creative interests, it may end up being toast. However, there's always the possibility such a project could factor into something like the MandoVerse later on.
At this point, Lucasfilm needs creators who are willing to take a journey with them. The Netflix deal David Benioff and D.B. Weiss signed is a large factor in why the pair got canned, and Rian Johnson seems to be on the same track. While The Last Jedi director's trilogy is currently just "back-burnered," the lack of commitment leads one to assume Kennedy's words are diplomatic.
With any luck, Lucasfilm has since found filmmakers who are prepared to go all-in on Star Wars, and fans may even be introduced to them next week during Celebration.
LATEST NEWS
TRENDING