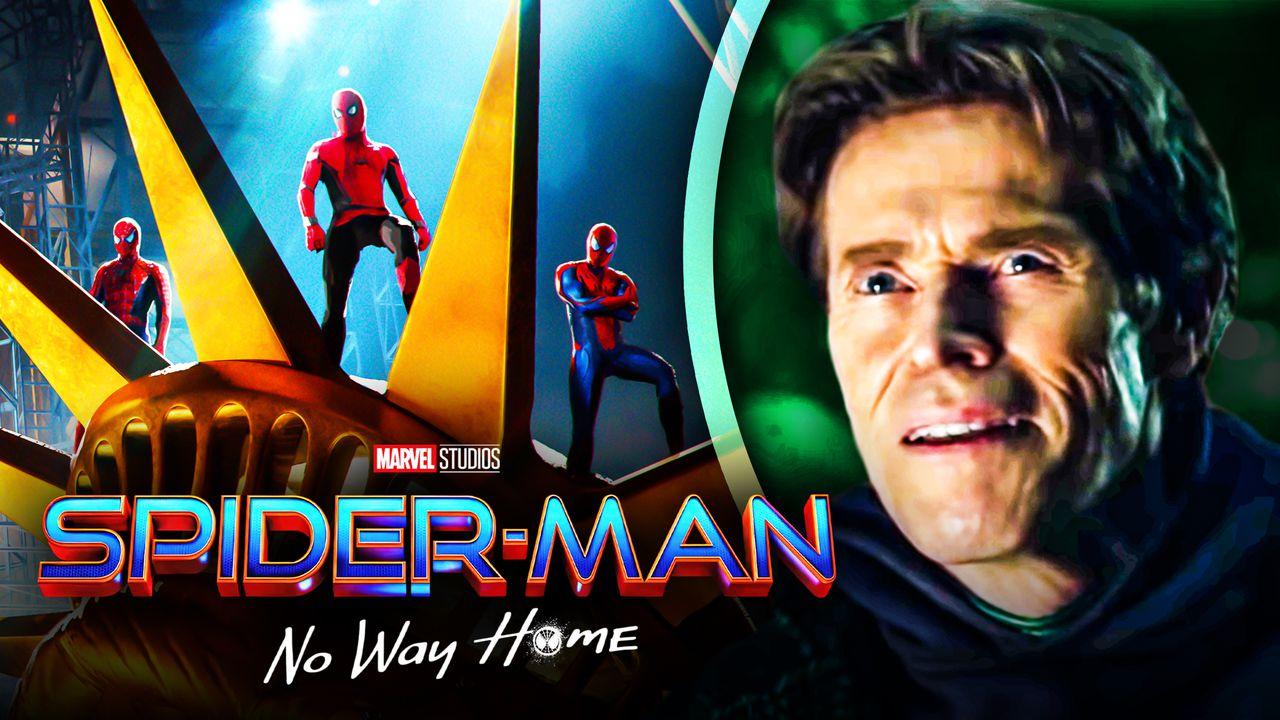 Marvel Studios and Sony Pictures' Spider-Man: No Way Home remains the biggest event in the entertainment industry as it climbs up the box-office charts. Featuring all three cinematic Spider-Men teaming up with iconic past villains like the Green Goblin and Doctor Octopus, this threequel became something truly special amongst its MCU counterparts.
In almost unbelievable fashion, this movie's final battle brought together all three generations of Spider-Man's live-action movie history as the web-slinger trio administered cures to the Multiversal villains they fought. With this fight even featuring a surprising team-up moment with Alfred Molina's Doc Ock, the scene brought countless nostalgic moments while allowing the heroes to set the Multiverse right.
Willem Dafoe's Goblin led the villainous side of the fight in No Way Home, which allowed the actor to show Norman Osborn's truly terrifying side as he took on Holland and his fellow Spideys at the Statue of Liberty.
Now, fans are getting a look at an early version of this moment through a new piece of concept art on social media.
Green Goblin vs. Spider-Men in Final Battle
Spider-Man: No Way Home concept artist Marek Okon took to Twitter to share a piece of concept art from the movie's final battle featuring all three Spider-Men and the Green Goblin.
Willem Dafoe's Goblin holds a pumpkin bomb and faces the head of the Statue of Liberty, where Tom Holland, Tobey Maguire, and Andrew Garfield's Spider-Men stand on top of Lady Liberty's head. This art shows Holland in his black-and-red suit from the beginning of the movie, likely meaning the Integrated Suit hadn't been conceptualized for No Way Home yet.
Between them stand Alfred Molina's Doc Ock, Jacob Batalon's Ned, and Zendaya's MJ as they look to face Norman Osborn one last time. This came after Doc Ock got his new inhibitor chip as he stood alongside the heroes to stop his crazed science colleague.
Okon revealed that this was his favorite piece of concept art from the Spider-Man threequel that he created with fellow concept artist Maciej Kuciara. He described it as "working on a fanart" and not feeling like it was actually something that would be used in a real movie, letting him geek out as he designed it:
"Here is my favorite keyart from Spider-Man: No Way Home

Crated with always inspiring @maciej_kuciara

It felt like I was working on a fanart rather than production asset. With so many iconic characters in one frame I was geeking out the whole time :]"
The full piece can be seen below:
"Can the Spider-Men Come Out to Play?!"
Although the Green Goblin didn't have as much screen time in the final battle compared to his villainous co-stars, that didn't stop him from making his presence felt in a big way as he wreaked havoc upon his arrival. This came as a turning point moment in No Way Home's climactic final fight, as Holland's Peter did everything in his power to get revenge for the death of Aunt May.
This quickly became one of the most emotional final battles in MCU history as all three Spider-Men had to work alongside Doc Ock to stop Osborn, who had completely lost himself to the Goblin personality by that time. Although the action didn't play out specifically the way it does in this piece of concept art, the final cut showed similar action as Norman Osborn went after anybody who stood in his way.
Prior to this moment, the battle at Lady Liberty had come to something of a standstill after the Lizard and Electro were cured, but the Goblin changed that in a heartbeat as he and his bombs came out of the shadows.
While this concept art was likely developed long before filming for No Way Home took place, Sony and Marvel did everything in their power to keep moments like this a secret. That didn't end up working as well as expected due to so many leaks surrounding the movie, but regardless, this scene still came in with a bang as the ultimate battle between good and evil raged on.
Spider-Man: No Way Home is now playing in theaters worldwide.