Spider-Man: No Way Home continues to make its run through theaters as fans take in some of the biggest moments and action from any solo movie in MCU history. Kicking things off right from the start with Mysterio revealing Peter Parker's secret identity, things only proceeded to get crazier with each progressing scene as villains and heroes from the Multiverse entered the fray.
Thanks to numerous leaks and announcements that filled the internet for nearly two years, the marketing for No Way Home focused on the movie's team of classic Spidey movie villains, sometimes referred to as the Fearsome Five. Everybody from Alfred Molina's Doc Ock to Jamie Foxx's Electro made their presence felt in the story before the three Spider-Men cured them and sent them back to their worlds.
As more villains found their way into the cast, the idea of a Sinister Six in the MCU became a real possibility, although it didn't turn out that way in the final cut. However, thanks to a new piece of concept art that's found its way online, that concept wasn't off the table for Marvel and Sony in the early stages of development.
Mysterio Included in No Way Home Concept Art
Concept artist Andrew Reader shared early concept art featuring Jake Gyllenhaal's Mysterio fighting Doctor Strange at the Statue of Liberty from Spider-Man: No Way Home.
Quentin Beck is seen using the powers he demonstrated in Spider-Man: Far From Home, which were eventually revealed to be the work of Stark drones and the EDITH glasses that Tony Stark gave to Peter Parker.
On the other side of the image, Benedict Cumberbatch's master magician is flying behind Lady Liberty's head and using his magical shields against his new foe.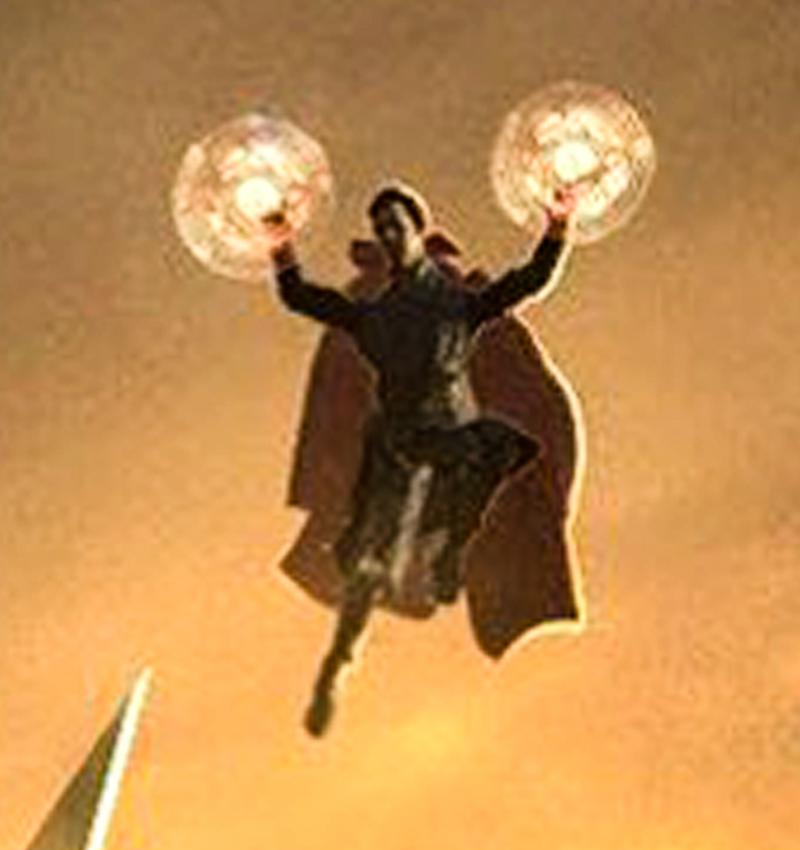 The Statue of Liberty is being torn apart by Doctor Strange's magic, and the image of the Statue was developed before the monument became something of a shrine and tribute to Captain America.
The MCU Almost Had a Sinister Six
Once Spider-Man: No Way Home started bringing in multiple antagonists from Tobey Maguire and Andrew Garfield's Spidey movies, fans began picturing what a true Sinister Six in the MCU would look like, especially knowing that Sony had plans to bring that to life at one point in time. It appears that this almost came into play in the MCU's Spider-Man threequel, and looking at the movie's predecessors, the path didn't seem too far out of line.
Mysterio's supposed death was a major plot point to close off the Infinity Saga, which became even more important once he outed Peter Parker as Spider-Man to end that movie and start No Way Home.
The chances of him actually being alive seemed to be fairly high taking all things into consideration, and this art shows that he was set to make a return in some form during No Way Home's early stages of production. Multiple pieces of promotional material pointed to him having a presence in No Way Home regardless of whether he had a role in the story.
This appearance would have made Mysterio the only villain in No Way Home to have actually been in the MCU before, adding a new wrinkle for Peter to handle outside of his Multiverse problems. Whether that inclusion would have changed the core story is a mystery, and it's unclear if fans will see Mysterio later, but it's becoming evident that Marvel and Sony may not be done with his story quite yet.
Spider-Man: No Way Home is now playing in theaters worldwide.
---
Release Date
December 17, 2021
Platform
Theaters
Richard Nebens joined The Direct in March 2020, now serving as the site's Senior Writer and also working as an assistant editor and content creator. He started his journalism career as a hobby in 2019 and is passionate about sharing news and stories from the entertainment industry, especially comic book movies, comedy, and sci-fi. Richard looks to expand his knowledge about movies and TV every day, and he is eager to stay locked into the latest releases and breaking news at every opportunity.