Spider-Man: No Way Home was Marvel's last release of 2021 and it capped off a stacked year of projects with a bang. Tom Holland's third solo Spider-Man film certainly had a lot going on with characters from both the Marvel Cinematic Universe and the wider Sony Spider-Man franchise coming together on-screen for the first time. 
No Way Home pulled off something that many thought would be impossible as it opened the Multiverse and brought in dozens of legacy Spider-Man characters, including two extra Spider-Men with appearances by Tobey Maguire and Andrew Garfield's Peter Parkers. Plenty of planning went into the duo's involvement with scenes even being rewritten late into the process after both actors had signed on.
Another advantage that Holland's Spider-Man films have is their place within the MCU, which allows other Marvel characters to cross over seamlessly. It also allows the films to build up the wider world of the MCU with references and cameos, such as Doctor Strange's appearance in No Way Home.
However, Doctor Strange isn't the only Avenger who plays a big part in Peter Parker's life; specifically, Peter's mentor Tony Stark has remained a constant presence in Holland's Spider-Man films, even after his death.
Tony Stark Appears In No Way Home Concept Art
Spider-Man: No Way Home has been in theatres for some time now which means plenty of behind-the-scenes information is starting to come out. Spider-Man: No Way Home concept designer Maciej Kuciara shared a piece of concept art on Twitter showing the detail that went into one of the scenes at the high school.
The scene depicted captures the chaos from Peter Parker's return to high school after the world discovers his identity as Spider-Man.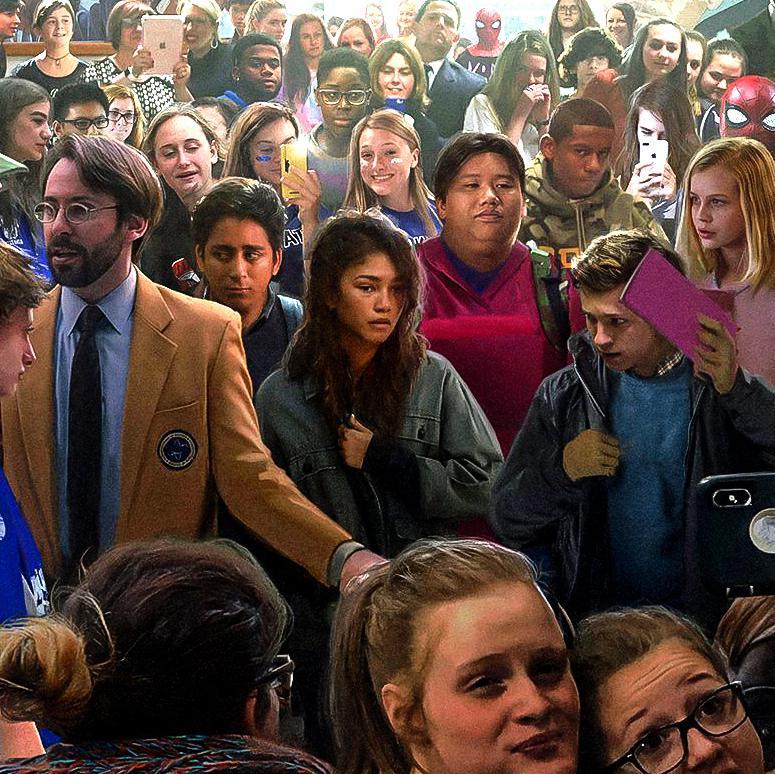 Another important element spotted in the concept art is the mural painted into the background of the school which features influential figures like Albert Einstein and Marvel's own Tony Stark.
Looking further at the mural, it reveals other Marvel alumni including Tony Stark's father, Howard Stark, and Natalie Portman's Jane Foster from the Thor movies.
The high school mural has been shown before in Spider-Man: Homecoming and clearly features Howard Stark. It appears the No Way Home concept art shown here planned a few new additions for the mural.
Spider-Man: No Way Home' Tribute To MCU Legends
It's no secret that Peter Parker is hugely influenced by his time with the Avengers and particularly by his mentor Tony Stark. It was made clear in Spider-Man: Far From Home just how much of an impact Iron Man's sacrifice had on the world with art and dedications popping up all over New York for the fallen hero.
It seems that Spider-Man: No Way Home might have also planned to pay tribute to Iron Man by updating the high school mural to include Tony Stark.
Another interesting addition to the mural in the Spider-Man concept art is Jane Foster. Throughout the Thor movies, Foster has proven herself to be a prolific astrophysicist. In Avengers: Age of Ultron Thor boasted of Foster's achievements as "the world's foremost astronomer" and even hinted that she might be up for a Nobel Peace Prize. 
Natalie Portman is due to play Foster again in Thor: Love and Thunder where she will also take up the mantle of the first female Thor, so it will be interesting to see how her fame and achievements have developed since her last appearance in Thor: The Dark World.
While Spider-Man: No Way Home spent plenty of time dealing with the legacies of the villains and heroes that came through the Multiverse breach, this concept art also shows how much influence the wider MCU has on Tom Holland's Spider-Man.
Spider-Man: No Way Home is in cinemas now.