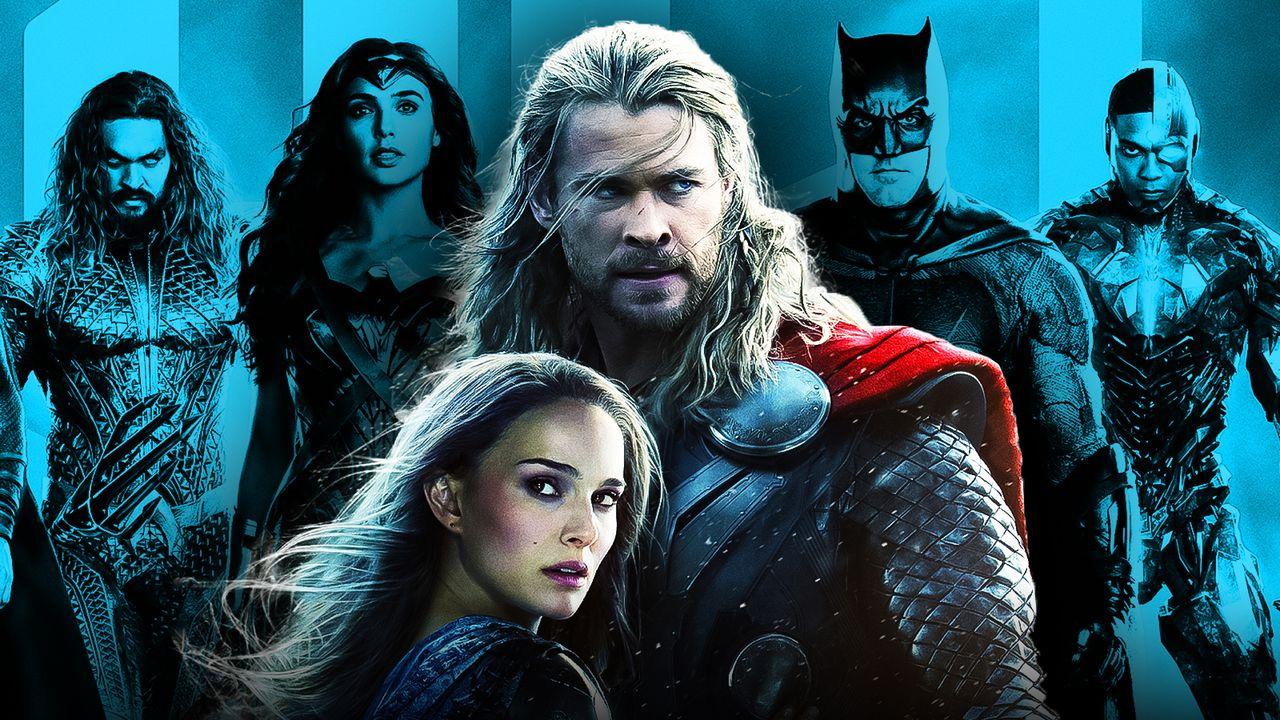 Thor has been a pretty popular character in the MCU recently. In fact, his upcoming film, Thor: Love and Thunder, is one of the most anticipated MCU films on the schedule. Oddly enough, though, the God of Thunder didn't always have this love.
It was 2017's Thor: Ragnarok's drastic shift in tone and narrative which allowed Chris Hemsworth the freedom he needed to truly hit those high notes for the character. These changes went on to make his role in Avengers: Infinity War and Avengers: Endgame all that much more impactful.
Back when Thor premiered in 2011, Hemsworth's arrogant God was liked but generally not nearly as much as other characters. It was Thor: The Dark World that was the lowest point for Thor and the franchise—at least in the mind of the general consciousness.
But if given a chance much like Zack Snyder was with Justice League, would the film's director return to fix what was broken?
Justice League Setting an MCU Precedence
During a conversation with Inverse, Thor: The Dark World director Alan Taylor commented on his MCU experience, one which has a rocky reputation with most fans.
There doesn't seem to be any bad blood between Taylor and Marvel, with the director saying that "[he has] huge respect for [Marvel Studios President] Kevin Feige:"
"First of all, I have huge respect for Kevin Feige. I think he's doing something that no one else has ever done before and that nobody thought was possible until he did it. Now, everyone's trying to imitate it."
Taylor didn't shy away from being honest, admitting that "the process was not fun" and that the whole experience was "not the ideal way to work:"
"For me, the process was not fun. I focused all my attention on making a certain movie. And then in the editing process, decisions were made to change it a lot. He's got an empire he's running and things have to be changed to fit into other things. My regret was that the movie that got released was changed quite a bit in a way that I couldn't shape really. I mean, I shot all the material that we put in the movie, but we set out to make one movie, and then major plot points were reversed in post. It's not the ideal way to work."
As for what he had originally shot, the director said that the first version of the film had "a wonder to the thing that was beautiful to [him]:"
"So yeah, I have a great fondness for some of the things that went away in the original cut. There was a kind of quality a wonder to the thing that was beautiful to me. I think I was brought in to bring some Game of Thronesiness to it in reaction to the first Thor, which was a little too shiny, was my feeling. And then partway through, they started to realize that they wanted to hit in a different direction. So it was kind of a stumbling process."
Would Alan Taylor like to follow in the footsteps of Zack Snyder's Justice League? Of course, the director "would love to," but he was fairly confident that "[he didn't] think [he was] going to get that phone call:"
"I was cheering for Zack Snyder when he was doing that and thinking, Will he pull this off? This is amazing... I think every director was kind of rooting for that. I would love to, I mean to. Can you imagine that? They give me however many millions of dollars they gave him to go back in. Yeah, I don't think I'm going to get that phone call."
Thor: The Dark World's Second Chance?
The problems behind the scenes for Thor: The Dark World are no secret. In fact, Marvel Studios President Kevin Feige commented on it publicly, mentioning how needing 35 days of additional photography wasn't the best of signs for the film.
Then, there's Zachary Levi, who has spoken out about how Marvel promised him a much larger role for The Warriors Three in Thor's second outing. For anyone who has seen the movie, it's pretty apparent that a lot was cut as Thor's Posey had just as little to do as he did in Thor.
Hopefully, Thor's troublesome storytelling days are over in the MCU. With Taika Watiti's success directing the third film, there's plenty of hope that he will once again hit a home run with Thor: Love and Thunder—this time, even Jane Foster gets in on the action.
Thor: Love and Thunder hits theaters worldwide on May 6, 2022.