Despite the recent wave of marketing for Spider-Man: No Way Home, the Tom Holland-led threequel featuring a rogue's gallery of Spidey villains from franchises past still holds a number of secrets. One of those obvious - and the most important Phase 4 of the MCU moving forward - is that of the Multiverse and how it will affect Marvel's various worlds and realities.
Benedict Cumberbatch's Doctor Strange not only looks to guide Peter through this Multiversal landscape but the audience as well. Still, considering the Sorcerer Supreme's own upcoming film is titled Multiverse of Madness, there's no guarantee that No Way Home will end well. 
Now, just weeks away from the threequel's release, a new teaser has dropped, highlighting the dangers posing a threat to the reality of the MCU. 
New No Way Home Footage Highlights Multiversal Dangers
A new Korean TV spot for Spider-Man: No Way Home revealed a significant amount of new footage of the Mirror Dimension and the sky above New York City seemingly being torn apart. 
Due to the background and the fact that Peter still has that mysterious box, the first shot of this new teaser appears to be from that scene where Doctor Strange watches Peter trap himself through two portals using his web-shooters. 
Reality appears to shatter and break around Peter as he falls forward, followed by Doctor Strange talking about having "tampered with the fabric of reality." Other new footage involves that of the Mirror Dimension, including Peter Parker attempting to wrestle that box away from the Cloak of Levitation.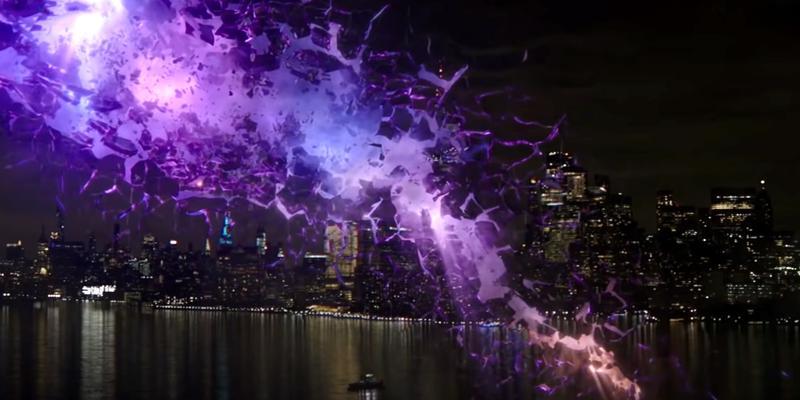 One of the most interesting shots is one that fans have seen before in past trailers. As the night sky over New York City is streaked with purple, Strange says, "They're starting to come through and I can't stop them." However, this new spot doesn't stop there but rather shows those violet hues expanding and seemingly tearing through the city and possibly reality itself. 
The last few clips show new shots of Spidey in action and conclude with Jacob Batalon's Ned Leeds walking into Doctor Strange's sanctum saying, "I can't believe I'm in the Sanctum Santorum" before Strange quips back, "Neither can I."
The full teaser can be seen below:
The End of One Trilogy, the Beginning of Another?
Through WandaVision, Loki, and What If...? on Disney+, Marvel has been laying the groundwork for an epic Multiversal story; and even though Spider-Man: No Way Home is the conclusion of one trilogy, it's also the beginning of another that will continue in Multiverse of Madness and likely Thor: Love and Thunder and beyond.
Marvel fans know that Loki's Kang the Conqueror is set to appear in Ant-Man and the Wasp: Quantumania; but whether he - or versions of himself - will appear earlier is still unknown.
Another question fans have is just what events from Marvel's Phase 4 freed the various timelines and created these threats to Marvel's various worlds and realities. Was it Wanda's actions in WandaVision, Sylvie killing He Who Remains in Loki, or Peter Parker and Doctor Strange's doomed spell? 
Hopefully, No Way Home will provide some clarity as Spidey and Strange dive into the Multiverse and lay the foundation for the next chapter of the MCU.
Spider-Man: No Way Home swings into theaters on December 17, 2021.