Spider-Man: No Way Home has finally come home, as fans can now purchase the film on digital platforms like iTunes and Vudu. This comes as the MCU Spidey threequel continues its extended run in theaters, earning close to $800 million domestically so far - and rightfully so. No Way Home for a number of reasons brought fans back to the movie theaters to celebrate nearly twenty years of wall-crawling movies. 
The Tom Holland-led MCU epic saw Marvel Studio's young hero get paired up with both past big-screen Spider-Men in Tobey Maguire and Andrew Garfield, ultimately ending in Holland's webhead learning what it really meant to be Spider-Man.
One of the most exciting things Garfield and Maguire left Holland's Avenger with was the inspiration for his final suit of the film. Seen in the concluding moments of No Way Home, this comic-accurate costume featured bright blue highlights along with that signature Spidey red. 
However, one detail on that final suit has yet to be uncovered... until now! 
Going Gold in No Way Home
Merchandise illustrator Rob Brunette released his work from his time on Spider-Man: No Way Home, including a new detailed look at Tom Holland's final Spidey suit seen in the film:
Brunette shared via his Instagram:
This is my final illustration from the No Way Home project. I absolutely loved this ending scene and the beautiful design of this new suit. It was such an honour to have the opportunity to work on all three Spideys for this film. I'm still processing it all but I hope you enjoy these images. This really meant a lot to me.
Taking a closer look at the final suit, one can see that what was thought before to be a simple black spider emblazoned across the chest actually has a reflective gold hue: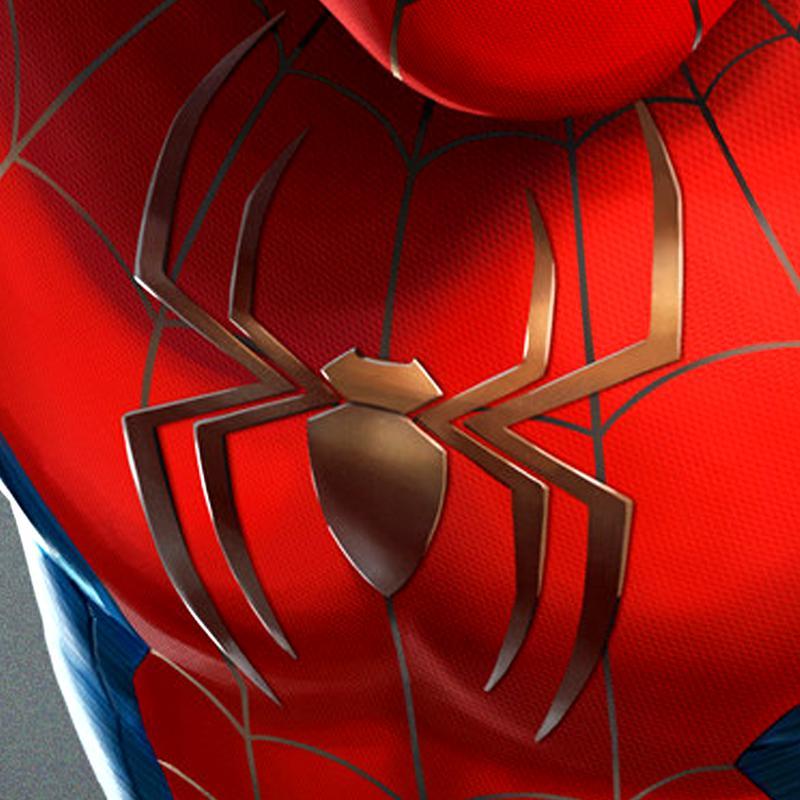 This look at the gold spider is not a concept drawing but an actual image that was used by Marvel in "official Marvel merchandise material and consumer products" for the film, meaning that the final suit does actually include this sparking detail. 
Gold Spidey, Gold!
What was thought to be the typical red, black, and blue Spider-Man suit seen at the end of No Way Home seems to be a little more than just that.
It was implied that Holland's Peter took inspiration from Tobey Maguire and Andrew Garfield's suits for this final look. So, could this gold spider be a touch to honor his own history as the character? 
The gold does invoke a bit of the Iron Spider or Integrated Suit seen so far in Holland's wall-crawling tenure. And what better way for this young hero to honor the legacy of Spider-Man than to combine all three eras into one cohesive look?
And it is a subtle touch. It doesn't immediately jump out when first looking at it. It is a little more subdued than the bright gold of the Iron Spider suit. In the right lighting, some might even think it is black. 
Who knows, maybe in the next film, as this young Avenger moves further away from this era of his journey, perhaps it will be black. But for now, it serves as a tribute to years gone by, before this version of Peter Parker looks to the future. 
Spider-Man: No Way Home is out on digital now.
---