Max's new animated series, Scavengers Reign, is headlined by a strong cast of voice actors. 
Created by Joe Bennett and Charles Huettner, Scavengers Reign revolves around the crew of a space freighter ship that gets stranded on an alien planet. The team must work together to survive as they clash with its dangerous inhabitants and murky conditions. 
Scavengers Reign premiered on Max on October 19. 
Every Main Actor & Character in Scavengers Reign
Wunmi Mosaku - Azi
Loki star Wunmi Mosaku serves as the voice of Azi, one of the survivors of Demeter 227 who gets stranded on planet Vesta. 
Azi works with Levi to build a camp on the planet while also waiting for a potential rescue mission from Earth. 
MCU fans may recognize Mosaku due to her portrayal of Hunter B-15 in Loki. The actress' other credits include Lovecraft County, Citadel, and Alice, Darling.
Bob Stephenson - Sam
Another surviving member of Demeter 227 is Sam (voiced by Bob Stephenson). 
Sam, alongside Ursula, crash-landed in a forest region in Vesta.  While Azi and Levi decided to build a camp, Sam and Ursula went ahead to repair a device that could contact their ship. 
Stephenson is perhaps best known for his role as Sheriff Jimmy Taylor in CBS' Jericho. The actor also appeared in Ultrasound, Making Babies, and The Forgotten.
Sunita Mani - Ursula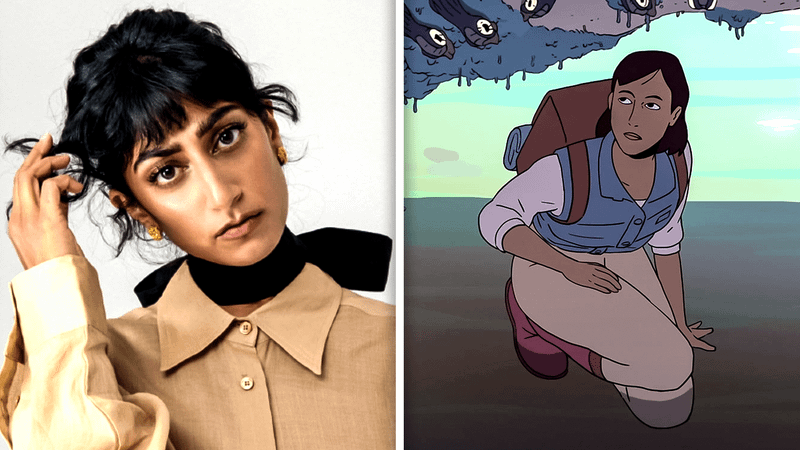 Sunita Mani's Ursula is Sam's partner on planet Vesta after Demeter 227 crashed on the planet. 
She was able to learn how to adapt to the otherworldly creatures and unusual environments since they had been stranded for months. 
Mani is an actress with an impressive resume which includes playing Trenton in Mr. Robot and Arthie Premkumar in Netflix's GLOW. She also played leading roles in Save Yourselves! and Evil Eye.
Ted Travelstead - Kamen
When Demeter 227 crashed on Vesta, Ted Travelstead's Kamen landed in a tree-like environment and he got stuck for a while. 
A mysterious creature then helped Kamen escape from the tree, but he became its slave. 
Aside from acting, Travelstead is known for being a writer in various films and TV shows like The Great North, Making History, and Love at First Sight.
Alia Shawkat - Levi
Alia Shawkat lends her voice to Levi, a serving robot from Demeter 227 who works with Sam while being stranded on Vesta. 
Although Levi suffered from malfunctions when the ship crashed, the robot stayed loyal to Sam throughout. 
Shawkat is best known for her roles in Arrested Development, The Old Man, and The Final Girls. 
Pollyanna McIntosh - Kris
Pollyanna McIntosh joins the stellar cast of Scavengers Reign as Kris.
The Walking Dead fans may recognize McIntosh due to her role as Jadis in Seasons 7 to 9. The actress' other credits include Tales of Halloween, Love Eternal, and Land of the Lost.
Dash Williams - Barry
Dash Williams lends his voice to a character named Barry in Scavengers Reign. 
Williams brought many notable characters to life such as Brian in Fresh Off the Boat, Glenn Pirdoo in Perpetual Grace, LTD, and Aiden in The Remains.
Freddy Rodriguez - Terrence
A new character, Terrence, is voiced by Freddy Rodriguez.
Rodriguez previously appeared in Planet Terror, Poseidon, Bobby, and Harsh Times.
Sepideh Moafi - Mia
Sepideh Moafi voices Mia, one of the upcoming guest stars in Scavenger Reigns' upcoming episodes.
The Iranian-American actress is best known for her roles in The Deuce, The L Word: Generation Q, and Black Bird.
Skyler Gisondo - Charlie
Skyler Gisondo brings Charlie to life in the science fiction animated series.
Gisondo's notable acting credits include Santa Clarita Diet, Booksmart, Vacation, and Licorice Pizza.
Chris Diamantopoulos
Part of the Scavengers Reign cast is Chris Diamantopoulos. 
The Greek-Canadian actor's most recognizable role is portraying Russ Hanneman in HBO's Silicon Valley. Diamantopoulos' other credits include The Three Stooges and Good Girls Revolt.
Okieriete Onaodowan
Rounding out the cast is Okieriete Onaodowan. 
Hamilton fans may recognize Onaodowan for his dual role of Hercules Mulligan and James Madison in 2015's Hamilton. The actor also played Dean Miller in the Grey's Anatomy spin-off, Station 19.
---
Scavengers Reign is now streaming on Max.