My Adventures with Superman highlights an impressive cast to tell new stories about the titular DC hero. 
Before Superman: Legacy introduces a new live-action Man of Steel, this new animated series will explore the younger days of Clark Kent, Lois Lane, and Jimmy Olsen in the Daily Planet while also trying to save Metropolis. 
My Adventures with Superman Cast: Every Actor & Character
Jack Quaid - Kal-El / Clark Kent / Superman
Jack Quaid lends his voice to Clark Kent, aka Superman, in My Adventures with Superman. The series is set to explore Clark's early days of becoming the titular hero while also balancing his day job as a reporter in the Daily Planet. 
Quaid is known for Scream V, The Boys, and The Hunger Games.
Alice Lee - Lois Lane
Alice Lee portrays Lois Lane in the upcoming DC series. It's possible that My Adventures with Superman will explore how Clark and Lois develop feelings for each other while teaming up to save Metropolis. 
Lee is best known for playing Heather Duke in the Broadway production of Heathers: The Musical and her role as Emily Kang on Zoey's Extraordinary Playlist. 
Ishmel Sahid - Jimmy Olsen
Ishmel Sahid plays Jimmy Olsen, Daily Planet photographer, and Clark Kent's best friend. The trailer shows Jimmy helping Clark and Lois to solve crimes, indicating that he will eventually find out his best friend's secret as Superman. 
Sahid's previous credits include Nickelodeon's Cousins for Life and Amazon Freevee's Jury Duty. 
Kari Wahlgren - Ma Kent
Kari Wahlgren plays Martha Kent in the animated series, Clark's adoptive mother and the one he turns to whenever he needs advice. 
Wahlgreen is a veteran in voicing animated characters from projects such as Rick and Morty, Justice League vs. Teen Titans, and Teen Titans: Judas Contract.
Reid Scott - Pa Kent
Reid Scott voices Jonathan Kent aka "Pa Kent" in My Adventures with Superman, Clark's adoptive father from Smallville. 
Scott is best known for Veep, Venom, and Venom: Let There Be Carnage. 
Zehra Fazal - Leslie Willis/Livewire
Zehra Fazal is the voice of Leslie Willis aka Livewire, a DC supervillain who has the powers of electricity. 
Fazal's past voice acting credits include Catwoman: Hunted, Batwoman: Death in the Family, and Young Justice. 
Jeannie Tirado - Lana Lang
Jeannie Tirado is the voice of Lana Lang in My Adventures with Superman, Clark Kent's first girlfriend from Smallville.  
Tirado's noteworthy roles include Leila Malcal in Code Geass: Akito the Exiled, Android 21 in Dragon Ball FigherZ, and female Byleth in Fire Emblem: Three Houses. 
Kiana Madeira - Kara Zor-El / Supergirl
Kiana Madeira voices Kara Zor-El aka Supergirl in the new DC show. The character is the cousin of Clark who was tasked to protect him, but her Kryptonian pod was knocked off-course on its way to Earth. 
In the show, it looks like Supergirl is already an established hero, and her presence makes sense due to the arrival of a dangerous new villain. 
Madeira's past credits include Netflix shows Trinkets and Fear Street. 
Michael Yurchak - Winslow Schott
Michael Yurchak plays Winslow Schott, the alias of a supervillain named Toyman from the comics. 
Yurchak's previous credits include The Christmas Chronicles, Super Troopers 2, and Beerfest. 
Azuri Hardy-Jones - Flip
Azuri Hardy-Jones plays Flip, a member of the Newsboy Legion. In the comics, the Newsboy Legion is a group of kids fostered by police officer Jim Harper aka the Guardian. 
Hardy-Jones is known for 2019's Water Helps the Blood Run. 
Michael Emerson - Brainiac
Michael Emerson is the voice of Brainiac, one of the main villains of My Adventures with Superman. In June 2022, Emerson told Starry Constellation Magazine that this version of Brainiac is a "rogue AI who now controls the whole Kryptonian empire."
Emerson is known for Batman: The Dark Knight Returns, The Legend of Zorro, and the Saw franchise.  
Darrell Brown - Perry White
Darrell Brown voices Perry White, the editor-in-chief of the Daily Planet aka Clark Kent's boss. 
Brown is known for Breaking the Law: Bent Coppers, Dispatches, and Murdertown.
Vincent Tong - Steve Lombard
Vincent Tong portrays Steve Lombard, a sports columnist working at the Daily Planet and one of Clark Kent's allies.
Tong's past voice roles include The Mandarin from Iron Man: Armored Adventures, Daniel in Voltron Force, and Jestro in Nexo Knights.
Melanie Minichino - Cat Grant
Melanie Minichino portrays Cat Grant, an entertainment writer for the Daily Planet who has a crush on Clark Kent. 
Minichino's previous credits include Alto, Spidey and His Amazing Friends, and Scare Package. 
Jake Green - Dr. Anthony Ivo / Parasite
Jake Green is the voice of Dr. Anthony Ivo, the creator of the android villain Amazo. However, given his alias, it seems that My Adventures with Superman will feature a version of Ivo who turns into Parasite.
Green is an award-winning actor whose past credits include The Catch, Grey's Anatomy, and The Boss Baby: Back in Business. 
Laila Berzins - Heat Wave
Laila Berzins plays Heat Wave, a DC villain who is originally an antagonist of Barry Allen aka The Flash. It is unknown why Heat Wave heads to Metropolis, but it's possible that Brainiac recruits her for a mission. 
Berzins's previous credits include Barbie & Chelsea: The Lost Birthday, Row 19, and The Son of Bigfoot. 
Catherine Taber - Silver Banshee
Catherine Taber portrays Silver Banshee, a frequent Superman villain who uses a sonic scream as her dangerous ability.
Taber is best known for voicing Padme Amidala in Star Wars: The Clone Wars.
André Sogliuzzo - Monsieur Mallah
André Sogliuzzo voices Monsieur Mallah, the gorilla servant of Gorilla Grodd and the Brain.
Sogliuzzo's past credits include American Dad!, Avatar: The Last Airbender, Jackie Chan Adventures, and Harvey Beaks.
Jesse Inocalla - The Brain
Jesse Inocalla is the voice of The Brain, a French genius and a criminal mastermind who was a frequent enemy of the Doom Patrol and the Teen Titans from the comics.
Incolla's previous credits are Killbird, The Dragon Prince, and Love in Full Swing. 
David Errigo Jr. - Mr. Mxyzptlk
David Errigo Jr. plays Mr. Mxyzptlk, a character from the fifth dimension who possesses reality-warping prowess. 
Errigo Jr.'s past voice credits include Phineas and Ferb The Movie, Dota: Dragon's Blood, and Pacific Rim: The Black. 
Chris Parnell - Slade Wilson / Deathstroke
Chris Parnell portrays Slade Wilson aka Deathstroke, one of Batman's enemies and the world's greatest assassin. 
Parnell is known for Rick and Morty, Mr. Peabody and Sherman, and Senior Year. 
Jason Marnocha - Jor-El
Jason Marnocha plays Jor-El, the father of Kal-El and Krypton's leading scientist. 
Marnocha is known for his voice roles in Transformers: War for Cybertron, Metarunner, and Hells.
Lara Lor-Van
Lara Lol-Van is the mother of Kal-El and the wife of Jor-El. 
Vicki Vale
Vicki Vale is a journalist from Gotham City and one of Bruce Wayne's romantic interests. 
Rough House
Rough House is the clone of one of the original Intergang henchmen created by Dabney Donovan. 
Amanda Waller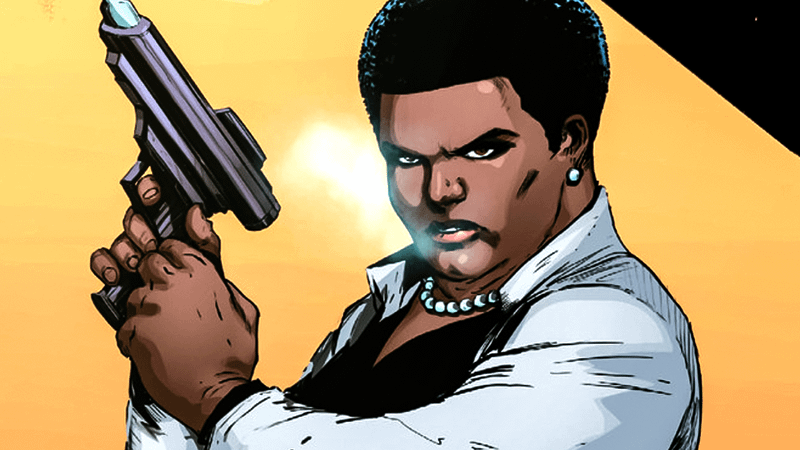 Amanda Waller is the leader of Task Force X, better known as the Suicide Squad. 
---
My Adventures with Superman is streaming on Max.