This is the right place for fans looking to discover all the information about Peacemaker's Season 2.
In 2022, John Cena's Peacemaker was quick to make a positive impression on critics and audiences when its first season was released on HBO Max. It was renewed for a second season before the series even aired its Season 1 finale.
However, later that year, the situation got a little messy.
DC Studios underwent some heavy turbulence, with ever-shifting leadership—drastically affecting the DCEU landscape. Everything seemed to settle down dramatically when James Gunn and Peter Safran took over as co-leads of DC Studios toward the end of 2022.
Despite Gunn now being in charge of the DCU, the future of his former streaming baby remained unclear.
When Will Peacemaker Season 2 Release?
Currently, Peacemaker Season 2 does not have a release window. It wasn't even included in the initial DCU reboot slate announcement—though the continuation will be happening.
On Twitter, Gunn confirmed that the second season is set to debut after Superman: Legacy hits theaters on July 11, 2025. This means, at the very least, fans will have to wait two years before seeing the show again.
Though, a Waller spin-off series is currently in the works with Viola Davis' titular character and a release window before Legacy. So, while it won't be Peacemaker Season 2, fans will still have something related within the next couple of years.
This also means that production for Season 2 won't start until both Legacy and Waller are complete.
Given the current WGA and SAG-AFTRA strikes paralyzing the entertainment industry, it's hard to tell when either of those two projects will even start up. It could be as late as 2025 before Peacemaker starts production.
So, it's probably best for plans to expect a release date in late 2025 or later.
Peacemaker Season 2 Cast: Who Will Return?
John Cena - Christopher Smith/Peacemaker
It wouldn't be Peacemaker without John Cena's Christopher Smith.
While Cena hasn't officially signed on to anything more in the DCU, there's been no sign of James Gunn dropping the actor—and the filmmaker made it clear that a second season will happen.
Cena recently reaffirmed how he "love[s] James Gunn as a human being and Peter Safran as well," so those good relations should keep everything together.
Danielle Brooks - Leota Adebayo
There's been no word on Danielle Brooks' involvement in Season 2 as Leota Adebayo. Seeing as she was such a key character in Season 1, it would be strange for her to miss out on a new adventure.
It wouldn't be at all surprising if Leota ends up showing her face in Waller before Peacemaker Season 2 happens.
Freddie Stroma - Adrian Chase/Vigilante
While Freddie Stroma's Adrian Chase might not be the smartest or most heroic character fans met in the DCEU, he's plenty lovable. From the sounds of it, audiences might not need to wait until Season 2 to see the clumsy anti-hero.
James Gunn recently teased on Threads that Vigilante will "probably" show up "before Peacemaker Season 2." Perhaps in Waller?
Jennifer Holland - Emilia Harcourt
Jennifer Holland's Emilia Harcourt was a main component of Peacemaker's first season, and her dynamic and relationship with Christopher Smith played a key role in the titular character's development. It would be the smart move to continue unraveling that in future stories.
Holland previously appeared alongside Steve Agee's John Economos in the post-credits scene for Shazam! Fury of the Gods. Before that, she popped up in Dwayne Johnson's Black Adam.
Steve Agee - John Economos
Steve Agee is confirmed to be returning as John Economos for both the animated Creature Commandos series and the Waller live-action Peacemaker spin-off.
With the character being utilized that intensely, a role in Season 2, whenever it happens, seems inevitable.
Robert Patrick - August "Auggie" Smith/White Dragon
On the surface, it seems unlikely that Robert Patrick will return as August Smith, aka Peacemaker's son—seeing as Chris shot him in the head in the first season.
That said, he could easily still appear by haunting Peacemaker, and being a personification of the character's doubts and guilts.
What Will Happen in Peacemaker Season 2?
Given how unique Peacemaker Season 1 was, with very little of the show's conflict deriving from any source material, Season 2 could be literally anything.
Perhaps since the freshman run tackled aliens already, maybe the second season will focus on something a little more grounded and close to home.
Some are hopeful that unresolved plot threads from The Suicide Squad could factor in, such as Peacemaker's beef with Idris Elba's Bloodsport. Though, it's unclear if Gunn's previous DCEU film happened in the new DCU reboot timeline, so fans will need to wait to see how that sorts itself out.
Whatever happens in Waller will probably play into the story set to unfold in Peacemaker Season 2. Currently, the Amanda Waller project will be taking place between the first and second seasons of John Cena's show.
Does Peacemaker Season 2 Connect to James Gunn's DC Universe Reboot?
As of now, it seems clear that director and writer James Gunn fully intends for Peacemaker Season 2 to be included in his DCU plans. What further cements this is how Waller, a direct spin-off, is 100% confirmed to reside in DC Studios' new upcoming timeline.
Gunn did confuse fans last August on X (formerly Twitter) when he stated, "Yes, Peacemaker is still and will continue to be DCEU."
While DCEU is the moniker generally used exclusively for the Snyderverse timeline, here, it seems clear that Gunn is simply reaffirming John Cena's place in the DCU's future.
Peacemaker Season 2 Trailer: When Will It Come Out?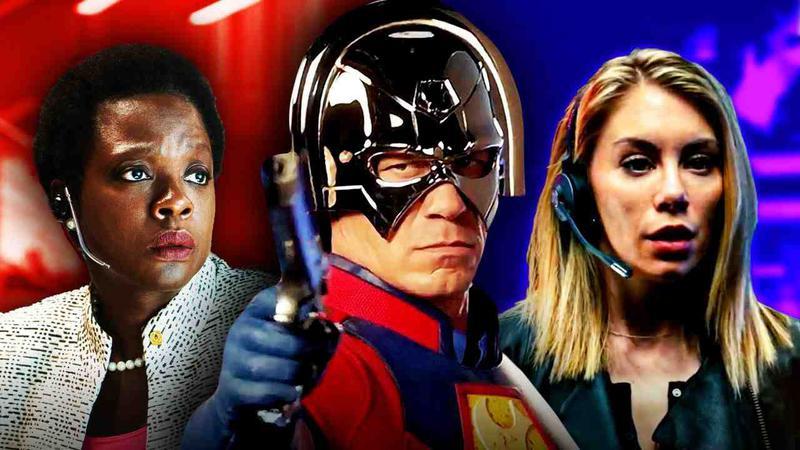 The first season of Peacemaker wrapped filming on July 11, 2021, and the first trailer dropped on October 16 of the same year—roughly three months before the show debuted on HBO Max.
Fans shouldn't expect Peacemaker to enter production until late 2024 or early 2025. That would mean the first teaser wouldn't be arriving until later in 2025. 
Maybe fans will get lucky, and San Diego Comic-Con 2025 could surprise attendees with the first footage.
---
Peacemaker is now streaming on Max.