It was rumored that Marvel Studios was eying Jewish actors Daveed Diggs and Nick Kroll for the role of Marc Spector in Moon Knight. But it was later revealed that Oscar Isaac would be playing the Jewish superhero. A controversy arose, as fans took issue with Isaac only having a tangible connection to Judaism through his father, but even Isaac said he was raised in a "very Christian" household due to that same father.
So, fans have been left waiting anxiously to see how Marvel Studios will adapt the character into the Marvel Cinematic Universe. Despite the actor not being Jewish himself, will they portray Moon Knight as Jewish or ignore his Judaism entirely?
The writer who solidified the obscure superhero as Jewish in the comics recently gave his thoughts about Isaac's casting.
Marvel Writer Responds to Moon Knight's Religion in MCU
In anticipation of the release of Marvel Studios' Moon Knight on Disney+, The Forward, a national Jewish media outlet in the United States, recently interviewed former Marvel comic writer Alan Zelenetz, the man responsible for cementing Marc Spector's Jewish heritage in the comics.
The outlet asked Zelenetz about his work writing the character and his thoughts on the casting of non-Jewish actor Oscar Isaac as the titular hero.
According to Zelenetz, "They're certainly not bound by any origins," whose character Arthur Harrow has already been dramatically changed for Moon Knight, played by Ethan Hawke.
Zelenetz then summarized the online discourse surrounding Isaac's casting, saying "All of a sudden the Jews need to be represented" and how he could "smell blood in the water already:"
"Moon Knight has to be Jewish — 'Oh, we're watching Marvel! The boycott is around the corner.' I can smell blood in the water already! 'How could they not make him Jewish? Oscar Isaac is not Jewish, even though he has the name 'Isaac.' And they've got an Egyptian director — what's going on here?'"
As for Zelenetz's own opinion on the topic, "So he's not Jewish and he won't be Jewish," and that as long as Moon Knight ends up not being Jewish for "a good artistic reason," then he doesn't care:
"And Arthur Harrow won't be the character I created. So what? If he's not Jewish because there's a good artistic reason he's not Jewish, that's perfectly OK. I don't care."
However, Zelenetz does "...think the series would be a great place to explore an ancient Egyptian God and a Jew," and how "Maybe the ancient Egyptian God wants to make up for all those ancient Egyptians who couldn't keep up with Moses! That would be a good storyline."
Fans Can Still Feel Disappointed Over Isaac Casting
It might be reassuring to some that Zelenetz doesn't see a big issue with Oscar Isaac's casting, but, funny enough, Zelenetz made the same mistake as director Barry Sonnenfeld. He turned down Oscar Isaac for a role because he thought he was Jewish due to his surname. Isaac even recalled that incident and how "I told [Barry Sonnenfeld] that story:"
"Barry Sonnenfeld was doing a movie. She [the casting director] said, 'Let's bring in this Oscar Isaac', and he was like, 'No no no! I just want Cubans!' I saw Barry Sonnenfeld a couple of years ago and I told him that story — 'I don't want a Jew, I want a Cuban!'"
So, despite using his middle name as his surname to avoid typecasting as a Cuban actor, even Oscar Isaac did not consider himself Jewish. It depends now on how Marvel Studios will portray Spector's faith in the show.
History of Marc Spector's Judaism
Moon Knight being Jewish in the comics was unintentional by creator Doug Moench, as he had a habit of naming his characters after close friends and associates. He just happened to have based the name of the newest "Werewolf by Night" villain's civilian identity, Marc Spector, on a man who worked in a comic book store Moench frequented.
It was only later that Moench found out that the man was Jewish and thus created a Jewish superhero:
"Then it turned out Marc Spector was Jewish. Ah, I guess this is a Jewish name. Well, I guess I just made up the first Jewish costumed hero."
Spector's faith wasn't focused on in the comics until new writer Alan Zelenetz stepped in and wrote the two-issue story that finally solidified Moon Knight's Jewish upbringing.
However, Spector's Jewish background would only be sporadically spotlighted over the decades by other writers, such as Max Bemis. But Moon Knight's recent ongoing comic series, written by Jed MacKay, has gone out of its way to shine a light on it again.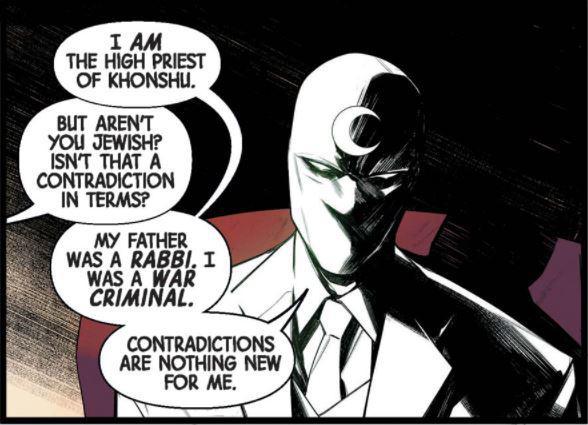 Will the Superhero Still Be Jewish in the MCU?
It's unlikely for Marvel Studios to drop Moon Knight being Jewish in the show, especially after a casting call for two Latinx/Jewish roles in their 40s-50s. These roles are likely to portray Marc Spector's parents, so it seems apparent that the show will at least acknowledge Spector's Jewish lineage.
However, it's possible that the show could make some drastic alterations in his backstory to alleviate Oscar Isaac himself not being Jewish or put more emphasis on Spector being disconnected from it as he grew older and became a mercenary. It'll certainly be interesting to see how the show will approach it, especially since the trailers haven't alluded to it at all.
Fans will see for themselves whether Marc Spector will still be Jewish when Moon Knight premieres on Disney+ on March 30, 2022.
---
Pierre Chanliau began as a news & feature writer for The Direct at the site's launch in 2020. As a longtime reader of superhero comic books, Pierre's knowledge of Marvel and DC is extensive, informing his reporting and editorial pieces regarding the MCU and DCU.