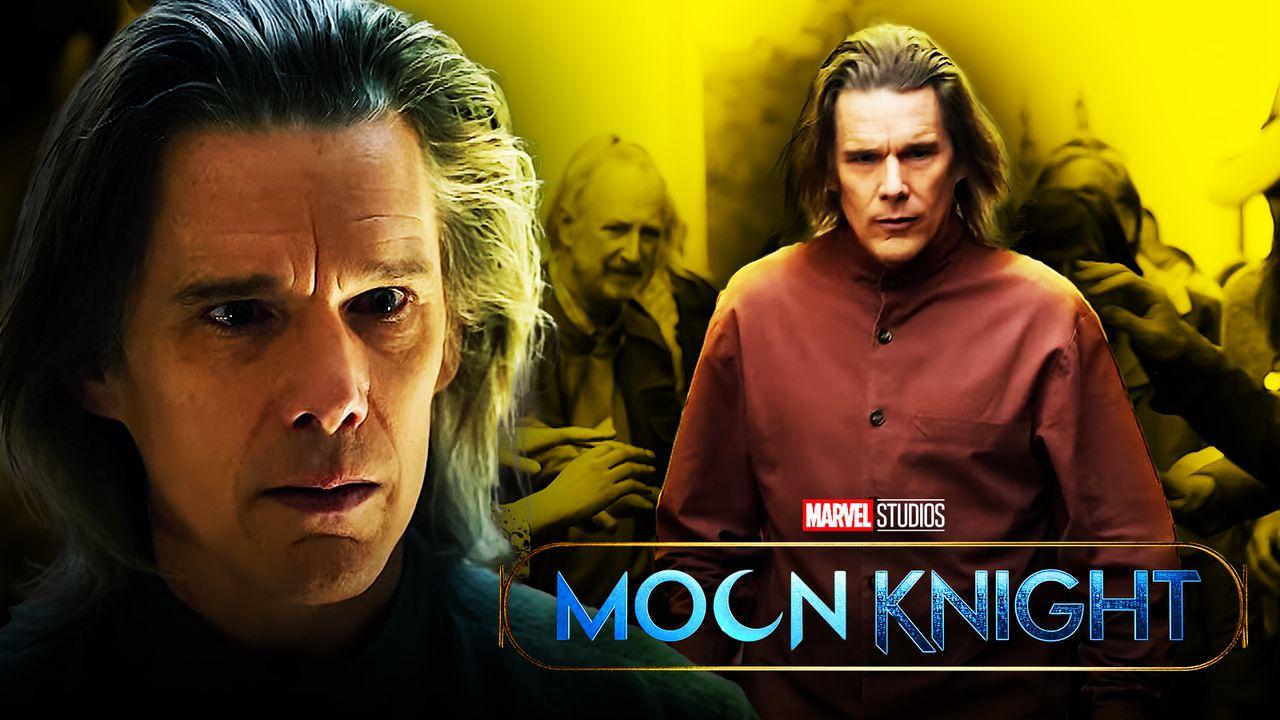 Marvel Studios is set to kick off its new round of programming in 2022 with Oscar Isaac's Moon Knight on Disney+ at the end of March, bringing a new hero to the forefront via the streaming service. The franchise will feature Isaac and his hero's multiple personalities alongside Ethan Hawke's mysterious villain Arthur Harrow as Marvel explores a mythical dimension that fans haven't seen thus far.
While excitement is building to see how exactly Marvel Studios will bring Moon Knight to the small screen, especially after the show's first trailer dropped, the plot and characters are still shrouded in mystery until the show debuts. A big part of the plot will focus on Isaac's Marc Spector as he finds his true self through the madness, although Hawke's villain is even more of an enigma at the moment.
Getting Hawke into the MCU to begin with was a particularly large hurdle considering the actor's less than positive feelings about superhero projects in the past, and he now has the opportunity to bring a new kind of villain into Marvel Studios' impressive rogue's gallery.
Recently, Hawke gave some insight into exactly what it is about this new antagonist that will scare viewers when the show arrives.
Ethan Hawke on his Terrifying Marvel Villain
Entertainment Weekly spoke with Moon Knight star Ethan Hawke about his decision to play the villainous Arthur Harrow in the upcoming Marvel Studios Disney+ show.
Hawke admitted that he had avoided taking villainous roles due to the thought that fans "see the demon in you" in that role and then "don't unsee it" in future roles any given actor may take. While comparing it to how people view iconic actor Jack Nicholson after his work in The Shining, Hawke also explained wanting to add "a new tool" into his bag as he moves past 50 years old:
"I've always had this theory that when you teach an audience how to see the demon inside you, they don't unsee it for the rest of your career... Jack Nicholson can be playing an accountant and you're still waiting for him to explode like he did in The Shining. It changes your relationship to a performer, so I've always been nervous about it. But I realized I'm on the other side of 50 and it's time to put a new tool in the tool kit. Villains might be my future."
Looking specifically at Arthur Harrow in Moon Knight, Hawke shared that he looked for inspiration from Swiss psychiatrist Carl Jun and noted cult leader David Koresh for his new MCU villain. He described wanting to tackle someone who truly believes that "they're a good person," which he finds "really terrifying:"
"Your gut leads you. The uber-rich villain mastermind isn't interesting to me. I love the ones who believe that they're a good person and that's why they have to kill you. That, I find really terrifying."
Hawke Looking to Real-Life Inspiration
Marvel Studios has built an impressive cache of villains over the years, many of them being truly scary people all in different ways. The MCU has done a particularly good job of bringing villains like the ones that Hawke described, ones that truly believe they're the good guys in their own story, most notably with antagonists like Josh Brolin's Thanos in Avengers: Infinity War and Avengers: Endgame.
While Arthur Harrow's story and motivations aren't exactly clear yet, it's that kind of depth and realism that brought Hawke into the fold for the MCU's expansion into Disney+ storytelling. As Moon Knight inches closer to its Disney+ premiere, the hope is that Hawke will be able to share more details on what exactly makes his character so terrifying, but these quotes certainly start the conversation about what may be coming.
In the show's first trailer, fans saw crowds of people kneeling in front of Arthur Harrow the same way people did with Loki in The Avengers, meaning the villain has true support behind his cause. The imagery even looked similar to how cults have been portrayed on screen before, lending credence to his comments about David Koresh and Carl Jung from real-world history books.
While Marvel will likely keep Moon Knight's secrets close to the vest for the next few weeks, Hawke has the fandom's attention thanks to the potential of a scary new Disney+ villain joining the fold.
Moon Knight will debut on Disney+ on March 30, 2022.