Veteran filmmaker James Gunn is doing double duty on the superhero side of things, with him working for both Marvel and DC. Gunn is spearheading John Cena's Peacemaker on HBO Max, a spin-off from The Suicide Squad, as its executive producer, director, and writer, while he is busy filming scenes for Guardians of the Galaxy Vol. 3 under the Marvel Studios banner. 
At this stage, exact plot details of Guardians of the Galaxy Vol. 3 are still being kept under wraps, but Gunn already confirmed that it will be the last time that fans will see this current iteration of the team. As for Peacemaker, the hype has been consistent in the past weeks, mainly because of the series' intriguing plot and over-the-top comedic antics that offer a fresh take on the DCEU. 
In the lead-up to its highly-anticipated finale, Gunn has been teasing a big reveal for Peacemaker that would surprise fans. Now, the filmmaker has opened up about that major reveal and a surprising Marvel connection. 
Peacemaker Receives a Significant Assist from Marvel Studios 
Warning - The rest of the article contains spoilers for Peacemaker's Season 1 finale. 
Peacemaker executive producer/writer/director James Gunn sat down with Variety to break down the major cameo appearances during the show's Season 1 finale. 
During the finale, John Cena's titular antihero and his team go all-in to take down the Butterflies' cow, but they are overwhelmingly understaffed. Danielle Brooks' Leota Adebayo contacts her mother, Viola Davis' Amanda Waller, to ask for backup from the Justice League, but the ARGUS leader appears to be not on board with the idea.
After successfully defeating the Butterflies and killing their cow, four members of the Justice League arrive, namely Superman, Wonder Woman, Jason Momoa's Aquaman, and Ezra Miller's Flash. Peacemaker calls them out for being late and tells Aquaman to go back and make love with fish, with the Atlantean King admitting that he's not fond of that rumor. Barry Allen then points out that the rumor isn't really a rumor.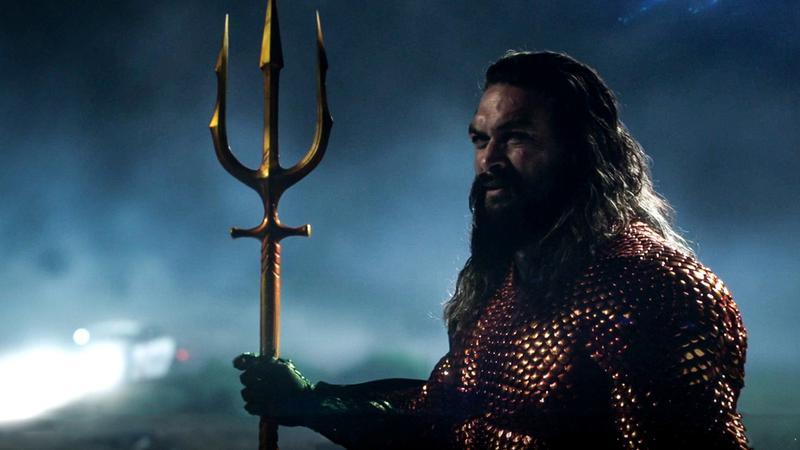 In the interview, Gunn revealed that they talked to Momoa about reprising his Aquaman role before they filmed the HBO Max series. The Guardians of the Galaxy Vol. 3 director also shared that Momoa "just laughed" at the jokes that Peacemaker throws at his character, saying the actor was "pretty much on board from the beginning:"
"I think before we ever shot the show, we talked to Jason about it. We were like, 'Listen, [Peacemaker] says you fuck fish all the time.' And we were a little afraid he would be upset, but he just laughed. He was cool. So he was pretty much on board from the beginning."
As for Ezra's involvement, Gunn confirmed that Marvel Studios helped film the Scarlet Speedster's scene while they were shooting for Guardians of the Galaxy Vol. 3:
"And then Ezra I just found out through some common friends liked my movies a lot. And so I asked if he would come in and shoot this scene, and he kindly agreed to do that. Actually, Marvel shot [Ezra] for us, while we're shooting "Guardians Vol. 3."
Gunn further explained that "Marvel owed DC," due to the fact that the Peacemaker crew filmed the screen test for Chukwudi Iwuji's role for Vol. 3: 
"Yeah, but I mean, Marvel owed DC, because the 'Peacemaker' crew shot my screen test for Chukwudi for 'Guardians Vol. 3.' And then we got Ezra with the 'Guardians Vol. 3' crew."
A Marvel and DC Collaboration 
James Gunn's latest comment is an indication of a good working relationship between Marvel Studios and DC. While this connection could be simply forged by Gunn's involvement, it's still notable that a significant collaboration happened between the studios, especially for a huge moment in the Peacemaker finale. 
Peacemaker star Chudwuki Iwuji, who has been confirmed to star in Gunn's Guardians of the Galaxy Vol. 3, is another significant connection between the two projects. Gunn's remark about Marvel owing DC for shooting the actor's screen test might seem simple at first, but it further proves that studios' helping each other out is not impossible. 
The Justice League's cameo in Peacemaker is a huge moment, while also establishing the current state of the team in the wider DCEU. The episode proves that the team is on active duty, but members such as Batman and Cyborg are missing. 
It's possible that the Dark Knight and Cyborg's absence could be explained in future projects like The Flash, especially now that projects such as Batgirl appear to confirm that Michael Keaton's Batman is Gotham's new protector in town. Still, it is unknown if Peacemaker is set before or after The Flash, meaning that there's a chance that the Flashpoint-related ramifications have yet to happen. 
It's just as possible that Batman is busy in Gotham while Cyborg could be sorting something off-world, thus explaining their absence. Aside from Henry Cavill's unknown state about his Superman role and Gadot taking a break after Wonder Woman 1984, Momoa's involvement in the series might have been easier as well, considering that he was filming his solo movie for Warner Bros during Peacemaker's production. 
All in all, this reveal about Marvel and DC's collaboration should serve as a positive sign for both studios moving forward.
All episodes of Peacemaker Season 1 are now streaming on HBO Max, while Guardians of the Galaxy Vol. 3 is set to premiere in theaters on May 5, 2023.