Hawkeye only hit Disney+ a few days ago, but viewers are already singing its praises. Reactions have been strong, with audiences especially getting a kick out of the Steve Rogers musical in the opening episode.
The series puts solo spotlight on Jeremy Renner's Hawkeye for the first time, as his trip to New York City is interrupted by shenanigans brought about by Hailee Steinfeld's Kate Bishop, a new mainstay MCU hero. Also part of the gang is Lucky the Pizza Dog, who might beat Alligator Loki as the most beloved Marvel animal of the year.
To celebrate the show's debut, new merchandise has been announced highlighting both Bishop and Cap's song-and-dance stage performance.
Hawkeye Merchandise is Here
New official Hawkeye merchandise has dropped, which includes a new Funko Pop! Vinyl and an Enamel Pin.
The new Funko is none other than Hailee Steinfeld's new hero, Kate Bishop, an early fan-favorite of the show so far. Alongside Bishop is her trusty companion, Lucky the Pizza Dog, whose winking figure comes alongside her.
Kate Bishop with Lucky the Pizza Dog Pop! Vinyl is available for pre-order now.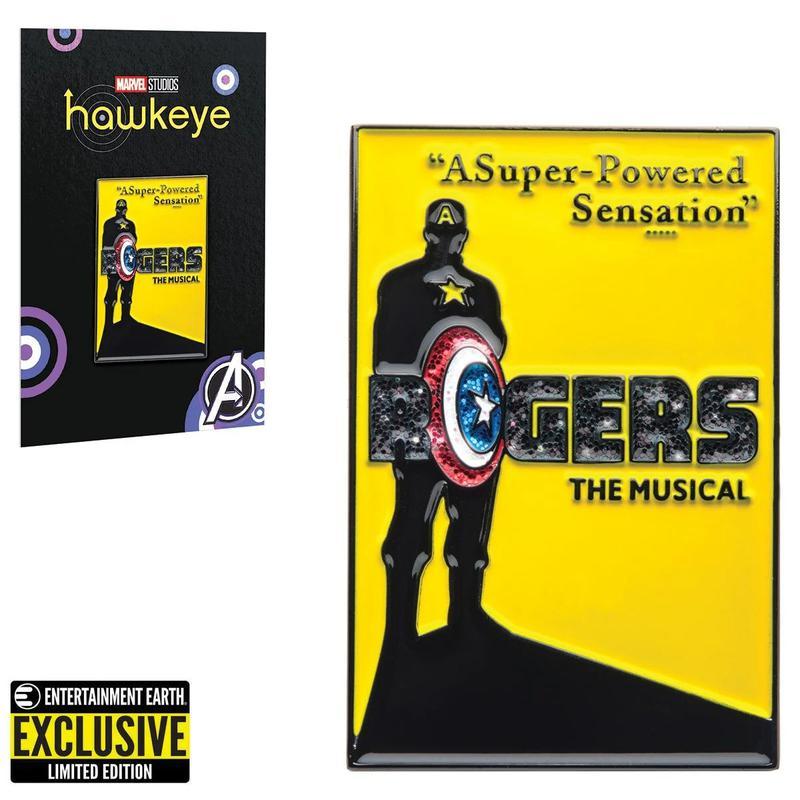 Then comes an Entertainment Earth Exclusive enamel pin for Rogers: The Musical, showcasing the Hamilton-inspired playbill of Captain America's Broadway show. This pin is available for a limited time and can be pre-ordered now.
Just the Beginning of the Hawkeye Merchandise Wave
Kate Bishop's collectible is just the first of what will likely be many more Hawkeye Funkos in the coming weeks. For one, Alaqua Cox's Echo only showed up in Episode 2's final moments. With Echo getting her own spinoff show, it's safe to assume that her character will be getting a bobblehead of her own.
Then, there are all of those Kingpin rumors. If they pan out to be true, expect Vincent D'Onofrio to be reimagined in Funko form. If recent rumblings prove true, that could end up being a supersized six-inch figurine. Beyond Wilson Fisk, Funkos for Clint Barton, Tony Dalton's Jack Duquesne, and even a Tracksuit Mafia goon or too will likely end up on shelves sooner than later.
The Rogers: The Musical pin doesn't offer anything fans didn't already seen, but the surge in popularity of the stage performance could pose well for more singing Steve Rogers merchandise in the future.
The first two episodes of Hawkeye is now streaming on Disney+.
LATEST NEWS
TRENDING