One of the latest new projects to begin production within Phase 4 of the Marvel Cinematic Universe is Hawkeye , the first Marvel solo series for Jeremy Renner after playing Clint Barton for the past nine years. This show will see the master archer serving in mentor-type role to Kate Bishop, one of the most prominent members of the Young Avengers from the comics who will finally make her MCU debut in the Disney+ project.
Reports have continually circulated saying that young Hollywood star Hailee Steinfeld had signed on to play the role of Kate Bishop, although no confirmations had come from either Steinfeld or Marvel Studios.
NEWS
In a new post on her official Instagram page , Hailee Steinfeld may have teased her casting as Kate Bishop in the Disney+ series Hawkeye . Her post includes a picture of a three-eyed woman along with the word "Sagittarius" (a Zodiac sign that has an archer symbol), captioned "see u in ✨11✨ days, 24. 🏹."
Steinfeld turns 24 years old in 11 days, so, on the surface level, her post is celebrating her upcoming birthday. However, the image that Steinfeld chose to include - a woman wearing a purple headband - could be a subtle reference to Kate Bishop given that the Marvel character is known for her own purple hair-wear. Additionally, the bow and arrow emoji at the end of Steinfeld's caption may also be a hint to her archer-related future in the MCU.
Steifeld's Instagram post can be seen below:
Updated: December 1st, 10:00 AM
To add further evidence, Hawkeye directing duo Bert and Bertie commented on Steinfeld's post with 3 purple hearts. Kate Bishop's signature color is, of course, purple. So the directors of Hawkeye commenting on Hailee's post is a strong indication that Hailee is involved in Hawkeye , and the three purple hearts further proves that Hailee is playing Kate Bishop. Bert and Bertie's comment can be seen below.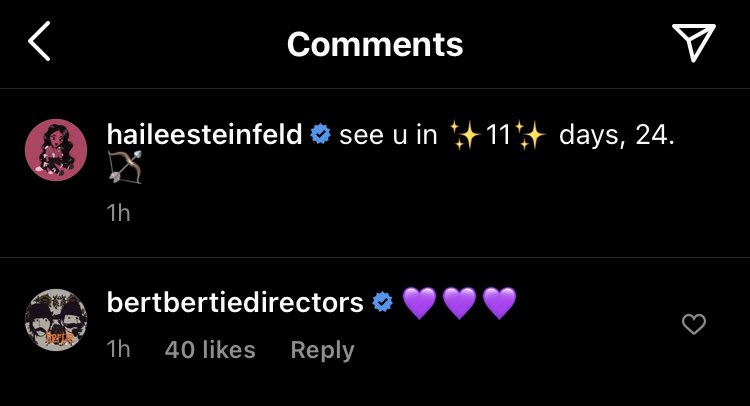 WHAT THIS MEANS
Marvel stars usually have to keep a low profile before anything is officially confirmed to be true, particularly in terms of casting news, which could be the case with Steinfeld's post. Now that Hawkeye is beginning production , this could signal an official announcement confirming this signing, but it still remains to be seen if this will happen.
Hailee Steinfeld was first reported to be signed on as Kate Bishop as early as four months ago, following rumors pointing to her casting for most of 2020. Should this casting become official in the near future, she will become one of the most important young characters for the MCU's future as she takes on the Hawkeye mantle and potentially earns a leadership role for the New Avengers.
This news comes after the The Direct's exclusive reporting that Florence Pugh will also make her way into Hawkeye as Yelena Belova, confirming another exciting new character in this solo series. No plot details have been revealed concerning either Belova or Kate Bishop, but their inclusions should give Clint Barton all the help he needs as new challenges come his way.
Hawkeye is currently in the early stages of filming before it releases on Disney+ sometime in 2022.