Warning - This article contains spoilers for Eternals.
Marvel Studios is currently enjoying its third theatrical run of 2021 with Chloé Zhao's cosmic epic Eternals, the second all-new property to join the MCU legacy in Phase 4. With a dozen new A-list faces portraying some of Marvel Comics' longest-standing characters, mortal and immortal, the stage is set for plenty of new stories to be explored through various angles and heroes alike.
The film first went into development more than three years ago, with Marvel Studios president Kevin Feige having high ambitions for what this team of heroes could bring to the table in a post-Avengers: Endgame world. 
Stars like Gemma Chan (Sersi) and Richard Madden (Ikaris) carried the bulk of the film as the Eternals learned about their true mission on Earth and teamed up to stop the birth of a new Celestial. Then, in classic Marvel form, the movie's two post-credits scenes blew the doors off this new legacy with one duo featuring Harry Styles and Patton Oswalt as Starfox and Pip the Troll and another highlighting Kit Harington's Black Knight and Mahershala Ali's Blade.
Now, with Eternals having been in theaters worldwide for a few days, the movie's cast and crew have the opportunity to share inside looks at what came on-screen and behind-the-scenes looks at how it came together.
Chan took the opportunity to share her own experience recently, showing how much fun she and her team had.
Sersi, Ikaris, Starfox, & More Behind the Scenes
Eternals star Gemma Chan took to Twitter to share eight behind-the-scenes photos from the movie's shoot. These images featured Chan alongside fellow costars like Harry Styles and Richard Madden.
Chan and Madden posed for a selfie with a red light shining on their faces. Both are wearing everyday jackets, likely staying warm during a night shoot and potentially for the early scene against the Deviants in London.
Chan snapped a picture with Phastos actor Brian Tyree Henry in their street clothes as both of them purse their lips next to each other.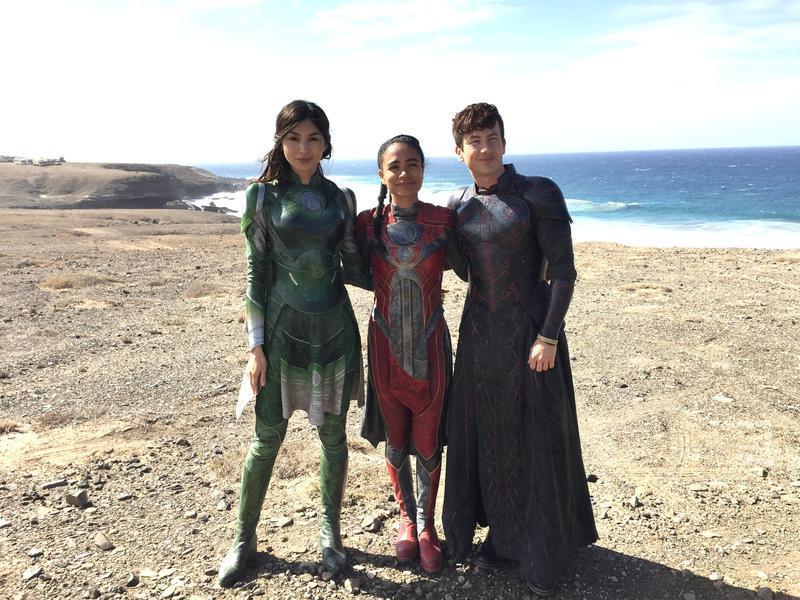 Chan stood with co-stars Lauren Ridloff and Barry Keoghan in costume for the team's first scene on the beach.
Chan and Madden appear in another selfie next to a large body of water, maybe before the highly-discussed sex scene featuring their characters, Sersi and Ikaris.
Chan shared a look at some of the movie magic behind her process of becoming Sersi. It's unclear what the three sheets of paper on her face were used for, but Chan still appeared to be having a great time on set.
Chan shared another picture of herself posing in a pool of water during one of the battle scenes in Eternals.
Chan took the opportunity to get a picture alongside Kit Harington and Harry Styles, the two stars of the movie's post-credits scenes. These three never appeared in a scene as a trio, but Styles and Harington look to be set for big things as Starfox and the Black Knight in future movies.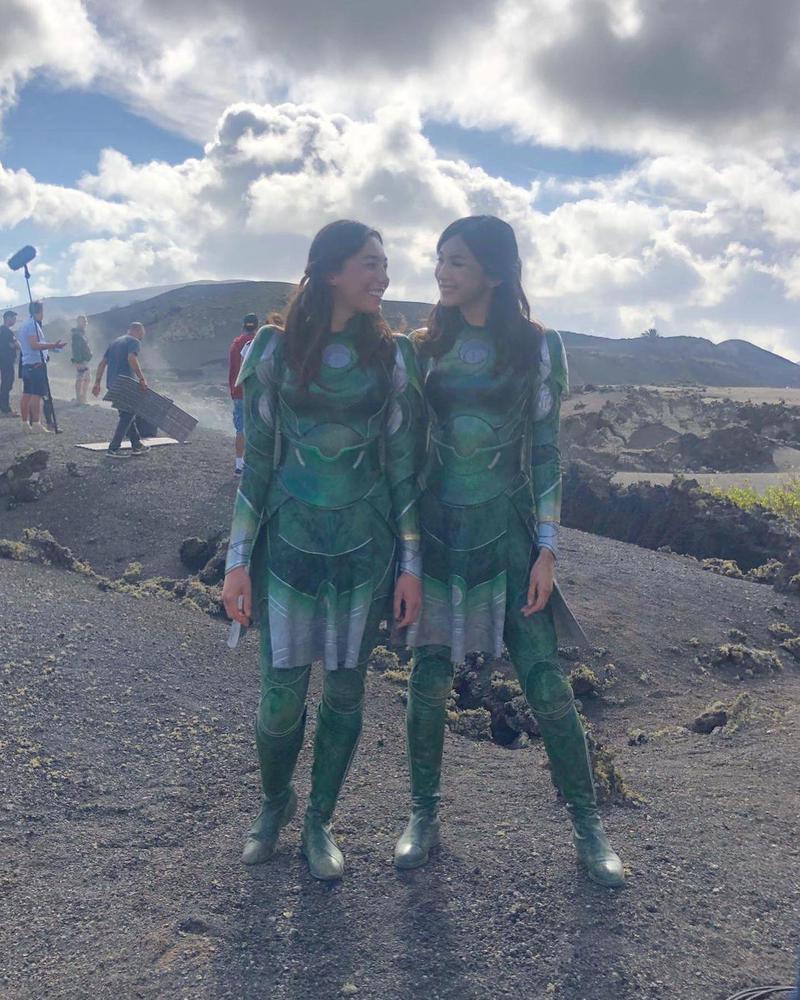 Chan smiled for a picture with her stunt double, Zoe Purdy. Both stars brought the Sersi character to life on the big screen as a team.
Chan Teases the Making of Eternals
Fans have been in deep discussions about the events in Eternals for the past few weeks, for better, worse, or everything in between. Even so, the movie made its mark on the MCU's expanding narrative in more ways than one, including people highlighted in Chan's behind-the-scenes selfies from the set. 
Styles' inclusion in Eternals was rumored for months on end before the movie released, although no one had a clue of what to expect until the post-credits scene for Eternals debuted at the movie's Hollywood premiere. Bringing in Styles to play the brother of Josh Brolin's Mad Titan, Thanos, was one of the film's boldest moves, immediately setting the character up for a big future in Phase 4 and beyond.
Harington and Ikaris both got their own shine in Eternals as well, although Harington will be the only one of this pair to continue after Ikaris literally flew too close to the sun. The MCU should have the chance to set up Harington's Black Knight for a full introduction at any time, and Chan highlighting the pair in her photos only adds to their popularity among the MCU fan base.
Eternals is currently playing in theaters worldwide.
LATEST NEWS
TRENDING