Eternals is the name on the tongues of many Marvel fans right about now. The Chloe Zhao-directed MCU adventure is mere weeks away from its debut, and after some stellar reviews from the project's premiere, anticipation is at a fever pitch. 
The third theatrical outing in Phase 4 has quite the tall task ahead of it; not only will it have to cover nearly 7000 years of exposition, but will also introduce a brand-new cast of characters into the MCU canon. These titular heroes are all multilayered and nuanced, being portrayed by some big-name talent such as Salma Hayek and Angelina Jolie. 
One interesting note on Eternals is the fact that it is supposedly the MCU's first true love story, with Richard Madden's Ikaris and Gemma Chan's Sersi playing the roles of star-crossed lovers. And this supposed love story is on full display in some new stills from the film. 
Ikaris and Sersi Getting Cozy
In preparation for the impending Eternals release, Disney unveiled six new stills from the upcoming MCU epic. All six photos offer new glimpses into Chlow Zhao's superhero odyssey, but they all seem to have Ikaris and Sersi, portrayed by Richard Madden and Gemma Chan, front and center.
The first image features the two in an embrace all decked out in their Eternal armor.
Ikaris and Sersi are also seen traversing the desert alongside Kumail Nanjiani's Kingo and Lia McHugh's Sprite. 
The third still has Madden and Chan in a temple of sorts, holding one another nose-to-nose. 
Then in a trio of shots that look awfully similar, the Eternal lovers stand opposite one another, staring longingly into each other's eyes. One has them in what looks to be a kitchen.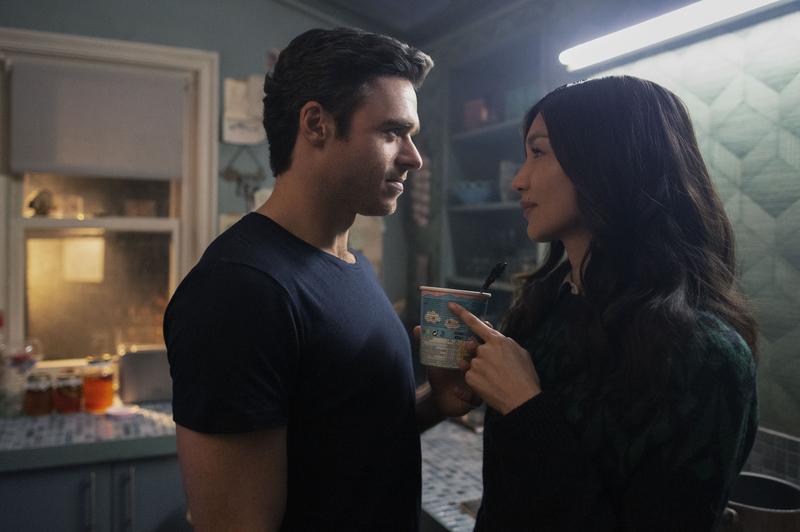 Then comes a similar shot with the Marvel heroes in a bar sort of setting.
And the last is an outdoor shot in a lightly treed forest. 
Love Is in the Air
If it wasn't clear before, it is certainly clear now that Eternals is going to be full of warm and fuzzy feelings. Marvel Studios has talked about this movie being a love story (and going further in that department than ever before), and that is on display here in spades. Not only is Ikaris and Sersi's relationship going to be on full display, but so is that of a couple of other Eternals. 
Now, taking a look at these specific images, there is not a tonne to glean. Fans have seen most of these moments, or similar ones, in trailers, and none of them are screaming out with any level of importance. 
One curious inclusion in this group is the shot of the crew working in the desert. The rest of these stills all share a similar theme of companionship, but this one shot stands out. It is unclear if there was any intention behind this inclusion, but it is most likely just a coincidence that this is the odd one out.
Either way, Ikaris and Sersi's relationship will be on full display when Eternals hits theaters on November 5.
LATEST NEWS
TRENDING