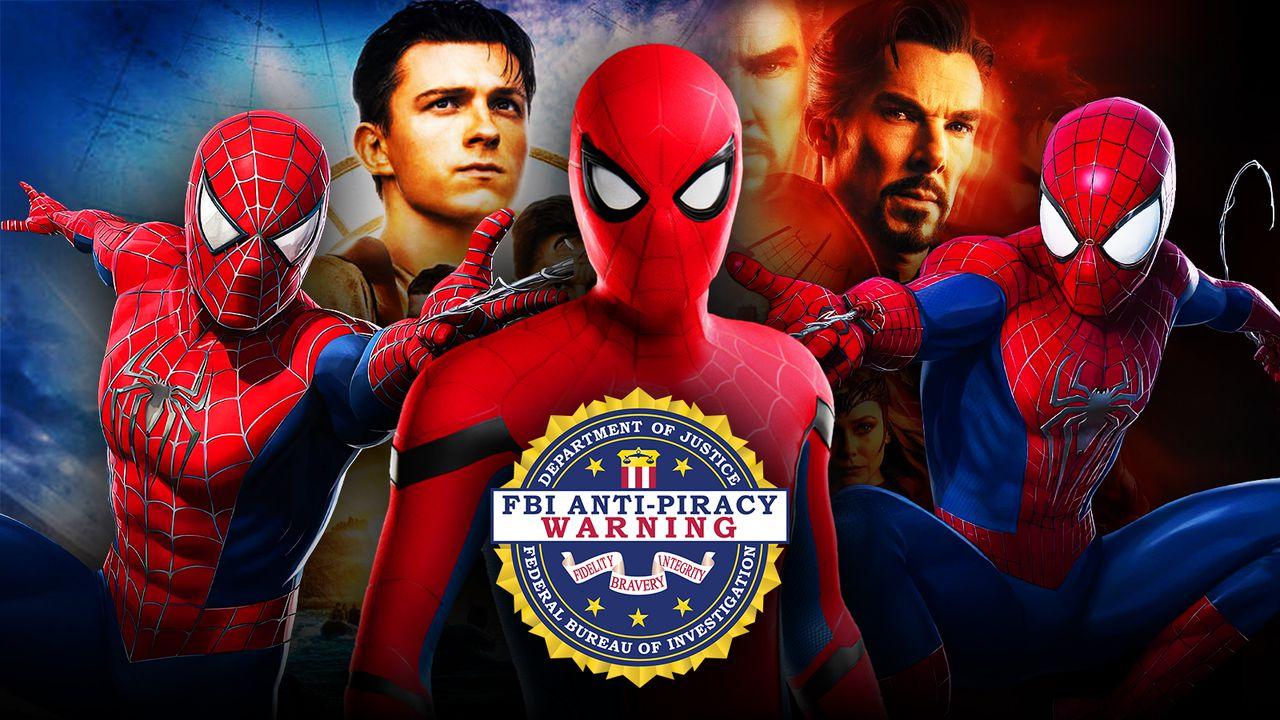 New data revealed 2022's ten most pirated movies, and the list includes several MCU and DC films. 
Between the two franchise studios, five live-action superhero films were released in theaters in 2022 ranging from Black Adam and The Batman to a Black Panther sequel and Doctor Strange in the Multiverse of Madness. 
Not only was the volume of theatrical comic book content last year impressive, but so was the illegal demand for these films.
And, interestingly enough, not all of the superhero films topping the list were even released in 2022 at all. 
Which Marvel & DC Films Were Most-Pirated in 2022?
As reported by Variety, the majority of the ten most-pirated films of 2022 were superhero films belonging to both Marvel Studios and DC. 
The list included the likes of The Batman, with a 13% share of piracy demand for the top ten most-pirated films of the year. The DC blockbuster was followed by Doctor Strange in the Multiverse of Madness with 10%, Thor: Love and Thunder and Black Adam both with 9%, and 2021's Eternals with 8%.
But regardless of genre, the most pirated movie in all of last year (with a 21% share of demand) was 2021's Spider-Man: No Way Home. The top ten most-pirated films of 2022 can be seen below:
Spider-Man: No Way Home - 24%
The Batman - 13%
Doctor Strange in the Multiverse of Madness - 10%
Thor: Love and Thunder - 9%
Black Adam - 9%
Uncharted - 8%
Eternals - 8%
Top Gun: Maverick - 8%
Jurassic World: Dominion - 7%
Encanto - 6%
Why Spider-Man: No Way Home's Piracy Was So High
The Tom Holland-led threequel experienced a huge spike in piracy nearly 90 days after its December 2021 theatrical release and three days ahead of its digital VOD debut when a high-quality copy leaked online. 
While the film's team-up of cinema's three web-heads no doubt contributed to its illegal demand, it's also worth noting that No Way Home is a co-production between Disney's Marvel Studios and Sony Pictures.
Therefore, unlike other MCU films, No Way Home wasn't subject to Disney's 45-day theatrical window and is unavailable to stream on Disney+.
That limited access factor was even more intensified by the fact that Sony doesn't have a branded streaming platform but a pay TV deal. 
For instance, in the U.S., Spider-Man: No Way Home has only been available to stream via Starz which has one-fourth of the subscriber base of Disney+.
According to Muso data, a piracy-focused research firm, limited access, paywalls, and confusion likely maintained the illegal demand for No Way Home, despite the presence of other newer blockbusters.
Muso obtained its data - which was exclusively shared with Variety - by measuring activity from illegal streaming, web downloads, stream-ripping platforms, and more. Their data not only confirmed high interest in illegal viewing of superhero films, but in 2022, Marvel and DC movies accounted for 70% of piracy.
For instance, DC's Black Adam, despite being released towards the end of 2022, still managed to grab 9% of the year's demand for pirated films. 
Data has also shown that a film's piracy demand tends to increase upon its streaming debut. This is because consumers are able to obtain high-quality illegal downloads or streams instead of versions recorded in theaters on a phone. 
Still, in some situations, interest can overcome quality. 
Avatar: The Way of Water experienced so much piracy upon its December release that, despite only being in theaters for the final three weeks of the year, ranked as the third-most pirated film of 2022's fourth quarter.
How Streaming Cuts Down on Piracy
While piracy is a problem, this is another indicator that demand remains high for superhero films. 
The only other movies to make 2022's most-pirated list consisted of Top Gun: Maverick, Encanto, Jurassic World Dominion, and Uncharted. 
Interestingly enough, Uncharted isn't just another Tom Holland film, but a Sony Pictures film as well.
This contributes to the argument that Sony's lack of a streaming home - and consumer confusion on where to find Sony films - is contributing to illegal streaming and downloads. 
Granted, streaming is still in its infancy, and all of the various studio platforms have been experimenting in recent years. 
However, while illegal demand is definitely there for Marvel Studios films, training consumers to expect an MCU film on Disney+ appears to be beneficial in cutting down illegal activity. 
It will be interesting to see if studios take any cues from this new data and which 2023 films will make next year's list and why.