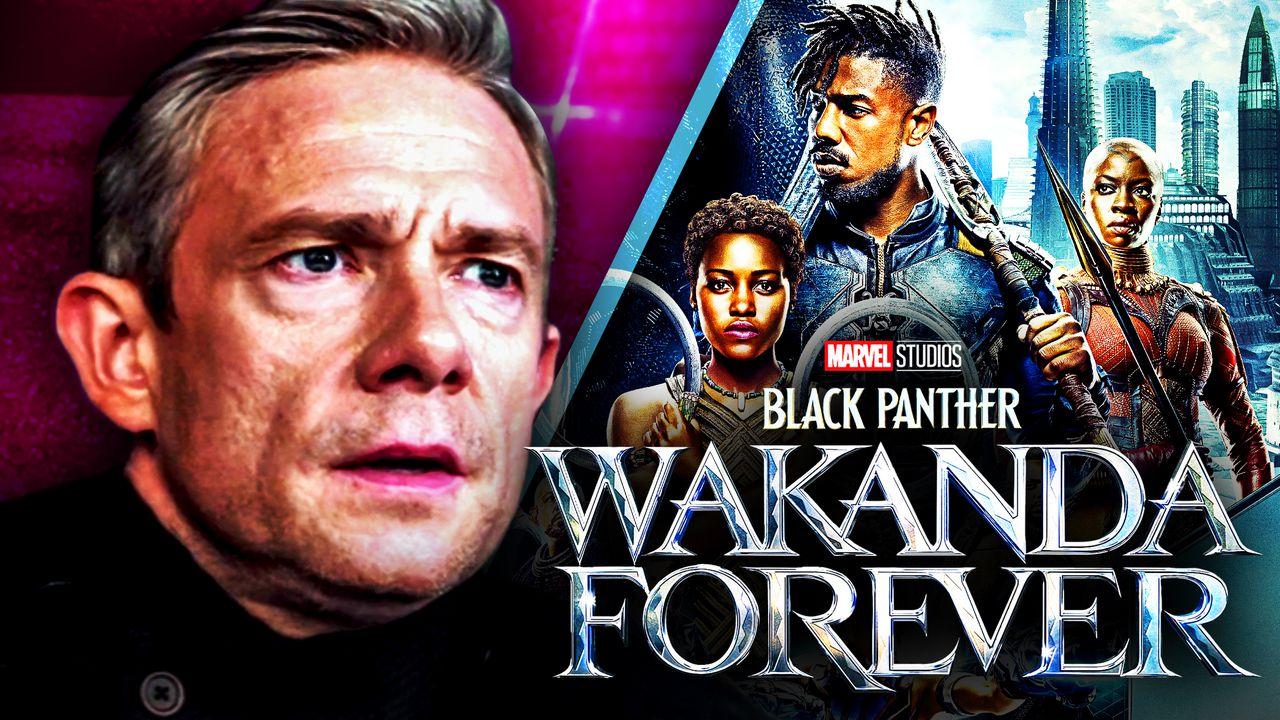 In just a couple of months, Marvel Studios is set to roll cameras and start shooting for one of 2022's MCU summer blockbusters, Black Panther: Wakanda Forever. This will arguably be the studio's toughest movie ever to bring life on an emotional level after losing leading man Chadwick Boseman last year, although fans are very much looking forward to seeing the legacy continue.
Last week, Marvel officially revealed this sequel's title in its sizzle reel celebrating Phase 4, confirming that the new adventure will help expand on the fictional African nation rather than focus on one character. Thankfully, the movie will bring back nearly ever major player from 2018's Black Panther to reprise their roles, helping to bring something unprecedented into the MCU narrative.
This idea was confirmed recently by one of Phase 3's breakout stars, who shed some light on his upcoming appearance.
MARTIN FREEMAN TALKS WAKANDA FOREVER
Everett Ross actor Martin Freeman appeared on The Late Late Show with James Corden to tease some of what's coming for both his role and the story in Marvel Studios' Black Panther: Wakanda Forever.
After a Zoom call with director Ryan Coogler, who "meticulously took [him] through all of [his] character's beats", Freeman described his reaction as "very odd." Noticing these reactions, Coogler simply kept telling Freeman "Stay with me, but this is going to work," with Freeman revealing that he thinks "people are in for a real treat" next summer:
"I had a Zoom call with Ryan Coogler, the director and co-writer about seven or eight weeks ago, I suppose... He sort of meticulously took me through all of my character's beats in the film... He took me through the film, but incorporating my character's beats. And some of it was really... very odd. And I think [Coogler] could see from the reaction on my face to some of the things he was saying, my face must have been going [shocked face] like that, because he kept sort of stopping, and he kept going... 'Stay with me, but this is going to work.' People are in for, I think, a real treat- I mean we've not done it yet, who knows, we might make it awful. But, I'm hoping we won't, I'm hoping people are going to be in for a treat."
Freeman's main focus with continuing his role in the Black Panther franchise is to "do the first film justice" and to make sure he and the cast do right by the series' late leading man, Chadwick Boseman:
"Obviously, the hope is we do the first film justice and we do Chadwick's legacy on it justice and make hopefully another good film."
MARVEL FANS "IN FOR A REAL TREAT"
Story details for Black Panther: Wakanda Forever are largely being kept under wraps as per the MCU standard, although plot beats are even more unpredictable than usual after Boseman's unexpected passing.
The movie's unspecified villain will be played by Tenoch Huerta, and casting calls are out for new mysterious warriors that will be brought to life as well. Returning stars like Shuri actress Letitia Wright and Nakia actress Lupita Nyong'o will step up into more prominent roles, with the wide world of Wakanda taking the real spotlight after being teased a few times through Phases 1 and 2.
As for Freeman, this will mark his third MCU appearance after playing a key role working with the Sokovia Accords in Captain America: Civil War, where he was mostly interacting with Boseman's T'Challa before transitioning to Black Panther.
Everett Ross became an important ally to the African nation after fighting in their own civil war, and he will certainly be needed as the country works to rebuild emotionally and strategically. The British star behind Ross has been vocal about teasing what's coming in his next MCU film, and he seems confident that Marvel and his teammates are as prepared as possible to do this sequel the right way.
Black Panther: Wakanda Forever will begin filming in July, and it's confirmed to arrive in theaters on July 8, 2022.
The full interview with Martin Freeman can be seen below: