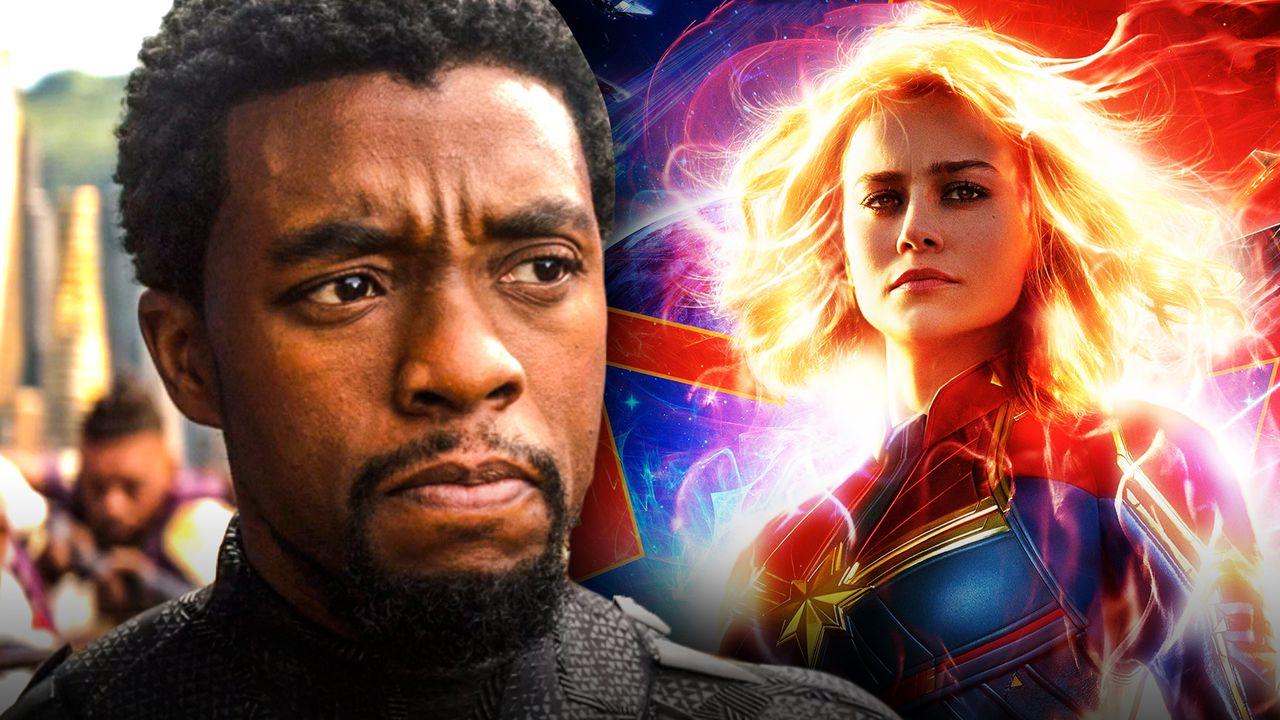 Marvel Studios President Kevin Feige once said that it was always the plan for the sequel to Black Panther to explore Wakanda more, describing it as "a place to further explore with characters and different subcultures." Co-star Lupita Nyong'o also said that the sequel "very much honors [Chadwick Boseman] and his legacy."
Furthermore, at Disney's Investor Day event, not only was it confirmed that Iman Vellani's Ms. Marvel would co-star with Brie Larson's Carol Danvers in Captain Marvel 2, but that Teyonah Parris' Monica Rambeau would join the cast too.
It has been rumored that Captain Marvel 2 will be an adaptation of the comic book event Secret Invasion, which is set to become its own Disney+ show. As a result, the name of the Captain Marvel sequel, and Black Panther one as well, has been a mystery to fans...until today.
Marvel Studios released a sizzle reel celebrating its films, the cinema experience, and announcing not only the release of future films like Ant-Man and the Wasp: Quantumania but the official title for certain sequels, too.
NEW OFFICIAL TITLES FOR MCU SEQUELS
In the most recent sizzle reel trailer for the Marvel Cinematic Universe, the official titles for the sequels to Black Panther and Captain Marvel were officially announced as Black Panther: Wakanda Forever and The Marvels, respectfully.
The Black Panther sequel is named after the mantra and salute "Wakanda forever," which was made popular by the titular character.
The Captain Marvel sequel is named after its three leads: Carol Danvers aka Captain Marvel, Kamala Khan aka Ms. Marvel, and Monica Rambeau.
BROADER SCOPE FOCUS FOR MCU SEQUELS
It seems that Kevin Feige wasn't blowing hot air when he said that the sequel to Black Panther would be more focused on Wakanda itself. It will be interesting to see what sort of story will be told in this film, especially since there will already be a Disney+ series also presumably focused on the broader aspects of Wakanda as a nation.
The title of Captain Marvel 2 becoming The Marvels is certainly interesting. Obviously, this references both Captain Marvel and Ms. Marvel, but neither of Monica Rambeau's modern monikers has "marvel" in them. Monica did hold the title of Captain Marvel before Danvers in the comics, but it's unlikely they'll both have it in the same movie.
One possibility is that The Marvels could introduce another hero with "marvel" in their superhero name, such as Blue Marvel. Hopefully, more information for both of these sequels will give greater context to their new titles.
The full sizzle reel can be seen below:
LATEST NEWS
TRENDING