While Scott Lang aka, Ant-Man hasn't had the lengthiest superhero career (especially because he spent five years stuck in the Quantum Realm) there's no denying that he's had a wide variety of adventures in the MCU. From surviving conflicts with Yellow Jacket and Ghost, to fighting and later teaming up with various Avengers, Scott has had a pretty crazy time in the MCU so far.
And throughout all these events, Lang has utilized his trusty Ant-Man suit and Pym Particles, developed by Michal Douglas' Dr. Hank Pym. The suit enables the wearer to safely shrink down to the size of an insect and not-as-safely grow to the size of a skyscraper.
Ant-Man's Timeline in the MCU
The official Marvel Instagram account for the United Kingdom and Ireland has posted a fun infographic showcasing all of Scott Lang's size-changing in the Marvel Cinematic Universe in the form of a handy timeline.
The initial portion of the timeline features Scott's very first test of the Ant-Man suit.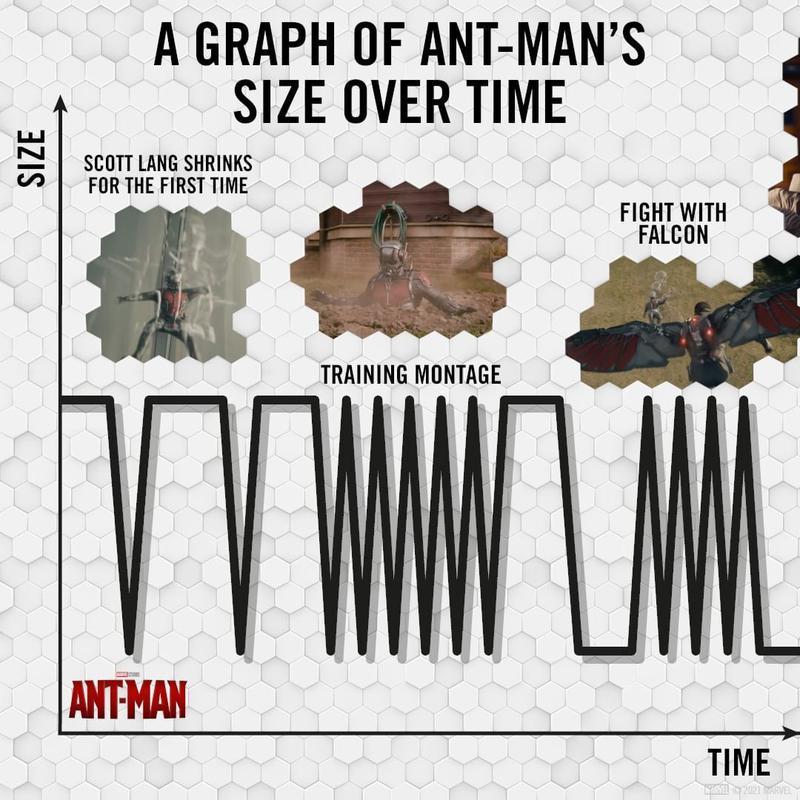 Then, it moves on to the finale of 2015's Ant-Man in which Lang and friends infiltrate Pym Technologies to pull off an elaborate heist.
The next scene highlighted is Scott's battle with Darren Cross aka, Yellow Jacket.
Moving onto the events of 2016's Captain America: Civil War, where Scott goes big for the first time without passing out.
Next up is Ant-Man and the Wasp where Scott is reunited with Hope van Dyne and Hank Pym and gets a new suit in the process. 
Ant-Man and the Wasp continues onto its final battle, in which Giant-Man is mistaken for a while by some sightseers.
Following the final battle, Scott gets trapped in the Quantum Realm for five years, although to him, it was only five minutes, as seen in Avengers: Endgame.
And finally, Endgame comes to its action-packed conclusion and Scott grows to his tallest size yet.
Here's a look at all the individual portions of this timeline stitched together for easier viewing:
Marvel's F-ant-astic Timeline
This image is certainly a neat offering from Marvel as it breaks down Ant-Man's MCU journey in an eye-catching and satisfying way.
Scott Lang still has some more shrinking and growing to do before all is said and done in Marvel Studios' Ant-Man and the Wasp: Quantumania in theaters July 28, 2023.
---
Release Date
February 17, 2023
Platform
Theaters
Jennifer McDonough has been a writer at The Direct since its 2020 launch. She is responsible for the creation of news articles and features. She also has a particular affinity for action figures and merchandise, which she revels in discussing in the articles she writes, when the situation calls for it.