Ever since December 2020, Lucasfilm has been using its Star Wars Disney+ series as stepping stones towards a huge crossover event, one that could pit Grand Admiral Thrawn against Luke Skywalker.
Lucasfilm first teased plans for a MandoVerse crossover during Disney Investor Day in December 2020, a mere eight days ahead of young Luke Skywalker's cameo in The Mandalorian's Season 2 finale. 
But that wasn't the only bit of curious timing. 
Ahsoka Tano, played by Rosario Dawson, had just made the leap into live-action in The Mandalorian when the crossover was announced; and in her Chapter 13 debut, she wasted no time letting audiences who her own series antagonist would be - the Star Wars Rebels malefactor, Grand Admiral Thrawn. 
Two characters from two solo series have brought back two major Star Wars personalities: one a hero, the other a villain. 
Here's how Star Wars Disney+ shows have, and will continue to, set the stage for a Luke and Thrawn showdown. 
The Star Wars MandoVerse So Far
Following Luke Skywalker's triumphant return, fans discovered that Dave Filoni and Jon Favreau had a spin-off series on the docket, The Book of Boba Fett. 
Set at the same time as The Mandalorian, The Book of Boba Fett focused on Boba's personal post-Sarlacc pit experiences while educating audiences about Star Wars crime lords.
While the show itself wasn't well-received, fans loved the live-action introduction of Cad Bane and the episodes involving Mando, particularly Episode 6.
This was because, at the time, many assumed The Mandalorian's Luke Skywalker cameo was a one-and-done.
Not only did his return suggest the opposite, but his Episode 6 exchange with Ahsoka set the stage for him to appear in her solo series and beyond. 
The Star Wars MandoVerse To Come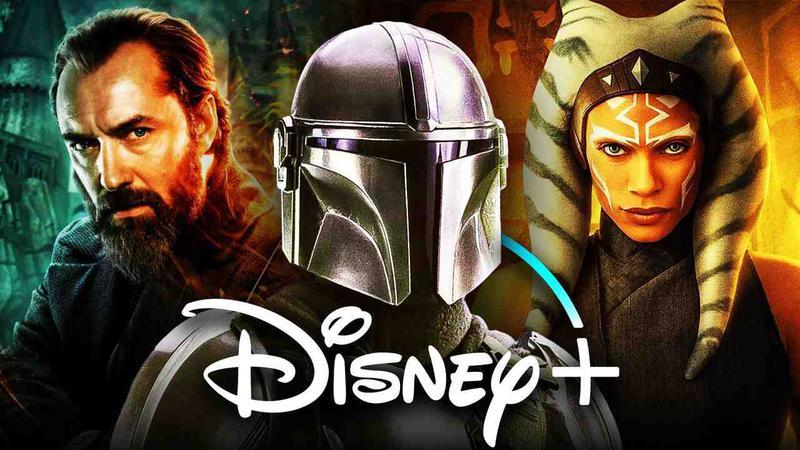 While more than two years have passed since that MandoVerse crossover tease and The Mandalorian's sophomore season, fans expect that all to change in 2023.
In the coming year alone, Season 3 of The Mandalorian will finally arrive, followed by Ahsoka whose supporting cast is largely made up of a live-action cast of Star Wars Rebels. 
And that, of course, includes Grand Admiral Thrawn, played by Lars Mikkelsen. 
But Ahsoka and Mando aren't the only shows on the horizon that are both connected and premiering in 2023.
A brand-new Star Wars series, Skeleton Crew, is expected to premiere sometime in 2023; and if reports are to be believed, it's set in a new region of space that will first be explored in Ahsoka, and where Ezra Bridger and Grand Admiral Thrawn will finally be found. 
These same reports also claim that Ahsoka will have a cameo in Skeleton Crew, and the events of that new show will impact Season 4 of The Mandalorian. 
Why Luke Skywalker & Thrawn Are on a Collision Course
As Favreau and Filoni's grand connected plan continues to unfold, it's important to note that the two characters they keep bringing up are already connected. 
Long before the MandoVerse and the Disney definition of Star Wars canon, Thrawn was a key villain in Star Wars' first post-Return of the Jedi era where he antagonized original trilogy characters, including Luke Skywalker. 
Timothy Zahn's Thrawn trilogy books were made non-canon (aka Legends material) in 2014, but Filoni made the character canon once more through Star Wars Rebels.
But even without Zahn's books, an exchange between Thrawn and Luke seems inevitable. 
This is because, at this point in the Star Wars timeline, Luke is looking to rebuild the Jedi Order. And, thanks to The Book of Boba Fett, he now knows he's not the only one with training and a connection to the Force. 
That number will only grow when Ahsoka debuts the live-action version of Ezra Bridger, leading him to cross paths with Thrawn.
It's also worth noting that Thrawn has a history with both Anakin Skywalker and Darth Vader, and no doubt the Imperial leader will have a grudge against Luke for bringing down the Empire. 
But what will a canon conflict between the son of Skywalker and the Chiss genius look like?
What to Expect From Luke vs. Thrawn
In the original Thrawn books, the Grand Admiral was rebuilding the Imperial Fleet in a distant corner of the galaxy in an attempt to destroy the New Republic and restore the Empire. 
It wouldn't be surprising if Filoni has Thrawn doing the same, especially since The Mandalorian has already introduced Imperial remnants and loyalists, such as Moff Gideon. 
The original books also explored more of the Dark Side and cloning, a major theme in recent Star Wars projects, such as The Mandalorian, Star Wars: The Bad Batch, and Disney's Star Wars sequel trilogy.
Something else to consider is the World Between Worlds which was first introduced in Star Wars Rebels and whose imagery has been incorporated in the title card design for Ahsoka. 
A big question is whether "The New Beyond" - or wherever Ezra and Thrawn have been - is somehow tied to the World Between Worlds and Skeleton Crew.
If so, imagine if Thrawn found a way to weaponize the World Between Worlds as a means to bring back the Empire and the Sith, including Darth Vader himself.
The threat of an Imperial revival is reason enough for Luke to get involved, not to mention the personal stakes of the World Between Worlds and his father. 
However, if Lucasfilm is building towards a showdown between Thrawn and Luke, audiences shouldn't expect an action-packed duel.
While Luke will surely have to wield his saber against a clone or assassin - courtesy of Dark Side alchemy and decades of clone experimentation - a battle with Thrawn himself would probably be more of a long game of words and wits with MandoVerse characters in the mix.
Grogu, in particular, is sure to be at the heart of the conflict, given his connection to the Force and how the Imperial remnant wanted him for cloning. 
Maybe fans will get to see him ignite that lightsaber alongside Luke after all? 
With Mando Season 3, Ahsoka, and Skeleton Crew all expected to debut in 2023, Star Wars fans should have a better idea of where the MandoVerse story is headed and how Luke and Thrawn are involved in the coming months.
The real question now is whether Lucasfilm intends to introduce Thrawn in The Mandalorian ahead of Ahsoka; and just how many other seasons and shows stand between fans and this anticipated crossover event. 
The Mandalorian Season 3 debuts on March 3 on Disney+.
LATEST NEWS
TRENDING