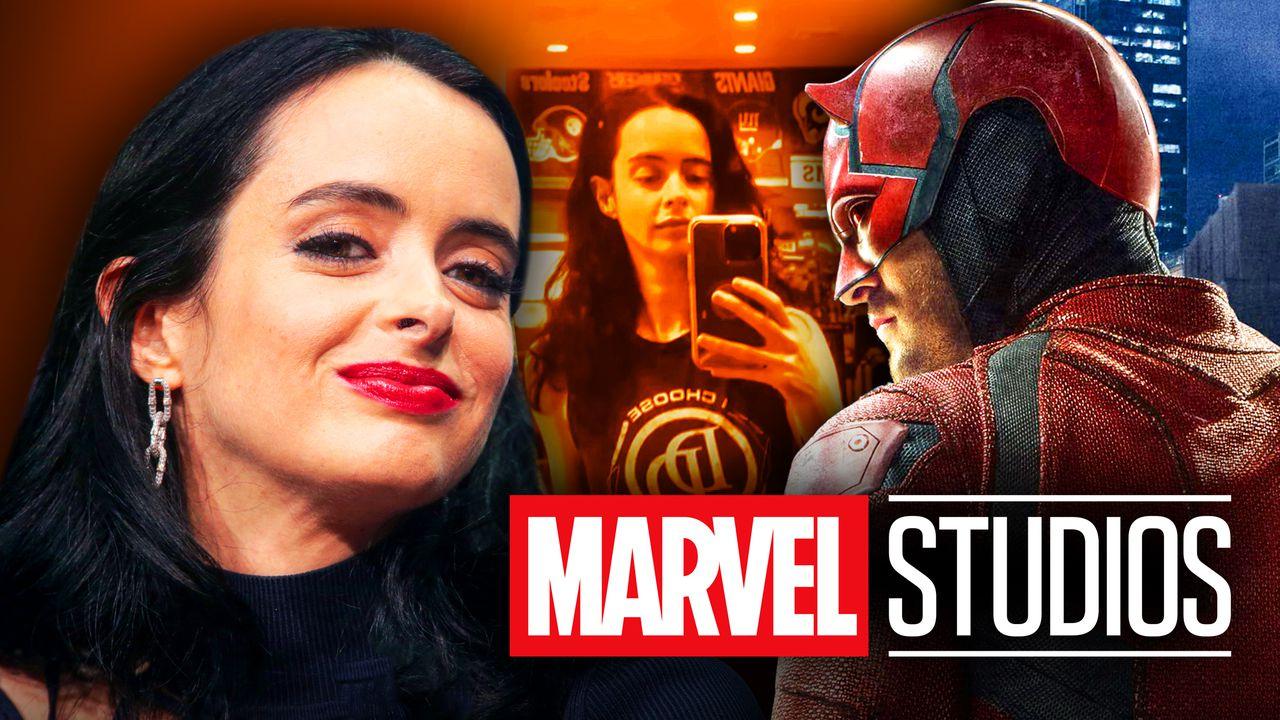 New posts from Jessica Jones' Krysten Ritter revealed her training in the gym amid rumors she may be returning to the MCU in Daredevil: Born Again.
With Born Again finally bringing Charlie Cox's Daredevil back into the spotlight alongside a host of surprise characters, many are wondering what the future holds for the rest of the Defenders gang. Among the most discussed is Krysten Ritter's Jessica Jones who, much like Daredevil, led three seasons of her own series on Netflix.
Previous reports have claimed Cox's Daredevil will be on the search for Ritter's Jessica Jones in Echo, setting her up to return in Born Again. However, the latest rumors may have put an end to that talk, as they indicated Jones may be replaced, potentially by Jon Bernthal's Punisher, due to scheduling conflicts for Ritter.
Naturally, that led talk to die down, until a recent selfie from the actress, who seemingly just wrapped shooting on her only current project, Orphan Black: Echoes, resurged rumors of her imminent MCU return.
Jessica Jones MCU Return Rumors Surge Again
Jessica Jones star Krysten Ritter shared several photos to her Instagram story on January 4 (posted to Twitter by @DDBA_BRA). The image added fuel to the fire of rumors that she may be returning to the MCU in Daredevil: Born Again or another upcoming project.
Although Ritter was sharing videos in the gym throughout much of 2022, she can be seen in this latest batch of images wearing a Daredevil t-shirt which features the iconic superhero logo alongside the phrase "Choose Justice."
@Perfectshots247 replied to the images, sharing hopes for Jessica Jones to be a "surprise character" in Daredevil: Born Again, pointing out that most of the previous MCU Disney+ series has featured an unexpected cameo character:
"YEEEEEEEEEEESSSSSSSS please let her be the "surprise character" of the series (every Marvel series has one). I prefer her than the Punisher because the Punisher can be introduced in other projects and having Jessica Jones appear in the DD makes room for using the other Netflix series"
The Hollywood Handle also shared Ritter's selfies, pointing out that filming for Born Again will begin next month in February:
"Krysten Ritter posted on her Instagram story, working out at the gym using a Daredevil T-shirt. Filming for 'DAREDEVIL: BORN AGAIN' starts in 1 month…"
@TheNerdSaga speculated that the entire Netflix Marvel cast of Luke Cage, Jessica Jones, and Iron Fist would all return with their original actors:
"Let's be real, Luke, Jessica, and Danny are all coming back and Mike, Krysten, and Finn are playing them."
@vesoludiq noted the potential scenario that Jessica Jones may return alongside Daredevil, but not his Netflix sidekicks of Karen Paige and Foggy Nelson:
"Imagine the bring jessica jones but not karen and foggy"
Ritter was scheduled to film Orphan Black: Echoes in Toronto, Canada, from August to December 2022. As that series has likely wrapped, the actress currently doesn't have any publically known projects scheduled to film imminently. 
Is Krysten Ritter Teasing Jessica Jones' MCU Return?
Make no mistake, Krysten Ritter has not left her fitness life behind since Jessica Jones ended, having continued to share her training on Instagram over the last few years while other paparazzi shots have also shown her at the gym. So, what makes this latest scenario so indicative of an upcoming MCU comeback?
For one, the timing of Ritter being spotted working out in a Daredevil t-shirt just weeks before Daredevil: Born Again starts filming in February is suspicious. Granted, this may simply be a piece of merchandise she picked up as a fan or during her time on Netflix, but the added rumors of her involvement certainly make this intriguing.
Of course, one insider claimed Jessica Jones' role in Echo and Daredevil: Born Again may be replaced due to conflicts with Ritter's schedule. But, at least based on what's known publically, that seems wide open for an MCU role that could begin shooting anytime this year, as Born Again will shoot from February to December.
Why Daredevil: Born Again Needs To Reintroduce the Defenders?
Ever since the Marvel Netflix universe winded down in 2019, fans have been desperate to see the Defenders return to the MCU. That wish was finally granted when Charlie Cox's Matt Murdock showed up in Spider-Man: No Way Home, kickstarting a Daredevil revival across multiple Disney+ projects.
Obviously, Daredevil was by far the most popular of the Netflix series and also the best-known character of the bunch even before his own show came around. That makes him the perfect face to spearhead the return of the Defenders and the Punisher, which Born Again may well be doing across its 18-episode season.
With the insane viewership Born Again will likely generate, this ought to help repopularize those lesser-known Defenders characters and reintroduce them to the wider MCU. And now that Daredevil has met the likes of She-Hulk, Hulk, and Spider-Man, he can bring these street-level friends along for future crossovers.
Daredevil: Born Again will debut on Disney+ in Spring 2024.