In less than two weeks, Marvel Studios will continue its Phase 4 line-up with the Disney+ series Hawkeye, the Marvel Cinematic Universe's 31st entry in total. Most excitingly, it will finally give Jeremy Renner's Clint Barton the spotlight in his first solo project after a decade of playing a supporting role alongside Earth's Mightiest Heroes.
This series will play its part in introducing key new players that will help to carry the MCU for the next few years, starting off with Hailee Steinfeld's Kate Bishop as she begins her path to a likely place in the Young Avengers. She will also be joined by Alaqua Cox's Maya Lopez, who will begin the series as an antagonist before switching to a hero's journey in her own recently announced Echo Disney+ series.
Along with these hints toward the future, Hawkeye will, of course, pay tribute to the MCU's history as Renner takes on his seventh appearance as the Avengers' master archer. As it turns out, he won't be the only blast to the past, as shown by a recent TV spot promoting the Disney+ series.
Hawkeye Building Arrows in a Cave?
A recent Hawkeye TV spot that premiered during Sunday Night Football, via @dano_cosmic on Twitter, revealed that Clint Barton will be building his own arrows using Stark technology in his Disney+ series.
Barton is seen at a workshop desk filled with tools and materials for his arrows. The spot also gives a look at part of his tattoo that he got during his time as Ronin, which fans saw in 2019's Avengers: Endgame.
For just a split second, a shot of official Stark tech can be seen in this spot. The Stark Industries logo can clearly be seen on the sides of multiple boxed items, which appear to be arrowheads.
Clint Barton looks intensely focused on his work as he holds a small device with pliers.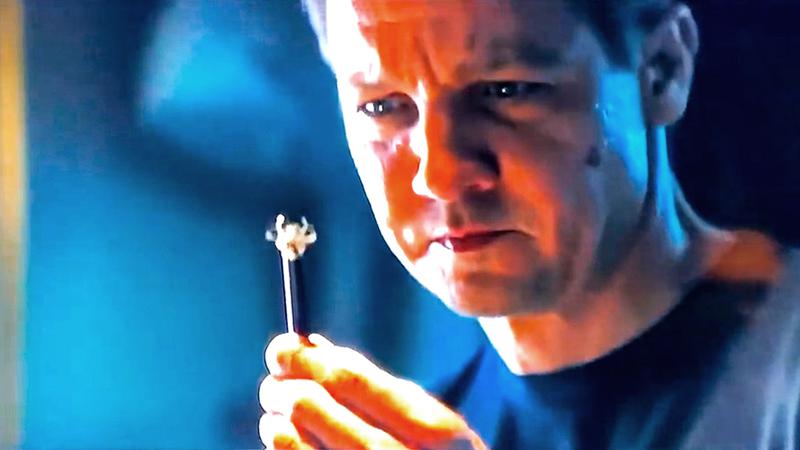 This spot showcases Barton's skills with building and/or fixing his own technology, which will likely be shown in more detail throughout the series' six episodes.
The full spot can be seen below:
Iron Man Returns Again for Hawkeye
Thus far through Hawkeye's tenure in the MCU, fans have largely only seen the hero's skills as an archer and teases of just how many different arrows and arrowheads he holds in his quiver at one time. However, what hasn't been highlighted is Barton actually making these arrows himself, which should add yet another layer to his character development.
As it turns out, part of that will evoke the memory of Tony Stark's Iron Man with technology from the MCU's original hero making its way into this story.
This is far from the first nod to Iron Man's legacy in the MCU's Phase 4, as "Stark" has been mentioned in series like WandaVision and Loki. This surely won't be the last thanks of Tony Stark references, as shows like Ironheart and Armor Wars will be spinning directly from the Iron Man solo story. Fans will be curious to find out exactly how much screentime this classic tech will get, although seeing it in this TV spot should mean it will play a key role in developing Hawkeye's arrows.
No matter what the details turn out to be on the Iron Man front, the MCU's past, present, and future will be well accounted for in the last Disney+ series of the year.
Hawkeye will stream its first two episodes on Disney+ on November 24.