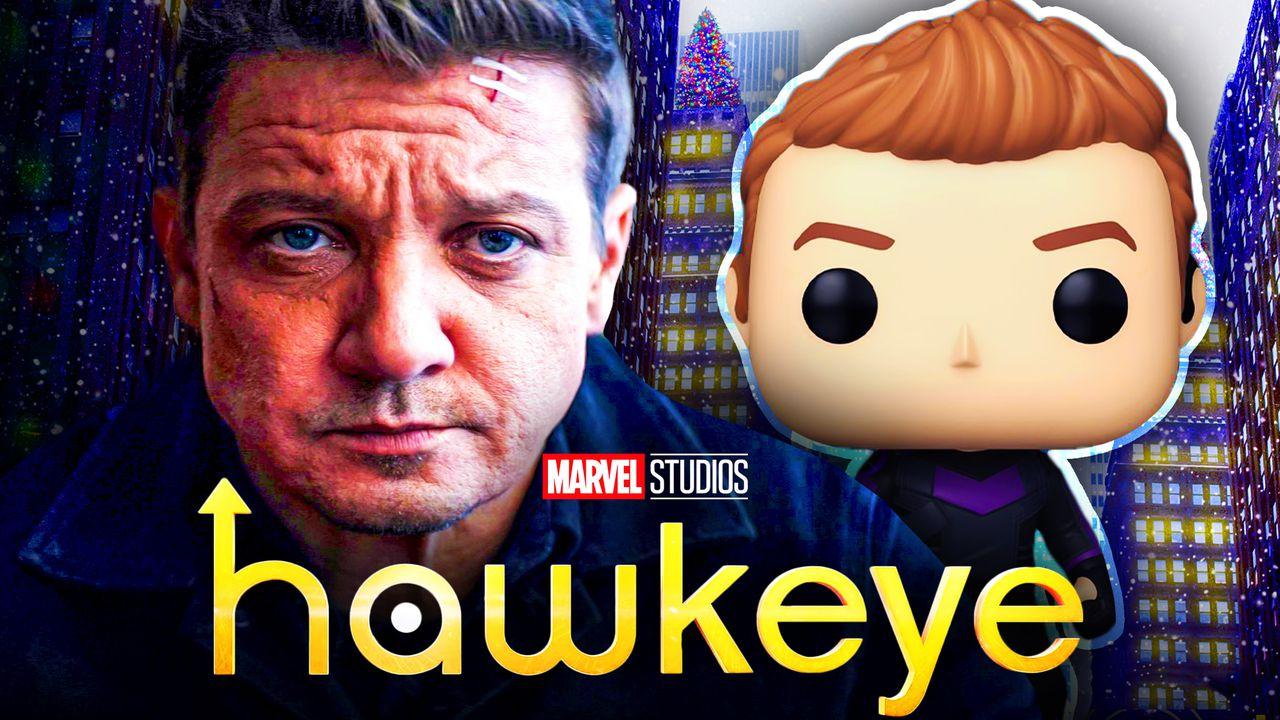 The debut of Marvel Studios' Hawkeye is drawing near and the marketing campaign for the show is moving at full speed. 
Various clips and TV spots have teased multiple plot points, including a rather confusing rooftop bout involving Clint Barton and Yelena Belova, as well as two MCU newcomers in Hailee Steinfeld's Kate Bishop and Alaqua Cox's Echo. 
The new series is set during Christmastime in New York City, and the holiday vibes are very real within the show's marketing. And now, Marvel and Funko are teaming up for the holidays, so fans can have the perfect gift for their Hawkeye-loving friends and family. 
Hawkeye Gets a New Funko for Disney+ 
A new Funko Pop! showcasing Jeremy Renner's Clint Barton has been revealed in celebration of Disney+ Day and Hawkeye's debut later this month. The new Pop! is available for preorder now. 
Clint Barton is seen holding his trusty bow and sporting some updated purple-and-black combat gear that audiences haven't seen the veteran Avenger wear since 2016's Captain America: Civil War. 
Barton is also wearing a new, larger earpiece than in his past appearances, teasing his comic-accurate hearing loss that was also teased in the latest footage revealed from the upcoming streaming series. 
Preorder the new Hawkeye Funko Pop! here. 
Also in celebration of Disney+ Day, Funko released two more Pops! acknowledging the upcoming debut of The Book of Boba Fett - one for the titular famed bounty hunter and another for his right-hand-woman, Fennec Shand. 
Boba Fett shows off his double blasters in this shot of the new Funko figure, establishing his presence as he looks to claim what he believes is rightfully his.  
Preorder the new Boba Fett Funko Pop! here.
Fennec Shand is shown kneeling in her recognizable black-and-orange-striped attire. Holding a gun of her own, she now stands with Boba Fett and serves his cause. 
Preorder the new Fennec Shand Funko Pop! here.
Hawkeye's Old Heroes and New Beginnings 
Besides his new comic-inspired getup, Clint Barton's hearing aid is the most interesting development with this new Funko reveal. Not much is known about Hawkeye's eventual loss of hearing, but the idea was introduced in a new clip from the show, so it'll likely happen early on in the Disney+ series' run. 
Clint could have lost his hearing from something as simple as an explosion going off too close to his ear, or as complicated as Barton being poisoned by an enemy that is trying to rob him of his senses. 
Considering one of the show's main antagonists is also hard of hearing, this element will likely play a large part in the show's plot. And since Hawkeye is featured in his purple super suit on this Funko figure, it's likely fans won't see a hearing aid come into play until the back half of the streaming series when he gets his new combat attire. 
While it's strange that only a single Pop! was revealed ahead of Clint Barton's Disney+ debut, fans can surely look forward to seeing this Hawkeye collection grow with each new episode that's released. 
This should only excite fans since it's likely that the rest of the Hawkeye Funko lineup will show off new MCU characters and other unseen elements that have to remain hidden until their reveal on Disney+. 
For instance, Hailee Steinfeld will be starring alongside Jeremy Renner as Kate Bishop in the Disney+ team-up adventure, yet even her new MCU role has yet to be seen in Funko form. With this in mind, audiences will likely be introduced to her three-inch Pop! after they meet her properly on the small screen in the show's first two installments. 
Catch the first two episodes of Hawkeye on November 24, exclusively on Disney+. 
Preorder the new Hawkeye Funko Pop! here. 
Preorder the new Boba Fett Funko Pop! here.