As Invincible launches the first part of Season 2, here's a comprehensive list of all the cast and characters confirmed to appear in the new episodes—minus a few spoiler inclusions.
When the animated adaptation launched on Prime Video in 2021, it quickly became a pop culture phenomenon. Sadly, fans have now had to wait over two years for another season—a gap that the creator assured won't be happening again.
Either way, that agonizing wait is nearly over, and fans can finally see what the next step is for Mark Grayson and everyone else around following the brutal betrayal of Earth's former protector, Omni-Man.
The Cast and Characters of Invincible Season 2
Note: Some characters whose inclusion would be considered spoilers were not included in this list.
Steven Yeun - Mark Grayson
Steven Yeun's Mark Grayson is the star of the show and the titular hero. This time around, Steven will be coping with his Father's betrayal while worrying about the possibility that he might one day become like his Viltrumite father.
That guilt will weigh have on Mark's shoulders as he tries to still be a hero for the people of planet Earth.
Yeun is known for his time as Glenn on The Walking Dead, and the actor also played a big role in the recent Netflix series Beef.
Sandra Oh - Debbie Grayson
Debbie Grayson, played by Sandra Oh, is completely destroyed by the betrayal of Nolan Grayson, her former husband. She's struggling to pick up the pieces of her shattered existence.
To make things worse, she's having trouble finding the right outlet to get through the mourning process.
Many might know Oh from Killing Eve, and she can be seen in the upcoming movie Quiz Lady.
J.K. Simmons - Nolan Grayson/Omni-Man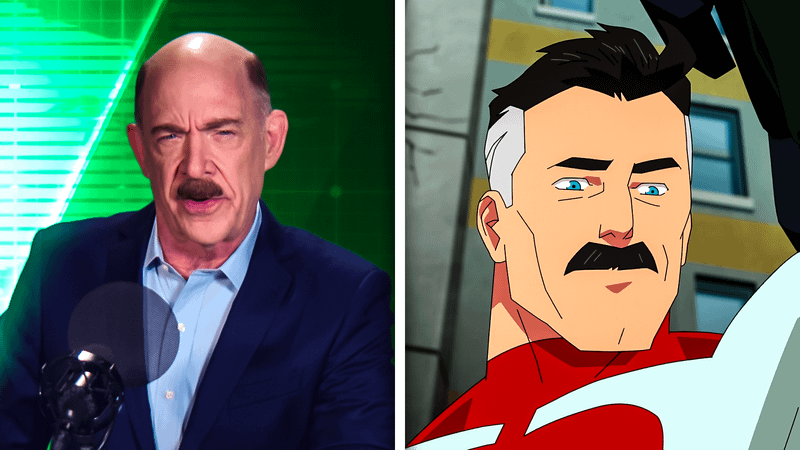 Nolan Grayson, otherwise known as Omni-Man, is voiced by J.K. Simmons and was the secret bad guy in the show's first season. In the finale, he suddenly left Earth after causing some astonishing destruction.
While the character is confirmed to be returning, just how and when he'll be doing so remains a mystery.
J.K. Simmons is known for many notable roles, including J. Jonah Jameson in the Spider-Man franchise, Fletcher in Whiplash, and more.
Zazie Beetz - Amber
Zazie Beetz' Amber is Mark Grayson's girlfriend who is by his side, even if she's consistently stood up thanks to Mark's superhero gig.
The two of them hope to attend college together after graduating high school.
Beetz can be seen in Atlanta, Joker, and Deadpool 2.
Sterling K. Brown - Angstrom Levy
Angstrom Levy is a brilliant man who has the ability to open up portals to other realities. While his intentions start pure, after a tragic accident, his goals become far more sinister than he ever intended.
Sterling K. Brown has joined the show's cast to add his voice to the iconic supervillain, who will be the key bad guy in Season 2.
Some of Brown's biggest projects as of late include This Is Us, Black Panther, and Frozen II.
Grey Delise (Also Known as Grey Griffin) - Olga, Betsy Wilkins, Shrinking Rae, and Monster Girl
Grey Delise wears tons of hats for the series.
She voices two members of the new Guardians of the Globe, Shrinking Rae and Monster Girl. On top of that, she's also Olga (Red Rush's former wife) and Betsy Wilkins (the mother of Atom Eve).
All of these various characters will be recurring throughout the show's second season.
Delise has done lots of voice work in the past, including Batman: Arkham City, The Loud House, Bumblebee, and more.
Gillian Jacobs - Atom Eve
Atom Eve is a key superhero in the Invincible storyline and is voiced by Gillian Jacobs.
Eve has the ability to transmute any material on a molecular level. Currently, she is having trouble figuring out her purpose while navigating a severe disconnect between herself and her parents.
Jacbos became a well-known name thanks to her role in the fan-favorite comedy Community on NBC. Most recently, she partook in The Bear, Minx, and Winning Time: The Rise of the Lakers Dynasty.
Chris Diamantopoulos - Donald, Doc Seismic, and Pete, the Prison Guard
Chris Diamantopoulos voices many notable characters, just like Gray Delise.
Most important of them all, he plays Donald, Cecil's right-hand man, who is somehow alive once again after being killed by Omni-Man in Season 1.
His other roles include the recurring villain Doc Seismic and Pete the Prison Guard.
Some of Diamantopoulos' previous work includes Pantheon, The Wonderful World of Mickey Mouse, and Mrs. Davis.
Walton Goggins - Cecil
Cecil is the head of the Government agency Global Defense Agency, an organization in charge of protecting the Earth and monitoring the many active super-powered individuals on the planet.
Goggins' is most known for his time as Boyd Crowder in Justified. He can also be seen in The Righteous Gemstones, George & Tammy, and The Last Days of Ptolemy Grey.
Melise - Dupli-Kate
Melise's Dupli-Kate is a member of the new Guardians of the Globe who has the ability to duplicate herself—creating duplicates that often end up dying horrible, violent deaths.
The actress can be seen in The Shannara Chronicles, How to Be a Vampire, The Flash, and Star-Crossed.
Jason Mantzoukas - Rex
Rex, voiced by Jason Mantzoukas, is a crude, sometimes hard-to-handle personality who has the ability to create explosive energy. He's a member of the new Guardians of the Globe.
Mantzoukas previously starred in Big Mouth, HouseBroken, The Good Place, and The Dictator.
Ross Marquand - Immortal & Rudy
Ross Marquand voices both the Immortal and Rudy.
Immortal is one of the only surviving members of the original Guardians of the Globe, and he has a tendency to live up to his namesake. Rudy is the human form of Robotman, who is adapting to his new life, living in flesh and bone.
Marquand played Aaron in The Walking Dead, and provided the voice for Red Skull in Avengers: Infinity War and Endgame.
Khary Payton - Black Samson
Kary Payton's Black Samson is gifted with superhuman strength and is one of the new members of the Guardians of the Globe.
Payton is also known to voice several other smaller roles in the show.
The actor also starred on The Walking Dead alongside Ross Marquand, and can also be heard in Teen Titans Go!, The Super Mario Bros. Movie, and Young Justice.
Jay Pharoah - Bulletproof
Bulletproof, voiced by Jay Pharoah, is a new addition to Invincible's roster in Season 2. He has the ability to fly extremely fast and, as his name suggests, is nearly impervious to physical harm.
Some of Pharoah's previous work includes Family Guy, American Dad!, A Million Little Things, and The Blackening.
Zachary Quinto - Robot
Zachary Quinto brings Robot to life, someone who works alongside Cecil and leads the new Guardians of the Globe. Robot spent most of season one working to create an organic body, and now, in Season 2, he'll have to figure out how to live with what that means.
Quinto can be seen in American Horror Story, Star Trek, Big Mouth, and Heroes.
Kevin Michael Richardson - The Mauler Twins
The Mauler Twins are brilliant mad scientists who always run around with a clone of themselves in order to help with their fringe experiments. The duo, voiced by Kevin Michael Richardson, also have superhuman strength and durability, posing a formidable threat in a fight.
In Season 1, they helped Robot create his organic body, and in the second season, someone else will come knocking for their help.
Richardson can be seen in The Simpsons, Trolls Band Together, American Dad!, and more.
Tatiana Maslany - Aquaria
Aquaria is the widow of the late Aquarius, who was once a member of the Guardians of the Globe. She leads the underwater city of Atlantis, and she has a very interesting ask of Mark Grayson when she appears in Season 2.
Maslany is well-known for her role as Sarah Manning (and her clones) in Orphan Black, and most recently played Jennifer Walters in She-Hulk: Attorney at Law.
Darkwing - Cleveland Berto
While the original Darkwing was violently murdered by Omni-Man in Season 1, as Season 2 rolls around, someone has taken up the mantle once again.
This time around, the vigilante will be voiced by Cleveland Berto.
The actor can be seen in Bosch: Legacy, FBI, Chicago P.D., and more.
Seth Rogen - Allen the Alien
Mark Grayson first met Seth Rogen's Allen the Alien by mistake, but hopefully, their next meeting will go a little better.
As Season 2 begins, Allen is looking to report back to the Coalition of Planets about Mark Grayson and his Viltrumite origins.
Some of Rogen's previous projects include This is the End, Superbad, Pineapple Express, and Sausage Party.
Ben Schwartz - Shapesmith
Shapesmith, voiced by Ben Schwartz, is a Martian from Mars who has come to Earth in hopes of being a superhero like the late Martian Man. As his namesake suggests, Shapesmith can change shapes.
Schwartz can be seen in Parks and Recreation, The Afterparty, Sonic the Hedgehog.
Fred Tatasciore - Adam Wilkins, Killcanon, and The Giant
Fred Tatasciore's main role is as Adam Wilkins, the father of Atom Eve, who carries a deep resentment of his daughter's special abilities.
The actor also offers his voice to smaller villain roles such as Killcanon and The Giant in Season 2.
Tatasciore's voice also appears in Tiny Toon Looniversity, Star Trek: Lower Decks, and The Ghost and Molly McGee.
Andrew Rannells - William
William is Mark Grayson's best friend and one of the few who knows his superhero alter ego. The duo's friendship will continue to be explored as Season 2 comes around, and they attend college together.
Rannells also played key roles in Big Mouth, Adventure Time: Fionna & Cake, The Prom, and more.
Thaedus - Peter Cullen
Thaddeus is a newcomer to the show and will be voiced by Peter Cullen. He leads the Coalition of Planets and works alongside Allen the Alien.
Most people probably know Cullen's voice from his time as Optimus Prime in more than handful of Transformers projects.
---
Invincible Season 2, Part 1 debuts on November 3, only on Prime Video.
---
Russ Milheim is the Industry Relations Coordinator at The Direct. On top of utilizing his expertise on the many corners of today's entertainment to cover the latest news and theories, he establishes and maintains communication and relations between the outlet and the many studio and talent representatives.