Stargirl lead star Brec Bassinger openly teased her upcoming crossover with HBO Max'sTitans in a new Instagram video. 
As Titans prepares to bid goodbye to viewers, the DC show is still set to pull off an unexpected crossover with the Arrowverse's Stargirl. Early evidence proved that such an event would happen after Stargirl's Blue Valley High School signage was spotted on the Titans set. 
It was ultimately confirmed when Bassinger posted a behind-the-scenes photo of herself as Stargirl alongside Ryan Potter's Beast Boy, Titans director Eric Dean Seaton, and Stargirl producer Geoff Johns.
Stargirl Actress Teases Titans Crossover Again
As part of Jordan Kent actor Alex Garfin's takeover of the Superman and Lois official Instagram page, a video of Stargirl actress Brec Bassinger was posted. 
The video begins with Brec introducing herself as Stargirl from Earth-9 before saying that she's jokingly looking for Jordan Kent/Alex Garfin: 
"Instagram???

Lol this is @brecbassinger 's part of my takeover. NOT AN ANNOUNCEMENT OF ANY FUTURE CROSSOVER JUST US HAVING FUN IN REAL LIFE. Bears no relevance to the show or the actual earths but bears complete relevance to how great this clip is.

- @alexgarfin (but this one was really @brecbassinger)"
Interestingly, Bassinger's mention of her Stargirl coming from Earth-9 contradicts what the Arrowverse's Crisis on Infinite Earths crossover established. 
To recap, the five-episode event revealed that Stargirl takes place on Earth-2 while the events of Titans are happening on Earth-9: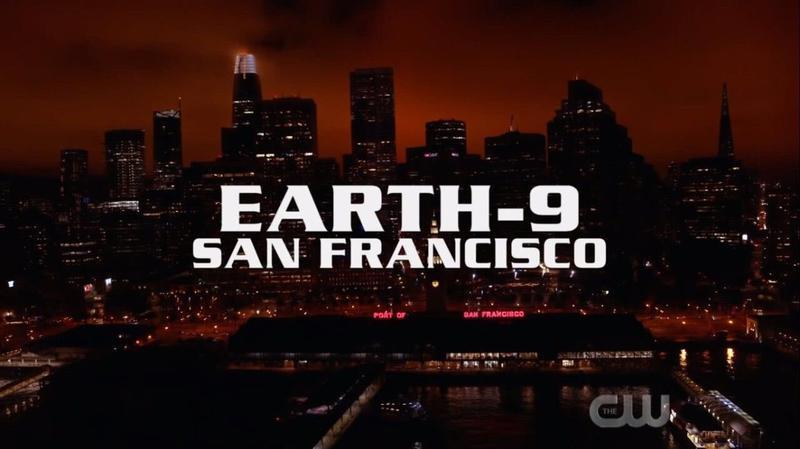 Watch a snippet of the video below: 
Adding more fuel to the fire, Bassinger seemingly confirmed in an Instagram comment that the version of Stargirl that fans will see in the Titans crossover is not from Earth 2. Instead, it looks like it will be a doppelganger of the hero from Earth 9, which is the same world as Titans: 
"Clearly this is not earth 2 stargirl guys JEEZ look at the top of the suit."
Titans director Eric Dean Stanton previously confirmed on Twitter that the show's crossover episode with Stargirl will premiere on Thursday, April 20, on HBO Max. 
Is Brec Bassinger Playing a New Version of Stargirl?
Whether or not Brec Bassinger is joking in the video, this is clearly a tease from the Stargirl actress about her upcoming crossover with Titans based on the Earth-9 mention.
Given that Titans is not known for having connections to the Multiverse, Bassinger portraying a new Stargirl from Earth-9 would make sense from a story standpoint. 
If this happens, then it would allow Bassinger to explore a different portrayal of Courtney Whitmore while not being constrained by her past version from The CW. 
Meanwhile, aside from the confirmation of the crossover's release date and a behind-the-scenes photo of Bassinger and Ryan Potter, there has yet to be an official marketing push for the massive installment. 
However, HBO Max could be holding off in promoting the crossover since the episode might relate to a spoiler-heavy plot point from the current run of Titans.
Hopefully, more details about the crossover will emerge in the coming days.
Titans Season 4 Part 2 is set to premiere with a two-episode slate on HBO Max on Thursday, April 13 before the Stargirl crossover follows on April 20.