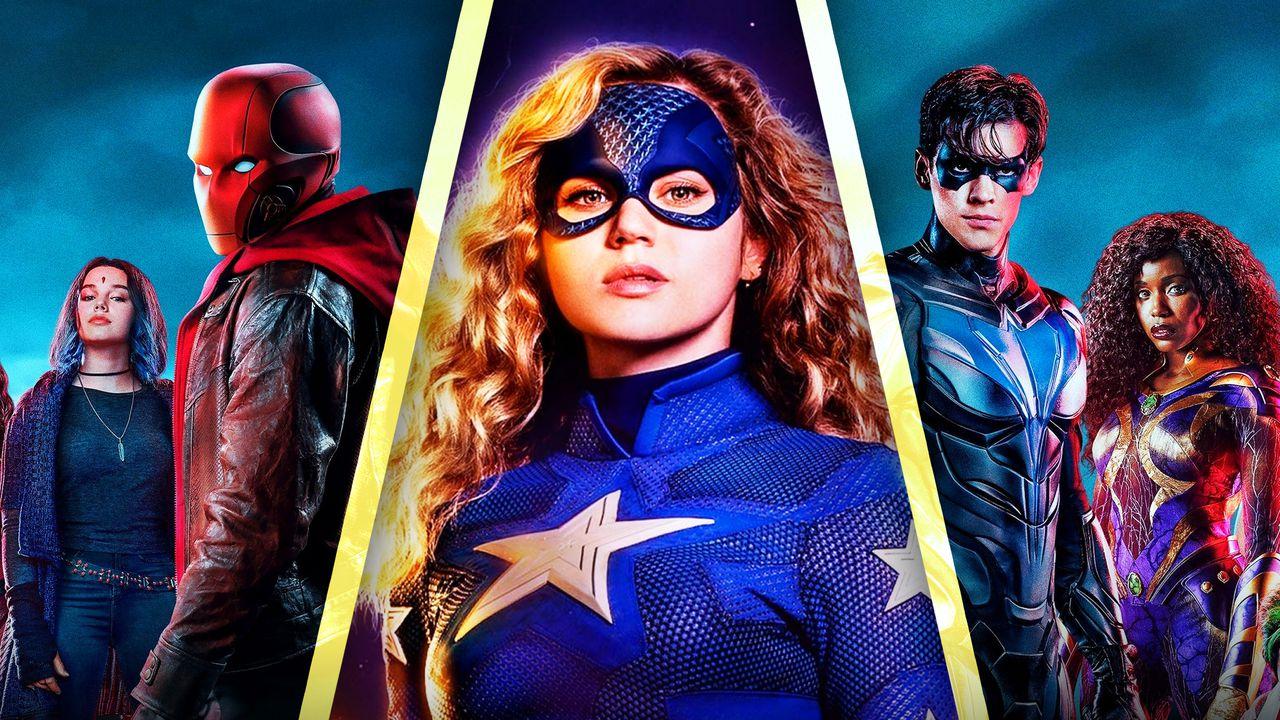 After the release of Titans Season 4 Part 2 trailer, new details about the show's crossover episode with Stargirl has been revealed by its director. 
Although Stargirl was cancelled by The CW, Brec Bassinger's titular DC heroine is still poised to return for one more adventure alongside the Titans. 
Plot details of the crossover are still being kept under wraps, but it is expected to heavily feature Ryan Potter's Beast Boy. 
When Will Titans Crossover With Stargirl Premiere?
Titans director Eric Dean Stanton confirmed on Twitter that the show's crossover episode with Stargirl will premiere on Thursday, April 20, on HBO Max. 
Stanton also revealed that the episode is titled, "Dude Where's My Gar?," with the director saying that "there is so much bucket-listness" in the installment that could have been the title:
"Coming 4/20/23 the comic that made me want to be a storyteller! #Directorslife ['Titans'] Final Season. "Dude, Where's My Gar." 

There is so much bucket-listness in this episode that could have been the title."
Bassinger previously confirmed the crossover by sharing a behind-the-scenes photo of herself alongside Ryan Potter, Stanton, and Stargirl producer Geoff Johns: 
As pointed out by @StargirlWiki, the crossover episode was supposed to be Episode 7, but this new move confirmed that it is now Episode 9. 
Moreover, this is the first episode of Titans to be co-written by a cast member since Potter is one of the scribes.
How Stargirl Fits in Titans Season 4 (Theory)
Titans Season 4 Part 1's ending was quite unfortunate for the team, with Mother Mayhem seemingly defeating the Titans. After the team vanished, Ryan Potter's Gar aka Beast Boy was the only one left, with him being transported to the Red (a force that connects all living organisms within the universe). 
Given that the crossover features Gar in a more prominent role, it's possible that Brec Bassinger's Stargirl will only meet the lone Titan member in the episode. While this is unfortunate, there is a potential explanation as to why this will happen. 
Considering that Beast Boy was transported to the Red at the end of Season 4 Part 1, it's possible that the installment would feature his escape from that dimension, leading to a trip to the Multiverse, specifically Stargirl's Earth-2. 
However, the downside to this theory is Stargirl or the Justice Society of America is not aware of Multiverse travel so it would be hard for Gar to return to his Earth.
Another possible way for Gar to return to reality would mean escaping from the Red accidentally transports him into Blue Valley (Stargirl's town). 
If this happens, this would mean that the Stargirl who will appear in Titans is a different version from The CW series. (The Crisis On Infinite Earths crossover established that Titans and Stargirl are set on different realities.)
It remains to be seen if Bassinger's Stargirl will have a brief role in the upcoming crossover, but seeing her return is already a win for fans. 
Titans Season 4 Part 2 is set to premiere with a two-episode slate on HBO Max on Thursday, April 13.