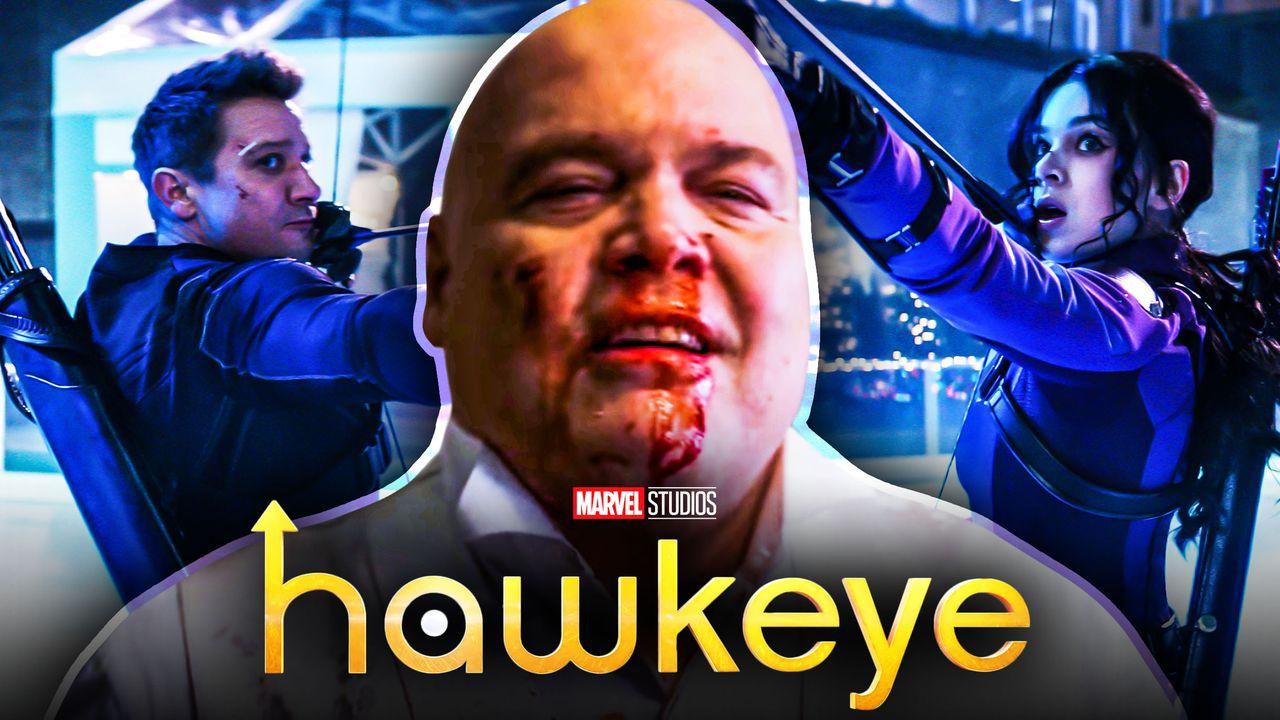 Hawkeye is Marvel's last Disney+ show for 2021 and it looks like it will end the year with a bang. Clint Barton's solo series has spent five episodes introducing audiences to new characters like Hailee Steinfeld's Kate Bishop and has brought back a few returning faces like Florence Pugh's Yelena Belova. Most notably, however, has been the return of Vincent D'Onofrio's Wilson Fisk who was last seen in Netflix's Daredevil. 
The last episode of Hawkeye is setting up to be one big finale as Barton, Bishop, and Belova all come together to face the "big guy." The return of Fisk has been something fans have been speculating for some time. As the Kingpin of crime in New York, it seemed likely that Fisk would be connected to the Tracksuit Mafia that Clint and Kate have been tracking all season, and those suspicions were finally confirmed at the end of Hawkeye's fifth episode. 
Marvel Studios recently recaptured the rights to the characters featured in the Marvel Netflix series but Fisk's reappearance was still a landmark move. Now the directors behind Fisk's return have spoken about working with the iconic actor.
Hawkeye Directors Discuss Wilson Fisk's Return
In an interview with The Hollywood Reporter, Hawkeye directing duo Bert and Bertie opened up about their experiences working with Vincent D'Onofrio on the show. 
The directors were behind Kingpin's fleeting photographic reveal in Episode 5 but it seems they were still able to work with D'Onofrio in person and Bert even called it one of her "favorite days on set."
We were lucky enough to work with him and to share time and space with him. He is the most remarkable actor, the way he holds space. That was a treat. That was one of our favorite days on set.
Bertie expanded on Fisk's character saying his return brings a level of "intense sociopathic evilness" to Hawkeye.
It means so much. Not just logistically for the world. But just the level of intense sociopathic, evilness. (Laughs.) Which is the real stake. There have been stakes building throughout Hawkeye. It starts off very fun and games and the Tracksuits and the introduction of Maya Lopez and there's Yelena and it just keeps getting more intense. It's wonderful being part of this show that starts as one thing and it just escalates until these tones merge, so we can go from laughing your heart out to gripping the edge of your seat.
Hawkeye Faces An Evil Villain
Fans who are familiar with Daredevil will be aware of Wilson Fisk's "sociopathic evilness." Across the three seasons of the Netflix show, audiences have seen many brutal murders at the hands of Kingpin as well as many bloody fights with Daredevil.
While it's unclear whether these events are still canon in the MCU, Kingpin has clearly made a name for himself. Clint Barton even seemed nervous about going up against Fisk, saying to Kate in episode 5 "that's the guy I've been worried about this whole time." 
As Bert and Bertie pointed out, the stakes within Hawkeye have been building for some time. What started as a quest to regain the Ronin suit has turned into an even larger and more dangerous mission as Bishop unravels the mystery behind her suspicious new father-in-law and Barton grapples with the grudge Maya Lopez has against him for the murder of her father. Then there's also Yelena to worry about, who is after Barton for the part he supposedly played in the death of her sister, Natasha Romanoff.
Add Wilson Fisk on top of all that and Hawkeye is certainly going to have his hands full in the series finale. 
The sixth and final episode of Hawkeye airs on December 22 on Disney+.