While Marvel is back on the big screen in a big way due to Eternals and the upcoming Spider-Man: No Way Home, live-action Marvel is also coming back to Disney+ with Hawkeye in late November.
In this six-episode holiday series, Jeremy Renner's Clint Barton teams up with Hailee Steinfeld's Kate Bishop - a new addition to the MCU - to confront threats from both the past and present, all in time for Christmas. 
Marvel Studios' fifth Disney+ series of 2021 was inspired by the 2012 Hawkeye comic run by Matt Fraction and David Aja, and thankfully, their Lucky the Pizza Dog has crossed over into the MCU canon as well. 
Just weeks away from its November 24, 2021, double-episode debut, marketing for Hawkeye is ramping up, highlighting Marvel's new duo and their furry friend. 
Hawkeye, Kate Bishop, & Lucky the Dog
On a new cover for Zavvi's The Lowdown, Hawkeye's Clint Barton, a winking Lucky the Pizza Dog, and Kate Bishop are front and center against a wintery, New York City backdrop.
Barton and Bishop are also sporting Hawkeye's signature purple motif from the comics, which fans haven't seen much of in the films. 
The cover's title and caption are mainly focused on Steinfeld as Kate Bishop, as the actress is expected to make waves not only in the upcoming series but also in the greater MCU moving forward.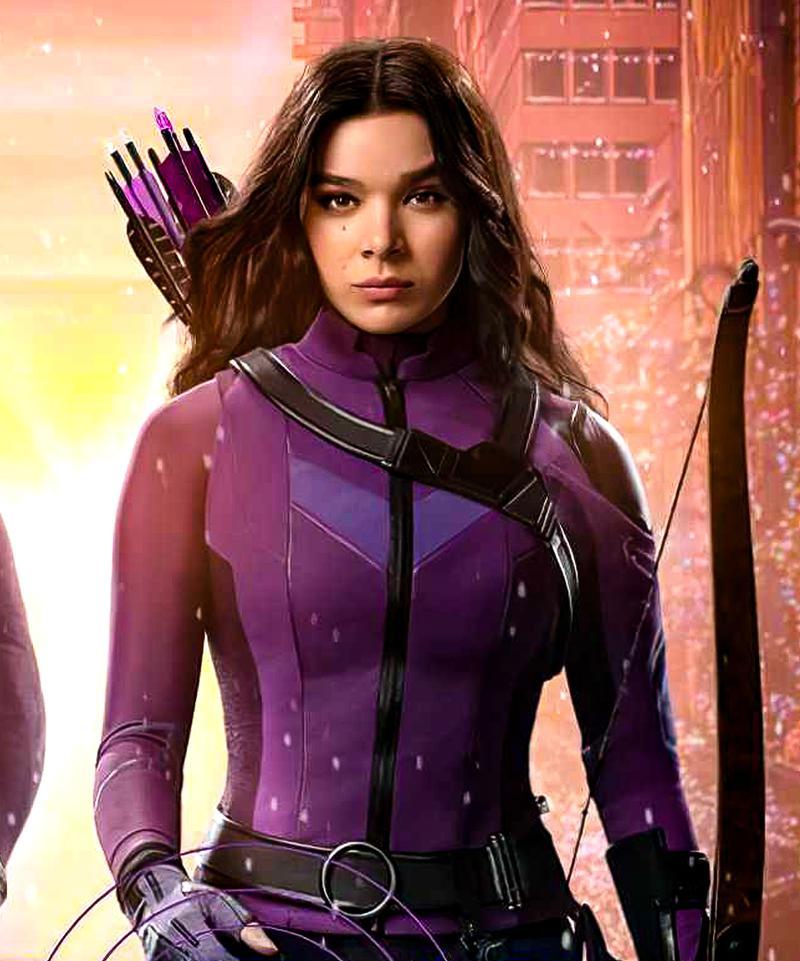 Hawkeye's Hailee Steinfeld is Right on Target
While Hawkeye's creators have established Barton and Bishop's mentor/mentee relationship for the series, little to nothing has been said about Clint Barton's future with the MCU beyond this show. 
However, this new cover claims that Hawkeye audiences "will see Clint Barton pass on the baton to Kate Bishop." Could this mean that Barton, an original Avenger, is finally hanging up the bow for good? It's definitely a possibility, since Hawkeye looks to highlight the pull Barton feels between his obligations to his family and those of an Avenger. 
While only time will tell, Steinfeld's real-world talent and star power, coupled with rave reviews of her performance from the show's creators, imply that Marvel Studios has big plans for the potential Young Avenger. As a new young, female heroine, she will help expand Marvel's audience and appeal while also bringing her A-list acting chops to the MCU.
In the meantime, Hawkeye looks to be yet another Marvel hit for the streaming service. In addition to Renner and Steinfeld, this show has Christmas, an adorable dog, and not to mention, Rogers: The Musical. In true Hawkeye fashion, it can't miss. 
The first two episodes of Hawkeye will stream on Disney+ on November 24, 2021.
---
Savannah Sanders joined The Direct as a writer in 2020. In addition to writing for The Direct's Star Wars, Marvel, and DC teams, Savannah specializes in the relationship between Disney's blockbuster franchises and the Disney Parks.