Guardians of the Galaxy Vol. 3 has been a long time coming. Following the franchise's 2017 sequel, the film's third installment was delayed due to director James Gunn being let go and then rehired, followed by the pandemic, and Gunn's commitments to Warner Bros.' DC slate. Still, that's not to say that the MCU has been Guardians-less in the years following Vol 2.
The cast played a key role in Avengers: Infinity War while Karen Gillan's Nebula went from villain to hero in Avengers: Endgame. Plus, Star-Lord, Drax, Rocket, Groot, and Mantis are expected to appear this summer in Thor: Love and Thunder followed by the Guardians' Holiday Special coming to Disney+ later this year.
Even though Thor 4 should set the stage for Guardians Vol. 3, fans already know a little about the upcoming threequel and how it's expected to be an "emotional" ending to the franchise. 
While that's not necessarily what Guardians fans want to hear, the good news is that filming for Vol. 3 is well underway and certain members of the cast have now been seen on set.
Drax, Mantis Stars Arrive on Guardians Set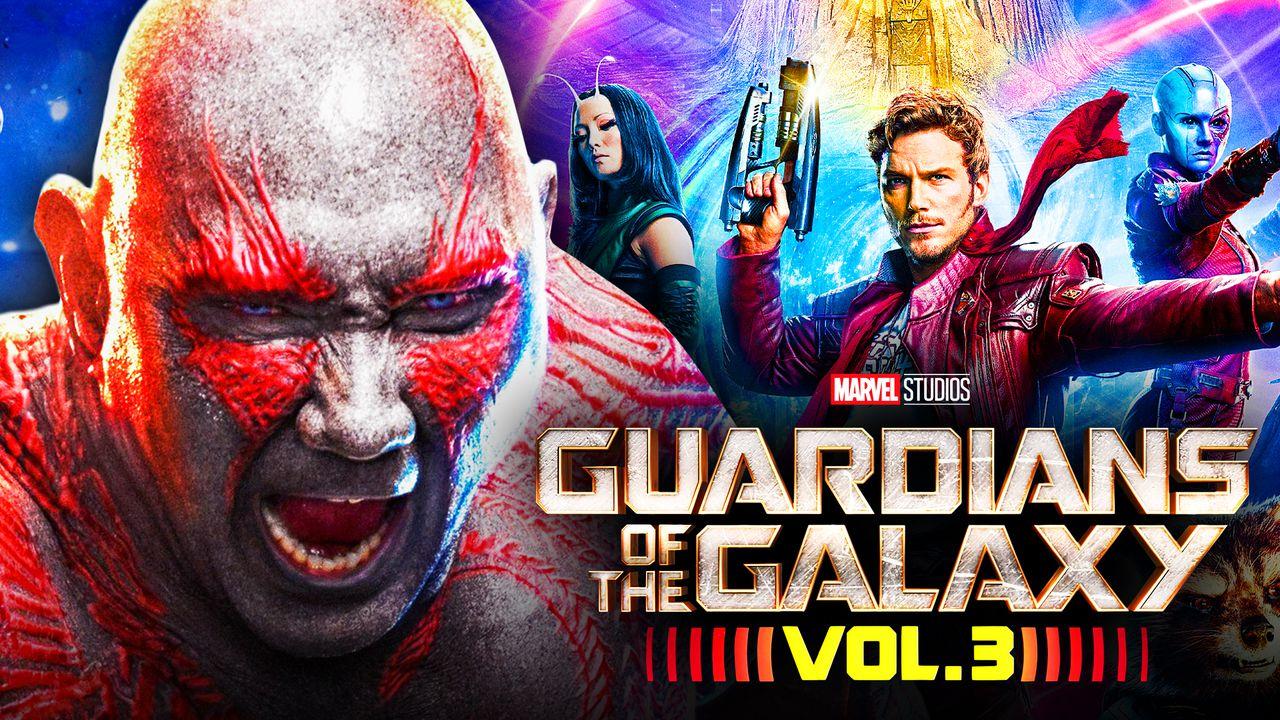 Daily Mail shared images of Dave Bautista and Pom Klementieff in full costume and makeup and arriving on the Guardians of the Galaxy Vol. 3 set in Atlanta. 
Bautista is reprising his role as Drax the Destroyer, while Klementieff is returning to her role as the empath Mantis who was first introduced in Guardians of the Galaxy Vol. 2.
Atlanta is serving as the film's primary shooting location and the two Marvel stars were seen arriving on-set on Friday morning. Production is set to conclude in April. 
Dave Bautista y Pom Klementieff en el set de "GUARDIANS OF THE GALAXY VOL. 3" en Atlanta. 🪐 #GuardiansOfTheGalaxyVol3 #GotGVol3 📸 Vía: @DailyMailCeleb pic.twitter.com/We0cYa5mph
Will Drax and Mantis Survive Guardians of the Galaxy Vol. 3?
Since fans have been on a five-year rollercoaster since Vol. 2 arrived in theaters, seeing the cast in costume and ready to shoot is a relief and proof that this film is finally happening. The question now is whether this is the last time these Marvel stars are on a Guardians of the Galaxy set.
In addition to James Gunn stepping away, Drax's Dave Bautista's online comments have implied that he is also done with his MCU character. Plus, given Gunn's comments about the film online, it's safe to say that not all of the Guardians will survive the threequel. 
Whether this is Bautista's final performance as the lovable destroyer, or if Gunn and Marvel will leave room for him to return, remains to be seen. 
At the same time, it appears that Pom Klementieff's Mantis wasn't the last newcomer to the Guardians cast. For Vol. 3, Will Poulter is confirmed to be joining the cast as Adam Warlock along with Chukwudi Iwuji as the villainous High Evolutionary. 
It will be interesting to see how they contribute to the continued development of the preexisting characters. While Nebula has the most complete arc, the Gamora Variant has a ways to go, as does Star-Lord and Rocket.
As for Groot and Mantis, it's difficult to say. Since I Am Groot is coming to Disney+, it would seem there's more story to tell about him and his species. Fans will have to wait and find out if the same applies to Mantis in Guardians Vol. 3 or in another Guardians-related project.
For now, it's great to see the cast back as their characters ahead of the wealth of cosmic content that awaits fans in the coming months. 
Guardians of the Galaxy Vol. 3 is set to release on May 5, 2023.