Gran Turismo is about to make its way into theaters with a stacked cast of characters and actors. 
Sony's latest PlayStation movie adaptation comes with Gran Turismo, inspired by the beloved racing franchise which started in 1997 and continues to this day, having released Gran Turismo 7 in 2022 with a sequel in development already.
The video game adaptation tells the true story of Jann Mardenborough, a talented Gran Turismo player who went on to join the big leagues of pro racing.
Every Actor & Character in Gran Turismo
Archie Madekwe - Jann Mardenborough
At the center of Gran Turismo is the true story of Jann Mardenborough - played by See's Archie Madekwe - a young aspiring racer with a passion and talent for the simulating video game franchise of the same name.
After winning a contest for the greatest Gran Turismo players, Mardenborough is entered into the GT Academy and the real world of professional racing where he is sprung into competition with the best and most experienced drivers in the world.
David Harbour - Jack Salter
Former professional racing driver-turned-engineer Jack Salter serves as the chief engineer of the GT Academy, charged with ensuring the safety and training candidates from gamers into true racers.
Played by Stranger Things' David Harbour, Salter is the mentor to Jann who takes him from an indoorsy gamer to a successful racer.
The engineer enters the GT Academy fed up dealing with cocky, rich-kid racers and almost no faith the program can work, only to build a close bond with Jann across their journey together.
Orlando Bloom - Danny Moore
In Gran Turismo, Orlando Bloom's GT Academy founder Danny Moore is based on the real-world Darren Cox. Most will be beyond familiar with the English actor, known for Lord of the Rings and Pirates of the Caribbean. 
The Nissan marketing manager pitches the program to bring gamers into the world of racing as a means to encourage more young people to get into driving, and he's determined to make the GT Academy a success, by any means necessary.
Maeve Courtier-Lilley - Audrey
Every story needs a love interest, and Gran Turismo finds its romantic tale between Jann and Audrey, who is played by The Outpost's Maeve Courtier-Lilley.
The couple has clear flirtatious energy from the beginning and Jann's days in Darlington, UK, which only continues to flourish through his rise to racing stardom.
Djimon Hounsou - Steve Mardenborough
Jann's father Steve Mardenborough was a professional soccer player in the '80s and '90s, and as such, is rather disapproving of his son's wild dreams of becoming a racing driver and his obsession with Gran Turismo.
Ultimately, Steve is determined to set his son on a career path for the future, be that through going back to school or finding manual work.
The character is played by Djimon Hounsou, who many will know as Shazam!'s Wizard and Guardians of the Galaxy's Korath.
Geri Halliwell - Lesley Mardenborough
Jann's loving mother Lesley Mardenborough is played by Geri Halliwell, who will be known better to many as singer-songwriter Ginger Spice from the Spice Girls.
Lesley is a caring mother who wants to see Jann succeed in his dreams and in life, serving as his main family point-of-contact throughout Gran Turismo as he avoids contact with his far-less supporting father.
Daniel Puig - Cai Mardenborough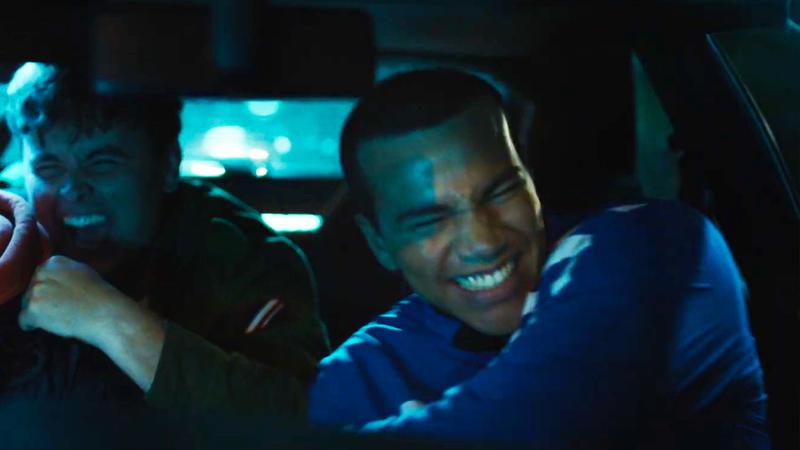 Unlike Jann, Cai wants to follow in his father's footsteps of becoming a professional soccer player and trains hard to follow that dream.
Nonetheless, the Mardenborough brother still finds himself sneaking out to go out drinking late at night and almost ends up in major trouble doing so.
Actor Daniel Puig's biggest role yet came in The CW's DC show, Namoi.
Darren Barnet - Matty Davis
Matty Davis serves as one of Jann's early rivals in Gran Turismo as a fellow top competitor at the GT Academy, who stands as the main obstacle in his dream of becoming a professional racer.
32-year-old actor Darren Barnet has picked up a number of roles on major television shows over the years, including Netflix's Skull Island, Agents of SHIELD, Criminal Minds, and more.
Pepe Barroso - Antonio Cruz
Antonio Cruz is another of the top entrants into GT Academy but serves as far less of a rival to Jann and the two appear to get along rather well. 
Pepe Barroso plays Cruz, with his biggest role before now coming in Netflix's Spanish original mystery series High Seas.
Emelia Hartford - Leah Vega
Much like Antonio Cruz, Leah Vega is one of the GT Academy candidates Yann finds himself getting along with more, and seemingly becoming friends with. 
Vega is played by YouTuber, television host, race car driver, custom car builder, and generally motoring enthusiast Emelia Hartford.
Josha Stradowski - Nicholas Capa
As Jann comes into the world of professional racing, Nicholas Capa is his biggest rival, with him opposing the notion of gamers-turned-racers as a safety risk and essentially amounting to everything Habour's Jack hates about modern racing.
Both on the racetrack and behind a microphone, Capa is the main antagonist of Gran Turismo, and he is played by The Wheel of Time's Josha Stradowski.
Thomas Kretschmann - Patrice Capa
Coming off a role in Indiana Jones and the Dial of Destiny, German actor Thomas Kretschmann has a minor part to play in Gran Turismo as Patrice Capa, the father of Jann's rival racer Nicholas.
Takehiro Hira - Kazunori Yamauchi
Japanese game designer, professional racing driver, and Gran Turismo creator Kazunori Yamauchi has a small role in the movie adaptation of his iconic franchise.
Yamauchi is played by Takehiro Hira, best known for his role as Kenta in Snake Eyes and plenty of Japanese films, shows, and even stage plays.
BONUS - Jann Mardenborough - Himself
As mentioned before, Gran Turismo is based on the true story of gamer-turned-racer Jann Mardenborough. And while he is brought to life mainly in this movie by Archie Madekwe, the real-life Mardenborough served as the stunt driver for himself.
Mardenborough just recently made his racing return in May after taking two seasons on the sidelines since he lost his Nissan SUPER GT drive at the end of 2020, leaving him without a place in the GT500 2021 roster.
---
Gran Turismo is playing now in select territories and will hit theaters in the U.S. on August 25.