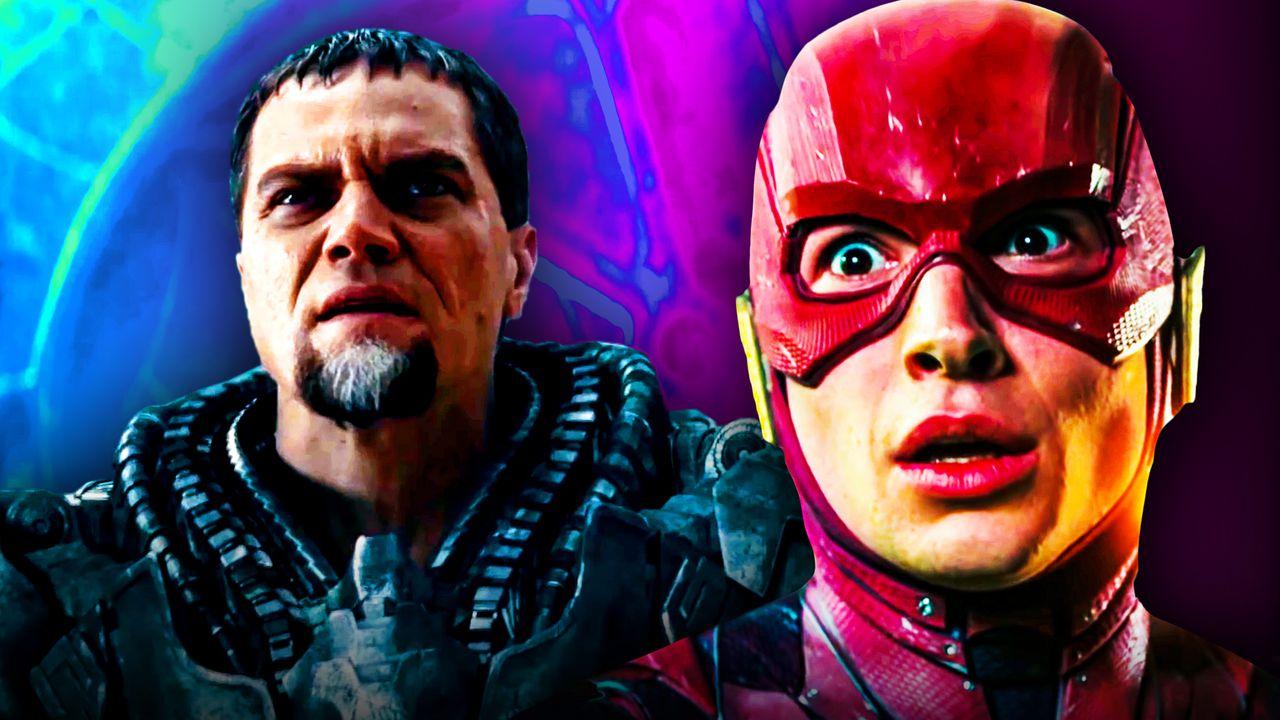 Audiences were divided when Henry Cavill's Superman snapped the neck of Michael Shannon's General Zod in Zack Snyder's Man of Steel, though screenwriter David S. Goyer is still adamant about the choice to have Kal-El kill the renegade Kryptonian. While Shannon would love to return as the character, he was doubtful about that prospect saying, "Unless you got a defibrillator or something I don't really see it happening." With Cavill's Superman film very much in the rearview, fans are looking forward to other DC offerings like The Flash.
However, a new description for the Scarlet Speedster's upcoming film has revealed that Man of Steel may still have an impact on the DCEU's future.
The Return of Man of Steel's Zod and Faora-Ul
According to the official UK website of Warner Bros. under their news articles section, it was revealed that both Michael Shannon and Antje Traue would return in Andy Muschietti's The Flash.
It is unknown who they will play, but it's assumed that they will return as General Zod and Faora-Ul, both last seen (alive) in Man of Steel.
The full description can be seen below:
THE FLASH

Release date: November 4, 2022

Director: Andy Muschietti

Cast: Ezra Miller, Ron Livingston, Michael Keaton, Kiersey Clemons, Michael Shannon, Antje Traue, Sasha Calle, and Michael Keaton

About: Ezra Miller stars as Barry Allen, AKA The Flash, who pushes the limits of his superpowers in the DC Super Hero's first-ever standalone feature film.
How Will Flashpoint Change the Kryptonians?
It's unlikely that Zod will miraculously be brought back to life after his corpse was already turned into a monstrosity in Batman v Superman: Dawn of Justice (and killed again) or that Faora-Ul will be revealed to have survived the explosion back into the Phantom Zone. So the only explanation is that the universe that Ezra Millar's Barry Allen finds himself in will have alternate versions of these two Man of Steel characters.
In this new universe, it could be possible they're heroes instead of villains to flip the script from their last genocidal appearance. Another possibility is that audiences will see their attempted invasion of Earth go differently without Clark Kent's involvement.
One more possibility involves Sasha Calle's Supergirl, who will seemingly replace Kal-El in this new universe. Could it be possible that Zod and Faora-Ul take the place of Superman's Kryptonian parents, Jor-El and Lara? Could they have been the ones to send Calle's Supergirl to Earth only to be captured and imprisoned by the US government like the original "Flashpoint" comic?
Fans will undoubtedly find out how Michael Shannon and Antje Traue are involved when The Flash is released in theaters on November 4, 2022.
---
Release Date
June 16, 2023
Platform
Theaters
Pierre Chanliau began as a news & feature writer for The Direct at the site's launch in 2020. As a longtime reader of superhero comic books, Pierre's knowledge of Marvel and DC is extensive, informing his reporting and editorial pieces regarding the MCU and DCU.