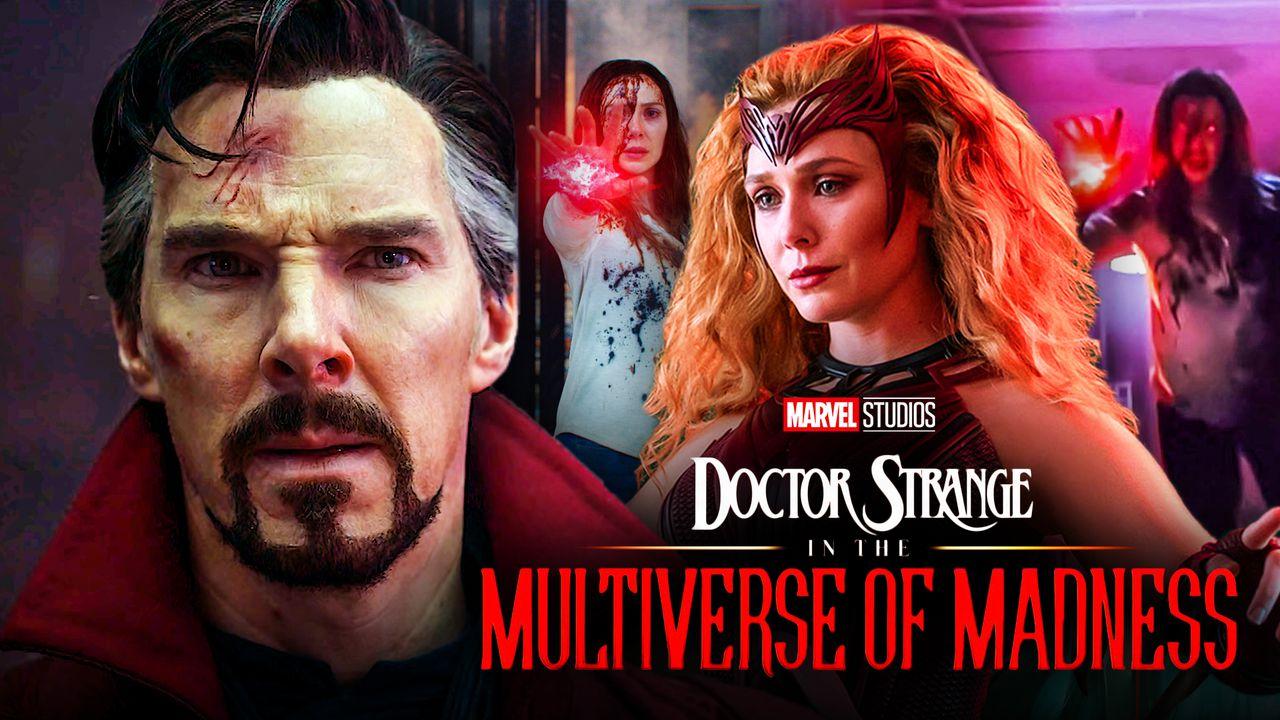 With only a few weeks left until its release, Doctor Strange in the Multiverse of Madness is a film about which fans know frighteningly little. While Marvel has released multiple teasers, trailers, and posters for this Multiversal horror flick, the plot of Benedict Cumberbatch's Doctor Strange 2 and its potential impact on the greater MCU is still a mystery. 
What fans do know is that Strange is embarking on a Multiversal adventure where he will encounter multiple Stephen Stranges, and possibly the Illuminati, alongside Rachel McAdam's Christine Palmer, Xochitl Gomez' America Chavez, and Elizabeth Olsen's Wanda Maximoff. 
Due to the events of WandaVision on Disney+, and from what Doctor Strange 2 promo spots have revealed, it appears that Wanda is anything but a background character in this upcoming sequel. And, now, in the midst of the film's last marketing push, a new report suggests the Scarlet Witch's on-screen presence will rival that of Doctor Strange himself. 
Elizabeth Olsen's Scarlet Witch Rivals Strange's Screentime
Reliable scooper Daniel Richtman posted a Tweet suggesting that Doctor Strange in the Multiverse of Madness will be "as much about Wanda as it is about Strange:"
"I hear Doctor Strange 2 is as much about Wanda as it is about Strange."
While Wanda did embrace both her mistakes and her grief in WandaVision, she's now the Scarlet Witch; and the last audiences saw the Avenger, her astral form was reading the Darkhold and hearing the cries of her twin boys. 
A desperate mother with a tragic past, coupled with new knowledge and powerful abilities? Clearly, WandaVision was only the beginning of this character's story. 
Richtman then followed his Tweet with another, offering fans an idea of the extent of Wanda's role in the film, saying,
"Almost as much screentime as Strange too"
Scarlet Witch Antagonist Status Confirmed? 
From what Multiverse of Madness' marketing has shown so far, it's not entirely surprising that much of the film will center on Wanda's story. What is, however, is the news that she will have "almost as much screentime" as Strange himself. 
Perhaps Multiverse of Madness isn't as much of a sequel to Strange's 2016 origin film but rather a mini-ensemble, similar to how Captain America: Civil War wasn't just about Cap but also Iron Man.
As to why Scarlet Witch is expected to dominate the screen, the first - and most obvious - is that she's not a fellow protagonist but rather the film's antagonist. Trailers and teasers have shown she isn't afraid to get her hands dirty; and in addition to her experimenting with the Darkhold, Wanda certainly has motive. 
Another reason why she could have so much screentime could be attributed to her Variants. Fans already know Multiverse of Madness will feature several Variants of Doctor Strange. It's possible that the same could be said for Wanda, and one bit of footage has already shown her reaching out to another version of herself.  
Perhaps multiple Wandas with their own unique stories and circumstances won't just play a role in the MCU's Wanda Maximoff arc, but also that of Stephen Strange and his role in the universe following the events of Avengers: Endgame and Spider-Man: No Way Home. 
Just what Multiverse of Madness has in store for Strange, Wanda, and the greater MCU will finally be revealed when the film releases in theaters on May 6. 
---
Release Date
May 06, 2023
Platform
Theaters
Savannah Sanders joined The Direct as a writer in 2020. In addition to writing for The Direct's Star Wars, Marvel, and DC teams, Savannah specializes in the relationship between Disney's blockbuster franchises and the Disney Parks.