Doctor Strange in the Multiverse of Madness is the next film up on Marvel Studios' 2022 slate. Usually, following a movie like Spider-Man: No Way Home would be a losing battle. But the possibilities brought forward by Benedict Cumberbatch's next adventure are nearly limitless—from the sounds of it, fans should be in for quite a ride.
No, there won't be two other Spider-Men (probably), but the former Sorcerer Supreme will have his hands full with all manner of Variants either way. The rumors of who those people could be are endless, including Deadpool, Mr. Fantastic, and Wolverine—at the very least, fans know that Patrick Stewarts' Professor X, or a version of him, will make an appearance.
On top of that, Stephen Strange will have to contend with himself across multiple realities. A few have already been glimpsed in the trailer, including the very striking Defender Strange. Another, seen in the very first teaser, seemed to potentially be the same viewers saw in What If...?.
Now, a new wave of leaked Funko Pops! for the film reveals a figure named Supreme Strange, who bears a striking resemblance to a statue seen in the trailer.
 Sorcerer Supreme's Statue
A new line of Funko Pop figures for Doctor Strange in the Multiverse of Madness leaked online, and among them was a Stephen Strange Variant titled "Supreme Strange".
This Variant dons a silver and blue outfit, and is noticeable missing Strange's trademark facial hair.
For those eagle-eyed fans out there, one might notice that his pose and outfit look awfully similar to a massive statue of the character seen in the trailers for the film.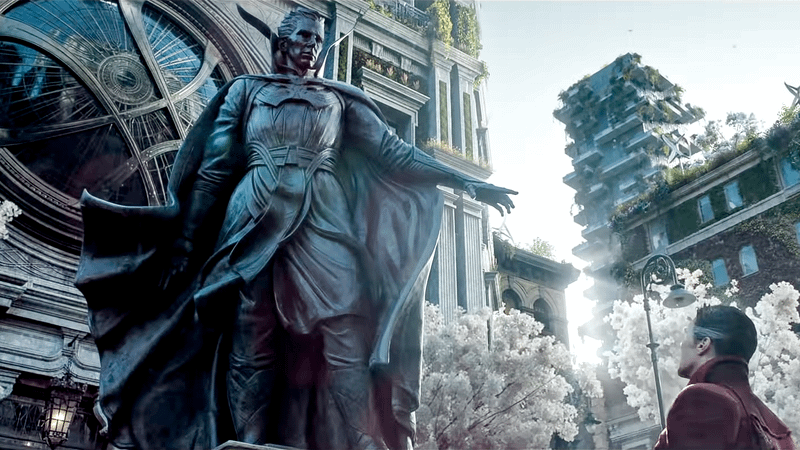 It would seem likely that the two are the same. But is he entirely brand new to the audiences? Is he the same evil-looking sorcerer fans saw in the first teaser?
Those flared-up collars certainly do invoke the imagery of the anti-hero version of the character seen in What if...?, who goes by a similar title: Strange Supreme.
Another Strange Party Guest
Many might still be gravitating towards the idea of this character being the same one viewers followed in Marvel Studios' animated venture What if...?. This connection makes sense, given a similar look and namesake, but some of the logistics don't line up.
For one, his episode in the Disney+ series followed his entire journey up until the end of his universe. Squeezing in an encounter with Strange-prime and the Multiverse in general before that wouldn't make much sense. Also, this "Supreme Strange" is completely clean-shaven and has a different color scheme going on in his costume.
The upcoming adventure undoubtedly has plenty of surprises up its sleeve, and it looks like whoever Supreme Strange is, his role is one of those surprises. Given his place in the first wave of Funkos, fans have reason to expect him to have a prominent role in the story.
Doctor Strange in the Multiverse of Madness hits theaters on May 6.