The possibility of a culminating crossover event between all of the Star Wars Disney+ series within the MandoVerse is "very real" according to Dave Filoni.
Since the announcement that there would be spin-off shows of The Mandalorian set in the same time period with some of the same characters, rumors of a major event connecting every show that takes place within that specific universe have been presented on more than one occasion.
In December 2020, Lucasfilm president Kathleen Kennedy teased that a "climactic story event" would take place at some point in the future to "culminate" the entirety of the MandoVerse. 
More recently, The Mandalorian creator and writer Jon Favreau stated that all the stories could "inevitably lead to conflicts and resolutions" at some point down the road.
The likelihood of a crossover happening became even greater when it was previously reported that Ahsoka and Skeleton Crew would directly tie into one another as well.
The Possibility of a Mandalorian Crossover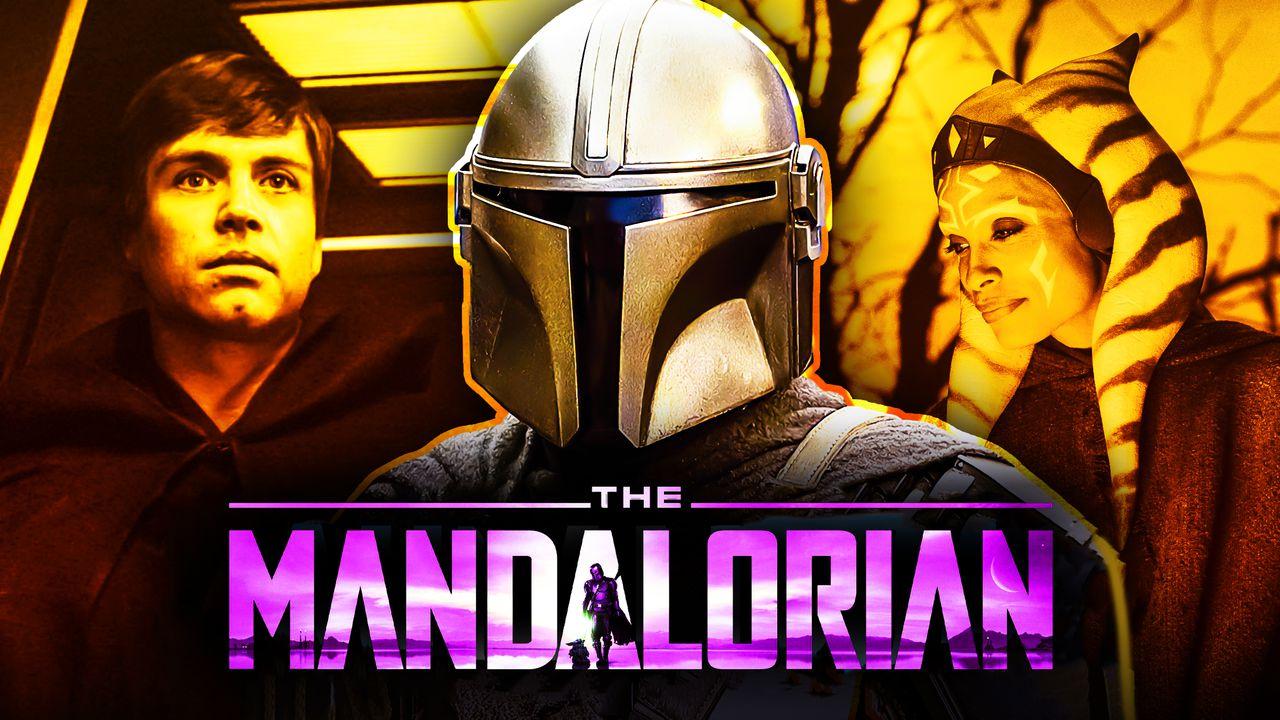 In a recent interview with The Wrap, The Mandalorian executive producer and director Dave Filoni talked about the likelihood of there eventually being a major crossover event between all of the Disney+ shows that take place post-Return of the Jedi.
Filoni was asked about the possibility of a crossover event happening due to Jon Favreau's recent comments that there are so many more stories to tell in The Mandalorian.
Filoni responded by teasing that it is possible for both a crossover event to happen  and continuing The Mandalorian at the same time:
"Well, from a certain point of view, it could. It could build to a climactic thing and 'The Mandalorian' could still go on. It's not necessarily an either/or, is it?"
The producer went on to talk about the time period in which all of these stories within the MandoVerse take place, specifically mentioning the upcoming shows and the "entire time period" between Return of the Jedi and The Force Awakens:
"It's an interesting way to think about it. I tend to think, as we've been working on the 'The Mandalorian' and then writing 'Ahsoka,' and then Jon Watts came in with 'Skeleton Crew,' there is an entire time period that is post-'Return of the Jedi.' And I look at that time period, which before "The Force Awakens," is around 30 years of time."
Filoni then added that the time period he mentioned is big enough to contain many more stories, while also teasing that everything "may or may not expand in a bigger way" at some point:
"When you look at the original trilogy, it's a much less significant amount of time that those three movies take place in. And so, what I like is that we're really building very slowly an ecosystem of characters and politics and events in the post-'Return of the Jedi' time period. And that may or may not expand in a bigger way as we add more shows to it and add more characters to it."
Filoni also talked about how he goes about putting all of these stories and events together, making sure to be aware of the entire Skywalker Saga and all of the events in between. He also teased that everyone involved is "talking creatively together about where" the MandoVerse is "all going:"
"The good thing is that we're all talking creatively together about where these stories are all going. And I love whiteboards, and I whiteboard everything and have timelines. They always start back with 'The Phantom Menace' and they always go out to 'The Rise of Skywalker.' I have all these slots in between and where everybody's doing everything, so I can look at it all and commiserate with Kathy on what's going on here, what's going on there? It's very fun."
Filoni then bluntly stated that he believes the possibility of "a big event" within the MandoVerse "is very real," and that, after the fact, The Mandalorian could still be thriving within the Star Wars community:
"I think that the reality of there being a big event in this time period is very real, is all I would say to that. But yes, if Jon wanted to keep making 'Mandalorian' stories, as long as he does not get bumped off in said titanic event, then they, I suppose, could continue. There doesn't seem to be any lack of interest in Grogu and Mando, that's for sure."
How Likely Is a Big MandoVerse Event?
The odds right now of a big event happening within the MandoVerse are more than likely around 50/50.
As far as viewership goes, both The Mandalorian and The Book of Boba Fett did fairly well, but they both are still probably not where Disney and Lucasfilm would like for them to be.
This major event would most likely come in the form of a feature film, so the companies would need to feel confident that it would perform well at the box office before officially announcing something.
Ahsoka and Skeleton Crew will almost definitely have crucial roles to play in the planning of a culminating event.
If both shows have high viewership, that lets Disney and Lucasfilm know that fans are interested in this story as a whole, rather than just one or two series.
It is also important to remember that the MandoVerse is still extremely young in terms of how much content has been released within it up until this point.
According to Jon Favreau and Dave Filoni, there could be many years and dozens of stories to be told before the idea of a big event is even announced.
LATEST NEWS
TRENDING