To celebrate May the 4th, Disney unveiled a menu of Star Wars-themed eats coming to the Disney Parks. 
Disney+ may be home to Star Wars series and past films, but the Disney Parks are where fans can step into that galaxy far, far away, particularly at Disneyland and Walt Disney World's Star Wars: Galaxy's Edge. 
For this year's May the 4th festivities, Disney revealed a whole menu of galactic celebratory goodies worthy of snack-happy Grogu. 
12 Star Wars Foods Coming to the Disney Parks
The following are just a few of the upcoming Star Wars eats, as shared by the Disney Parks Blog. 
Disneyland Resort
Temple Rootleaf and Moss Salad
Disney describes this Jedi Temple-themed fare as sweet-savory salad greens, brined vegetables, roasted mushrooms, and fried potato noodles. It's also available with or without a seasoned Gwayo Egg. (Available May 2)
Niamos Mix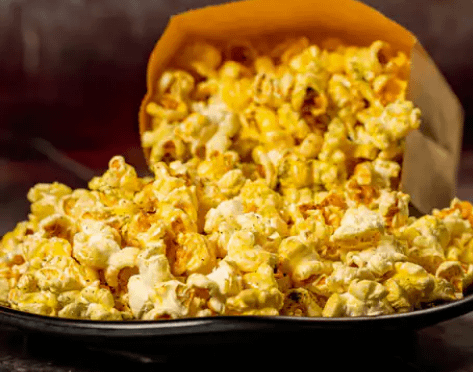 Inspired by the beachfront planet of Niamos from Andor Season 1, this new menu item is a savory sour cream and chive popcorn. 
It might also be one of the first Andor references in Star Wars: Galaxy's Edge. Here's hoping Syril's cereal and those Imperial travel biscuits will follow! (Available May 2) 
Jellyfruit Muffin
Listed as a passion fruit buttermilk muffin with pineapple and blackberry jam, jellyfruit is a reference to Star Wars: Young Jedi Aventures, set within the High Republic.  
Tenoo Swirl Crunchies Cereal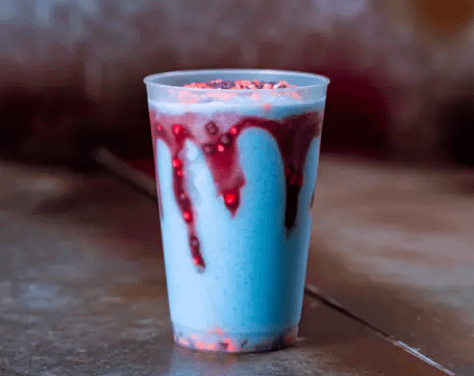 For this next treat, Disney combined the old school with the new school. 
While the base is the Lars Homestead's beverage of choice, blue milk, the strawberry and grape candy topping are pebbles from the Young Jedi Adventures planet of Tenoo. (Available May 2)
Galactic Princess Sundae 
At Disneyland's Gibson Girl Ice Cream Parlor, this sundae is both a wink and nod to Princess Leia Organa's cinnamon bun-esque hairdo.  
Note: This item is available exclusively at Disneyland After Dark: Star Wars Nite.
Mossy Mint Churro
At the Frontierland churro cart, guests can enjoy mossy green churros evoking Dagobah? Din Grogu's favorite frog pond? Or perhaps the forest moon of Endor? Possibly all are true, from a certain point of view. 
Note: This item is available exclusively at Disneyland After Dark: Star Wars Nite.
Walt Disney World
Dark Side Chocolate Creation
Obviously, this treat evokes the Dathomirian Zabrak, Darth Maul, a former Palpatine apprentice, ruler of Mandalore, and once wielder of The Mandalorian Darksaber. 
Disney described Maul's dessert as a malted milk chocolate mousse dome with raspberry mouse filling on a chocolate shortbread cookie, topped with slivered almonds. 
Hollywood Studios guests can pick this Star Wars treat up at PizzeRizzo and The Trolley Car Cafe. (Available May 4 and 5)
Lightsaber Churro
Not as clumsy or random as a Wookie Cookie, the Lightsaber Churro is a more elegant snack for a more civilized age. Plus, it's served with chocolate sauce!
Lightsaber churros can be obtained at Hollywood Studios' The Market, Grand Avenue, and Anaheim Produce. (Available May 4) 
Disney World Resort Hotels
Millennium Falcon Star Wars Soft-serve Sundae
For this year's May the 4th, galactic gray vanilla soft-serve is coming to the Pineapple Lanai at Disney's Polynesian Village Resort.
Despite being listed as vanilla, Disney also described it as having a mint flavor and topped with a cargo load of toppings, such as chocolate cream cookie crumbles, chocolate drizzle, white chocolate pearl stars, stardust sparkles, and a white chocolate Millennium Falcon. 
Disney also claims this chilly Star Wars treat comes with brownie "asteroid" pieces. Let's just hope those asteroids come without any Exogorths (space slug). (Available May 4 only)
Disney Springs
For May the 4th, Disney's gourmet chocolate shop, The Ganachery, is offering three chocolatey treats.  
Queen Amidala Chocolate Pinata
As elaborate as any item from Padme's own wardrobe, The Ganachery's dark chocolate pinata is filled with ruby chocolate and raspberry bark. (Available May 1) 
Ahsoka Pop
Out ahead of Ahsoka's Disney+ premiere, the former Jedi's chocolate pop is plant-based coconut and blueberry swirl, surrounded by dark chocolate. (Available May 1)
Millennium Falcon Pop
This milk chocolate replica of the fastest hunk of junk in the galaxy is available now.
Bonus: Grogu Sipper
Not an edible treat but no less sweet, a souvenir sipper resembling Grogu and a frog is coming to Disneyland's Tomorrowland beginning May 3. 
Fans can also purchase this sipper at Disneyland After Dark: Star Wars Nite.