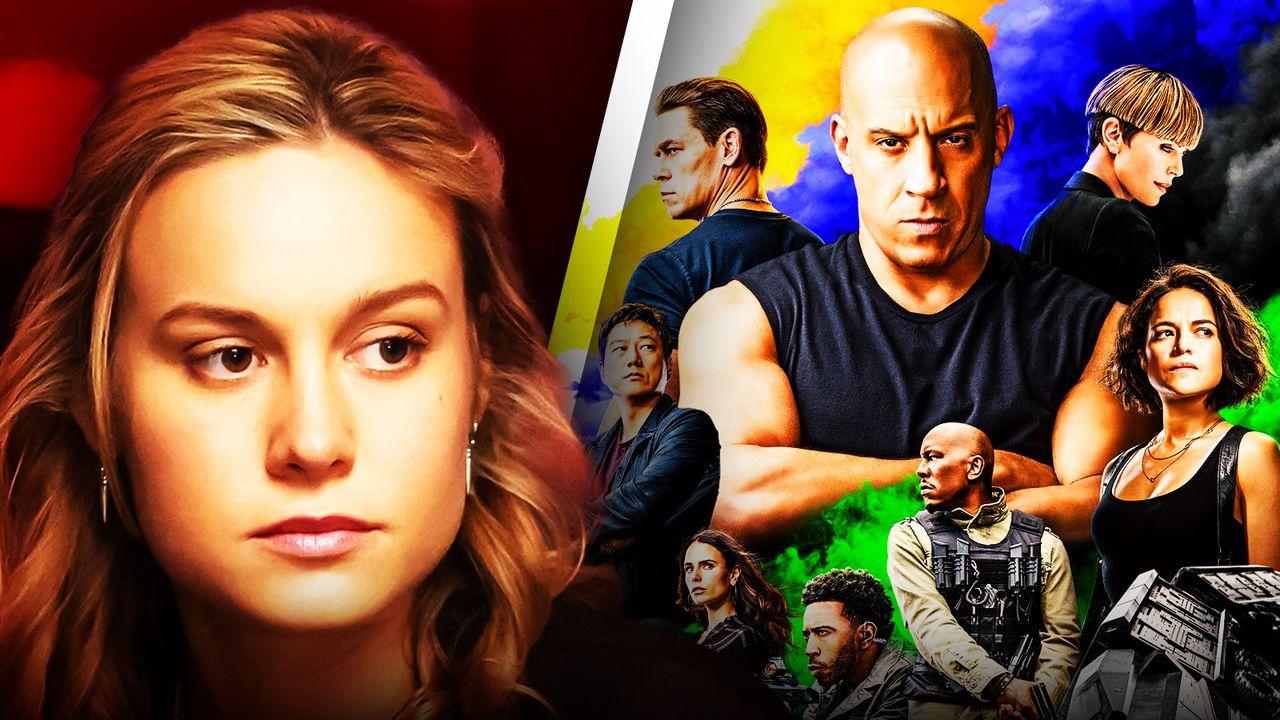 Academy Award winner Brie Larson is in for a busy couple of years as she adds new blockbuster projects to her resume at every turn. Up next on her theatrical docket is her return as Captain Marvel in The Marvels, which follows an uncredited appearance in the post-credits scene of Shang-Chi and the Legend of the Ten Rings. Then, things get speedy for Larson as she takes on the world of Fast & Furious.
Only a couple of weeks ago, the MCU veteran was announced to be joining the cast of next year's Fast & Furious 10, the first of a two-part finale in what will conclude an 11-movie saga. Although her role is undisclosed, she joins a handful of comic book movie mainstays, such as Fast regular Vin Diesel and DCEU stars Jason Momoa and John Cena.
Being one of the most financially successful franchises in movie history, Fast 10 has anticipation high as fans wait to see what cinema's most famous family has in store for their next adventure. Now, a recent update from the film's newest star will take that excitement to new levels as the engines roar towards its debut.
Fast 10 Gets its New Title
The Fast Saga's official Twitter page shared the title of the next Fast & Furious movie, which will go under the name Fast X. The announcement also came with the following promo message, indicating that the new sequel has started production:
"Fasten your seat belts. FAST X is now in production."
Below is the first official teaser poster for the sequel:
Franchise newcomer Brie Larson shared the title card on her own Twitter page, simply tagging the movie and using a "smoke" emoji to celebrate Fast X's official name.
Larson Speeding towards Fast 10 Debut
The Fast & Furious series has built an impressive following for more than two decades, particularly due to its rotating cast of Hollywood megastars adding their flair to the street-racing saga. With Larson adding her name to an impressive legacy of characters played by Marvel and DC stars like Dwayne Johnson, Gal Gadot, and Charlize Theron, these films remain a hit attraction for action-movie fans worldwide.
While the title Fast X may be a simple one, it's one that continues what this story has built in recent years, especially after 2021's F9. The series has always kept it simple when it comes to naming its movies with each new sequel - plus, it gives the team easy access to "fasten your seatbelts" as a slogan.
On top of the new title, fans will be thrilled to know that production for the film is underway more than a year ahead of its expected theatrical release. Larson's role has yet to be revealed, but she appears as excited about this new endeavor as anybody, getting into the car themes with her Twitter post and diving into this world during her break from Marvel.
Fast X will premiere in theaters on May 19, 2023. Larson will also return as Captain Marvel in The Marvels, which debuts on February 17, 2023.