Brie Larson is set to make her first appearance in the Fast & Furious franchise, with fans getting the first look at her new character in this summer's Fast X.
Larson is set for a huge year in 2023 with multiple franchises, starting off with Fast & Furious 10 in May before returning to the MCU in July with her solo sequel, The Marvels.
The Fast & Furious movies have continually added new names like Larson with each new entry as the Oscar-winner joins Vin Diesel, Helen Mirren, and Charlize Theron in the latest addition to this two-decade-long adventure. And while not much is known about her specific character yet, she'll have the chance to add her own flair alongside the biggest action stars of the era with fast cars and family drama all around her.
Now, with the promotional tour for Fast X about to truly begin, Larson took the spotlight thanks to the first look at her new character. 
Brie Larson Shines in Fast X Photos
Empire released the first photos of Brie Larson's Tess from Universal Pictures' upcoming blockbuster Fast X, the tenth movie in the Fast & Furious franchise.
Larson stands in front of a bar holding a fairly large gun, donning a leather jacket and jeans along with a determined look on her face.
Director Louis Leterrier also teased where Larson fits into the story, noting that "there is a price to pay" when characters like Vin Diesel's Dom Toretto have worked so hard to protect their family - a central theme of this franchise:
"When you have fought so hard to keep your faith and protect your family, and literally change the world, which is the case of Dom Toretto, there is a price to pay. His enemies are coming after him. There's a total sum of enemies that are coming after him."
The outlet also shared a look at fellow newcomer Jason Momoa, who dons a silver jacket as his long hair flows behind him in the wind on his motorcycle. Momoa will play one of the main villains in this movie, going under the name of Dante:
The outlet shared new information on Momoa's Dante, who Leterrier described as "1000 percent Momoa" in this movie. He'll become a problem for the Fast family with Charlize Theron's Cipher still having her mysterious master plan in play, with both of them being bad news:
"He's an incredible new character. It's 1,000 percent Momoa. They are bad news, but one is more afraid than the other. One is worse news than the other."
Empire also provided a new look at franchise mainstay Vin Diesel, whose Dom Toretto stands next to his car wearing a black vest:
New star Daniela Melchior also shared an image of herself alongside Diesel on Twitter, hyping up fans with the first trailer set to release on Friday, February 10:
"FAST X trailer drops tomorrow 2/10 (fire emoji) who's excited?"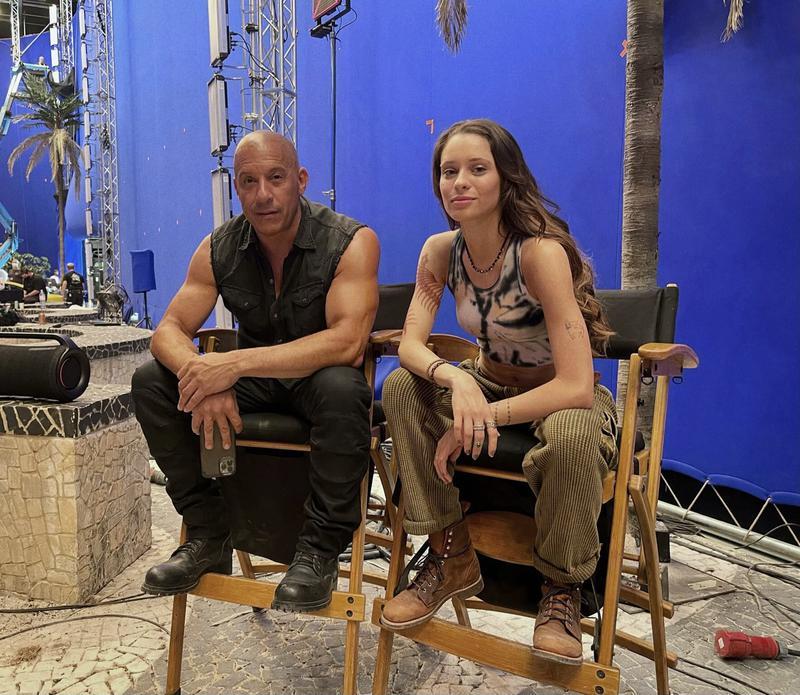 Letterier later shared some insight into the battle that's brewing as the story inches closer to its end, hinting that "some tremendous casualties" are on the way:
"There's a war brewing. It's coming to an end, and it is a race to the finish. There will be some tremendous casualties."
He closed by letting fans know about the alliances that will be formed in this new story along with some characters switching sides from good to evil:
"People are going to need to take sides. Alliances will need to be made. Good guys will become bad guys, bad guys will become good guys."
How Does Brie Larson Fit Into Fast X?
Brie Larson hasn't gone into many details about how her character fits into the Fast & Furious legacy, although she's offered her own looks into the filming process with photos from the set. This photo of her shows that she's not someone to be messed with as she takes on her next high-profile franchise, likely striking fear into whoever she's squaring off against in the shot.
Seeing her in these pics along with Jason Momoa and Vin Diesel should amp up plenty of hype for this series, which will bring its first movie since the billion-dollar blockbuster F9 hit the big screen in 2021. And once more information becomes available about who Larson is actually playing, conversations will surely begin flowing about what's on the way in this 10th new outing.
Universal is set to bring its long-awaited first trailer for Fast X in the days leading up to Super Bowl LVII, which should feature plenty of Brie Larson in the footage as the first story details come to light.
Fast X will arrive in theaters on May 26.