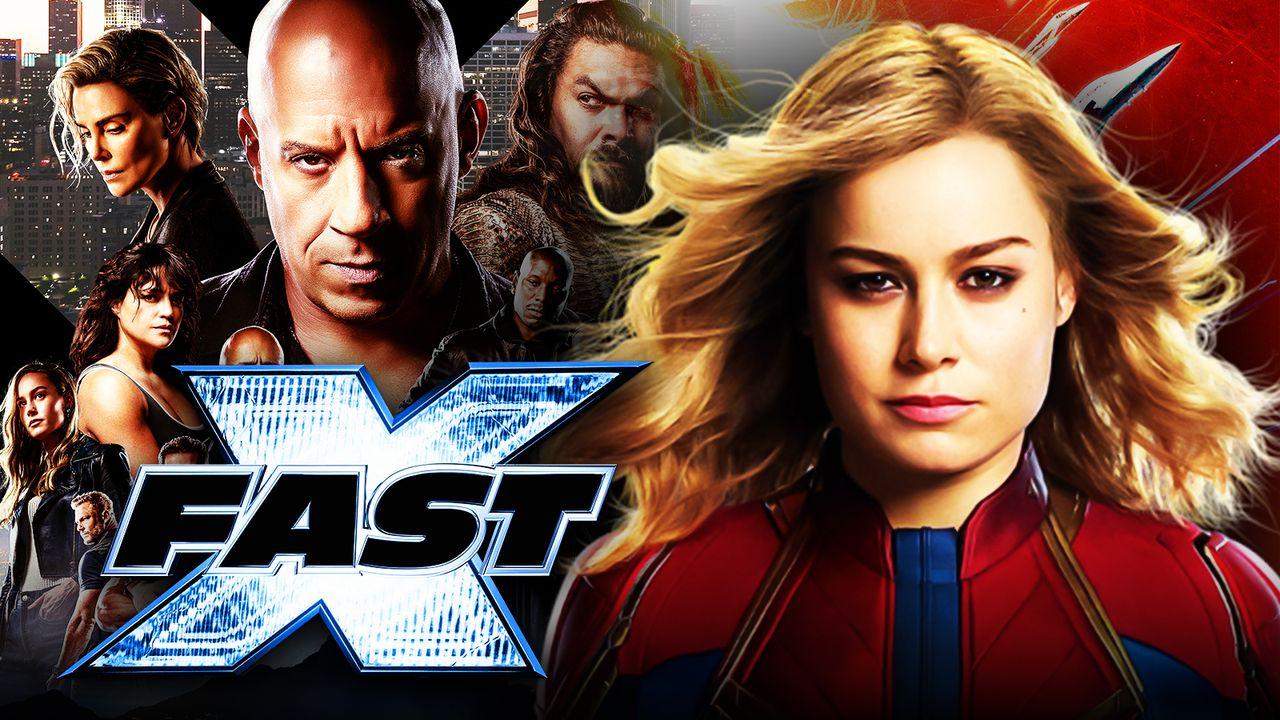 Brie Larson explained why she made an "adjustment" in doing fight scenes for Fast X due to her work in the MCU as Captain Marvel. 
Fast & Furious 10 will mark the debut of Larson in the Vin Diesel-led franchise as Tess, the daughter of Mr. Nobody. 
It is unknown how the character fits in the sequel's story, but marketing has featured the MCU actress prominently in the weeks leading to the film's debut by showcasing Larson in action-packed fight sequences.
Brie Larson Reflects on Fast X Fight Scenes
In an interview with Entertainment Tonight, Brie Larson compared her fight scenes on Fast X to the MCU's Captain Marvel. 
While saying that there was an adjustment, the Marvel actress noted that she learned to "temper [her] expectations" for Fast X since she has "extreme power" as Carol Danvers in the MCU. 
Larson's response prompted her Fast X co-star Charlize Theron with a fun reaction: 
Larson: "I had to make an adjustment, because really, the only fight sequences I had done, I have extreme power as Carol. So I'm used to like, if I punch, then someone's on a ratchet flying across. So I had to learn to temper my expectations for this one… They just go down. They don't fly to outer space. It's like, 'That's weird.'"

Theron: "You're like, 'They're only moving that much?'"
Meanwhile, while speaking with Screen Slam, Larson reflected on her debut in the Fast & Furious franchise, noting that she was "delighted the whole time:"
"I was just delighted the whole time. It was wild. I've been thinking about, as we've been here today… we were doing rehearsals for the Brazil scene and there were so many times through rehearsal where I was just so into what I was watching that I was like, 'Oh, I gotta come in and fight now,' because I just was like… I don't know."
The franchise newcomer also said that it was "so much fun" during her time on the Fast X set: 
"It's very rare to have grown up with something, to have loved something, and to have observed it on a screen, and then to be inside of it, is a very surreal experience. And I couldn't create room in my mind to have self-doubt, because then I think I would have not done my best. So I had to just be like, I was invited. I was invited. I'm gonna show up. I'm gonna do my part. And it was so much fun. So much fun."
How Brie Larson Kicks Ass in Fast & Furious 10
From the CGI to the otherworldly aspects of Marvel's cosmic realm, it isn't surprising that Brie Larson felt a vast amount of difference when executing her fight scenes for Fast X compared to the MCU as Captain Marvel. 
Moreover, it is also understandable that she needed to temper her expectations since the Fast & Furious movies are much more grounded than the superhero world where Carol Danvers resides. 
So far, marketing for the movie mainly showcased Tess in that pivotal fight scene alongside Vin Diesel's Dom against Dante's goons inside a bar. However, Larson's remarks may also hint that her Fast X character, Tess, will likely be involved in several fight scenes in the upcoming film.
Hopefully, Larson's character will survive the events of Fast X, ultimately becoming part of Dom's team at the end of the movie.
Fast & Furious 10 is set to premiere in theaters on Friday, May 19.