The Book of Boba Fett is heading toward its stretch run, with the show poised to bring back iconic characters for an explosive finale. One of the returning heroes from the galaxy far, far, away that the show brought back was The Mandalorian's Din Djarin. The fan-favorite bounty hunter made his return after a memorable Season 2 finale from his own series, highlighted by the arrival of Luke Skywalker and his bittersweet goodbye with Grogu.
While the hit Star Wars series has been placing the spotlight on Temuera Morrison's titular bounty hunter, The Book of Boba Fett's Chapter 5, entitled "Return of the Mandalorian," created a massive shift as it revolves around Din Djarin's galactic exploits instead.
As expected, this huge surprise earned overwhelmingly positive reactions from fans on social media, mainly due to the character's popularity and his connections with Grogu. Alongside Din, unexpected allies of the Mandalorian were also included in the episode, such as The Armorer and Peli Motto. 
Now, to celebrate the character's return, a new wave of promotional images has been released.
The Book of Boba Fett Celebrates Din Djarin
Disney+ officially unveiled three new character posters for The Book of Boba Fett, showcasing fresh looks at Din Djarin, Pel Motto, and the Armorer. 
After an epic Season 2 finale, Din Djarin returns in a grand way in The Book of Boba Fett's fifth episode: 
Emily Swallow's the Armorer makes her presence felt in the episode, giving fans a detailed explanation about the Darksaber and Mandalore: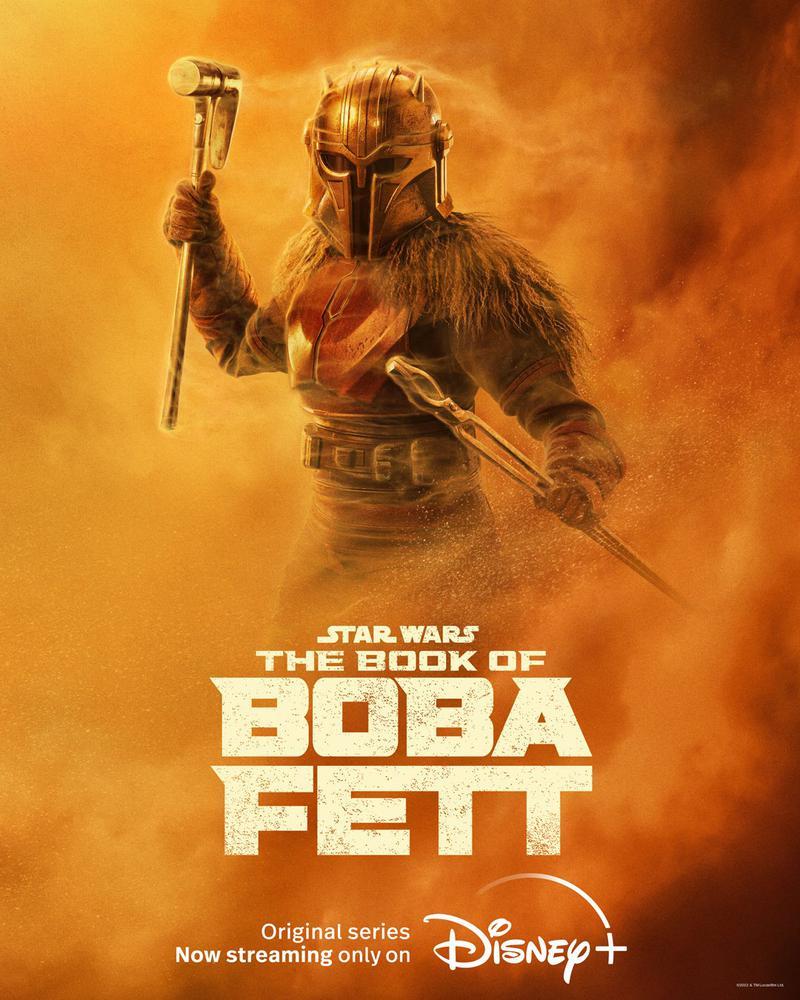 Amy Sedaris' Peli Motto helps Din Djarin obtain a new ship in the latest episode: 
A Highly-Anticipated Return for the Mandalorian
Many would agree that seeing Din Djarin's return is a breath of fresh air for The Book of Boba Fett. This new batch of posters should serve as a fitting reminder of the Mandalorian's impact on Boba Fett's storyline. 
Mando's life without Grogu is placed front and center in the episode, thus proving to audiences that he doesn't need Baby Yoda in The Mandalorian Season 3. Storylines such as warring Mandalorian factions, Din's status as a Mandalorian, and the Darksaber and Bo-Katan's shared history were all teased in a single episode, meaning that this Mando-centric Boba Fett installment should serve as a launchpad for his much-anticipated third season. 
It also presents an opportunity for characters like Peli Motto and the Armorer to return in Season 3. Amy Sedaris' Peli Motto could easily make a comeback due to her connections to Mando's new starfighter. In addition, Peli Motto's interaction with Mando is also a welcome sight alongside her banter with her droids. 
Meanwhile, the Armorer's vast knowledge about Mandalore and the Mandalorian creed could be used as a plot device in Season 3. The Armorer's claim that Din is no longer a Mandalorian should linger in the character's thoughts for a while, and this could lead to another fateful encounter down the road. 
At this stage, The Book of Boba Fett is setting up Mando to become one of Fett's "muscles" against the Pykes, and this could further strengthen their bond. 
The first five episodes of The Book of Boba Fett are now streaming on Disney+.
---
Aeron is a news/features writer and Content Lead for The Direct who has been working for the site since March 2020. From writing about the inter-connectivity of the Marvel Cinematic Universe to having an extended knowledge about DC TV's Arrowverse, Aeron's expertise has since expanded into the realm of reality TV, K-drama, animated, and live-action shows from Netflix,  Disney+, Prime Video, MGM+, Peacock, Paramount+, and Max. When he isn't writing and watching all things MCU, Aeron is heavily invested with the NBA (go Celtics!) and occasionally watches thrilling matches in the WWE.