Bodies is a time travel crime drama from Netflix that features a stellar cast led by Stephen Graham and Shira Haas. 
Created by Paul Tomalin, the British limited series is based on the DC Vertigo comic book of the same name. Bodies explores the story of four detectives in different time periods who discover the same dead body on Longharvest Lane in East London. 
Bodies made its debut on Netflix on October 19. 
Every Main Actor & Character in Netflix's Bodies 
Jacob Fortune-Lloyd - Charlie Whiteman
Jacob Fortune-Lloyd brings Charlie Whiteman to life in Netflix's Bodies. As a detective from London in 1941, Whiteman also has secrets on the side. 
In an official press release from Netflix, Fortune-Lloyd described his character as a "flashy character" who suffers from "anti-Semitism amongst his colleagues:"
"He joins the police force in his area and when we meet him at the beginning of the show he seems a little disillusioned with it. You see him wearing fancy suits and he has a fancy car beyond the means of a detective at the time, so he's a flashy character. He suffers somewhat from anti-Semitism amongst his colleagues but he's young and has risen pretty quickly to the rank of Detective." 
The actor also revealed that Whiteman is "a bit of a lone wolf:"
"He's arrogant so he rubs some people up the wrong way and he is a bit of a lone wolf."
As he gets entangled with the mysterious dead body, the character could be involved in a complex case that even his secrets could end up being unearthed. 
Perhaps best known for his role as Ricky Monke in Prime Video's The Power, Jacob Fortune-Lloyd has an impressive resume of acting credits which include the likes of See How They Run, The Great, and The Queen's Gambit. 
Shira Haas - Iris Maplewood
Shira Haas' Iris Maplewood is a detective from 2053 who gets involved in the complex case of the mysterious body in Longharvest Lane. 
While navigating the dystopian future, Maplewood is also trying to impress her superiors and get promoted. 
Speaking with Netflix, Haas pointed out that her character is a "very passionate and ambitious" detective who lost everything after the tragic debacle that occurred in 2023:  
"She's a detective in the future and she's very passionate and ambitious. She wants to rise through the ranks, not just because of her ambition but because she also believes in the job that she's doing. She was born as a disabled person and basically lost everyone and everything she had [after the 2023 disaster]."
The Israeli actress added, she thinks Maplewood has "the biggest heart" among the characters: 
"Some might say that she is brainwashed, but I have so much understanding and empathy for her and I think she has the biggest heart."
After her breakout role as Esty in Netflix's Unorthodox, Haas is set to make his MCU debut as Sabra in Marvel Studios' Captain America: Brave New World. 
Amaka Okafor - Shahara Hasan
Taking the place of the detective in present-day London is Amaka Okafor's Shahara Hasan. 
After chasing down a killer at Longharvest Lane, Hasan ends up getting entangled with the mysterious corpse along with the other detectives through time. Hasan also has a young son named Jawan. 
In an interview with Netflix, Okafor said that her character has "a massive heart," but it proved to be a disadvantage sometimes since it "often [gets] her into trouble:"
"She has a massive heart and she's led by both her heart and her instinct, which often get her into trouble. What I really love about this is that I am playing a character who has her own story and isn't here just to serve someone else's. She's a real woman and she's a Muslim, but the story isn't about that. It's not like a social commentary or an issue-based piece. She's a woman who's brilliant at her job and who just happens to be Muslim."
As a seasoned theatre and voice actress, Okafor's credits include The Archers, Greatest Days, The Responder, and Grace. 
Kyle Soller - Alfred Hillinghead
Rounding out the detectives involved in the Longharvest Lane case is Kyle Soller as Alfred Hillinghead. 
Hillinghead, who is an investigator from the 1890s, is secretly gay. He's trying to hide his real sexuality while also protecting his fellow citizens from thieves and murderers. 
Soller told Netflix that exploring Hillinghead was "really amazing," noting that the character's story of a closeted, married Victorian male was "fresh and exciting" to tackle: 
"Exploring him was really amazing, delving into the story of a closeted, married Victorian male. It was very common actually, but it's a story that's not told that often – namely the hidden lives of queer society in Victorian Britain, let alone around the world. It was great to dive into this project and explore it in a way that was really fresh and exciting."
Fans may recognize Soller for portraying Francis in Poldark. The actor's other credits include Anna Karenina and Silent Witness. 
Stephen Graham - Elias Mannix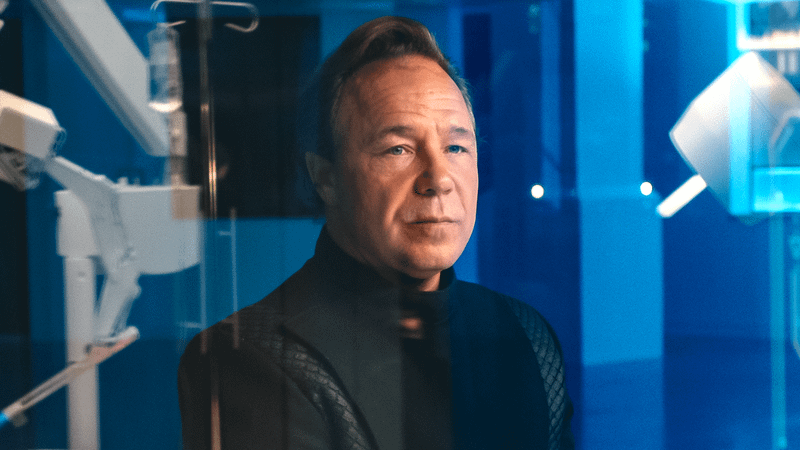 Stephen Graham's Elias Mannix is the leader of the dystopian future where Iris Maplewood resides. As a mysterious head of the complex and twisted society, it seems apparent that not everything is what it seems for Mannix. 
Some fans speculated that Mannix is the series' true big bad. 
Speaking with Netflix, Graham is still tight-lipped about the importance of his character, though he did share that Mannix is the "architect" of this utopian society: 
"He was abandoned as a child and left to fend for himself in the cruel world that he grew up in. He is taken in by this family and he's shown some kind of an understanding of what it is to be loved in a sense. Then he becomes part of a cult and the architect of this twisted, utopian society [in the future]. It sounds mad, doesn't it? But it's a beautiful madness. Beyond that, it's really tricky to talk about the plot as there's a lot there. Even with my own particular journey and my character arc, there's so much that goes on within that."
Whether or not he is the true architect of the Longharvest Lane case remains to be seen though. 
Graham brought Al Capone to life in Boardwalk Empire, and his other famous role is playing Combo in This is England. The actor's other credits include The Walk-In, Line of Dury, and Boiling Point. 
Gabriel Howell - Young Elias Mannix
Gabriel Howell portrays the younger version of Stephen Graham's Elias Mannix. Howell's character appeared in Episode 2 where it was revealed that he crosses paths with Detective Shahara Hasan in the present-day timeline. 
Howell previously appeared in The Fence and Nightsleeper.
Derek Riddell - Chief Inspector Calloway
Chief Inspector Calloway (played by Derek Riddell) appeared in Episode 5 to help a wounded Charlie Whiteman and nursed him back to health. 
After Whiteman demands justice for the death of Esther, he ultimately betrays Calloway by kidnapping the killer, Polly Hillinghead, to seek revenge. However, Calloway is shot and killed by another officer named Hayden Harker. 
Riddell is best known for his role as Richard Cawood in BBC's Happy Valley. 
Emily Barber - Kathleen
Emily Barber's Kathleen serves as Charlie Whiteman's secretary who agrees to keep all of his secrets to herself. 
Barber is known for her roles in Dreamland and Bridgerton. 
George Parker - Henry Ashe
Working as a Victorian journalist in the 1890s, Henry Ashe (played by George Parker) had a mischievous encounter with Alfred Hillinghead after he took pictures of a crime scene in Episode 1.
Ashe, who is also secretly gay, tries to kiss Hillinghead and he almost gets arrested for doing so. However, when it is revealed that he is only taking pictures of another gay couple, Hillinghead sets him free. 
Parker's acting credits include playing Sam Shay in Pennyworth and Prince Vasily in Shadow and Bone. 
Tom Mothersdale - Professor Gabriel Defoe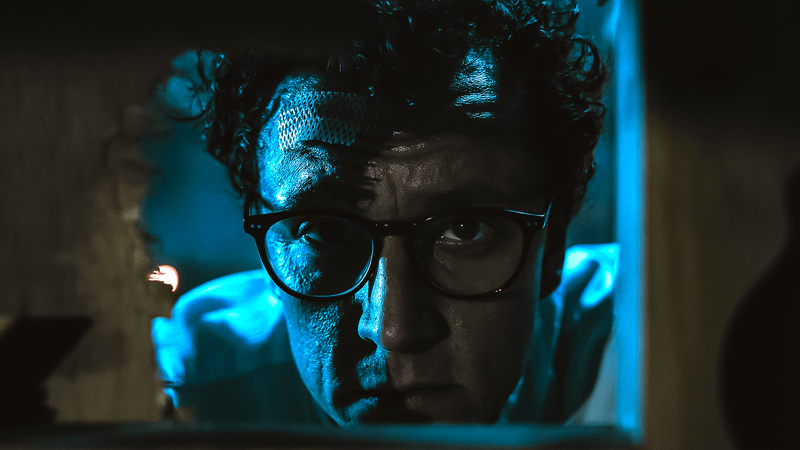 The identity of the mysterious body that the four detectives have been trying to decipher is none other than Tom Mothersdale's Gabriel Defoe. 
In the latter half of Bodies, it is revealed that Defoe is the leader of a group in 2053 called Chapel Perilous, an organization dedicated to bringing down Elias Mannix. 
As a renowned professor, he is able to discover time travel, thus using it as a means to an end in defeating Mannix. But first, he needs to save himself from dying. 
Fans may recognize Mothersdale for his roles in War of the Worlds, A Discovery of Witches, Treadstone, and Alex Rider. 
Michael Jibson - DCI Jack Barber
Michael Jibson's Jack Barber is Hasan's boss in the present-day timeline. 
In Episode 5, Barber took Hasan off the case since he thought that they were simply involved in a fool's errand after finding out that the bodies that she found were nowhere to be found inside the locked chamber in Harker House. 
Jibson is known for his roles in The Essex Serpent, A Discovery of Witches, and The Crown. 
Synnøve Karlsen - Polly Hillinghead
Synnøve Karlsen's Polly Hillinghead is Alfred's music-loving daughter who gets entangled in the case. 
It is eventually revealed that Polly became Elias Mannix's wife in the future, with her being forever devoted to him due to her unending love. 
However, Polly no longer has feelings for Mannix when she discovers that he was the one who gave the call to kill his father, Alfred, in the past. 
Karlsen is best known for playing Jocosta in Last Night in Soho and Cassie in The Midwich Cuckoos. 
Greta Scacchi - The Woman
Greta Scacchi plays The Woman, a.k.a. the mysterious voice at the end of the phone in the show's 1940s timeline. 
It was later revealed that she is actually Alfred Hillinghead's daughter and is seeking revenge against Charlie Whiteman.
Scacchi is known for her roles in White Mischief, The Player, and Heat and Dust.
---
All eight episodes of Bodies are now streaming on Netflix.
---
Aeron is a news/features writer and Content Lead for The Direct who has been working for the site since March 2020. From writing about the inter-connectivity of the Marvel Cinematic Universe to having an extended knowledge about DC TV's Arrowverse, Aeron's expertise has since expanded into the realm of reality TV, K-drama, animated, and live-action shows from Netflix,  Disney+, Prime Video, MGM+, Peacock, Paramount+, and Max. When he isn't writing and watching all things MCU, Aeron is heavily invested with the NBA (go Celtics!) and occasionally watches thrilling matches in the WWE.