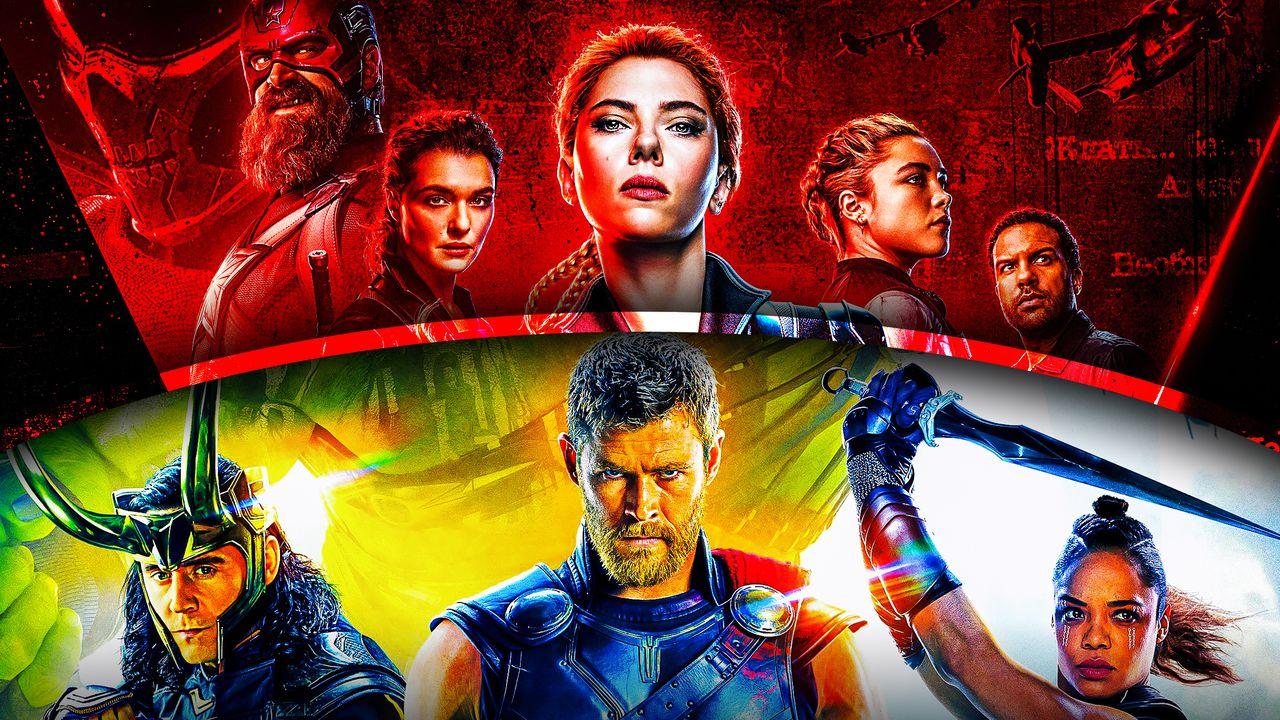 Black Widow is set to kick off the movie branch of the ambitious Phase 4 MCU slate when it premieres on July 9, 2021.
Directed by Cate Shortland, the MCU prequel will feature the return of Scarlett Johansson's Natasha Romanoff, but she will not be alone this time around. Joining Nat in her next adventure is her Russian family from the Red Room which includes Florence Pugh's Yelena Belova, David Harbour's Red Guardian, and Rachel Weisz's Melina Vostokoff. 
Black Widow will be set in between the events of Captain America: Civil War and Avengers: Infinity War, meaning that Nat will be on the run from the Sokovia Accords. This creates numerous story possibilities for the former Russian Spy since Johansson pointed out the fact that Nat is "off her game" during the film. 
So far, marketing for Black Widow already revealed a good chunk of the film's narrative such as the conflict against Taskmaster and Nat's reunion with a mysterious friend named Mason that will be played by O-T Fagbenle. With so much to unpack, a new rumor suggests that the prequel will have enough time to lay out every story beat.
BLACK WIDOW'S UPDATED RUNTIME REVEALED
Amit Chaudhari, a movie insider from India, shared that the updated runtime of Black Widow is rumored to be 2 hours and 14 minutes. 
For context, this is one minute longer than the officially listed runtime that was revealed back in January 2021. In the listing, the runtime was listed as 2 hours and 13 minutes.
This would make Black Widow tied with Black Panther as the eighth-longest MCU movie behind all four Avengers movies, Captain America: Civil War, Guardians of the Galaxy Vol. 2, and Captain America: The Winter Soldier. Also, the film will be one minute longer than Thor: Ragnarok.
BLACK WIDOW'S RUNTIME EXPLAINED
While fans can take this rumor with a grain of salt, this runtime pretty much aligns with the officially released listing that was revealed earlier. In addition, it is also fitting since nearly every MCU film has a runtime that is over two hours. 
It's possible that this runtime is exclusive for international territories, and the earlier reported movie length is for theaters in the United States. There's a chance that a difference in the credits section of the film is the main reason behind the extended length. 
Black Widow has a lot of ground to cover, ranging from Natasha Romanoff-focused flashbacks all the way to the main conflict within the Red Room. The film may also showcase the origin story of the dangerous Taskmaster as well as the heroic transition of Florence Pugh's Yelena Belova. 
The anticipation for Black Widow is high, and it seems that fans will enjoy the upcoming prequel when it drops on Disney+ and in theaters on July 9, 2021.