Being both a collector and Marvel fan are two things that go together perfectly, like peanut butter and jelly. The superhero IP is a consistent source of new items to collect, and with Marvel Studios showing no signs of slowing down, that doesn't seem likely to change anytime soon. People have quite the selection, whether it's statues, Hot Toys, or collectible Funkos.
One example of this is Sideshow's newly announced Black Panther statue, which was released to celebrate the fourth anniversary of Black Panther's release back in 2018.
Another are the recently announced Hot Toys that depict both Alfred Molina's Doc Ock and Willem Dafoe's Green Goblin from Spider-Man: No Way Home. While expensive, both show a unmatched level of detail and may never grow old on one's shelf.
The most extensive sub-section of collecting is arguably held by Funko. Their little figures with tiny bodies and big heads have been a staple in the collecting community for a decade now. They've shown no sign of going away; in fact, they're currently in the midst of an online fan event where they just announced a new Avengers collectible diorama set.
New Infinity War Funko Revealed
Funko Fair 2022, an online fan event, is currently in full swing. One of its biggest announcements included a piece paying tribute to one of Marvel Studios' biggest cinematic movies.
Funko revealed a Walmart exclusive, six-piece diorama set that will all connect to form the Benatar, the ship seen from the introduction of the Guardians of the Galaxy in Avengers: Infinity War.
The first Funko Pop! of the bunch to release will be Chris Pratt's Star-Lord.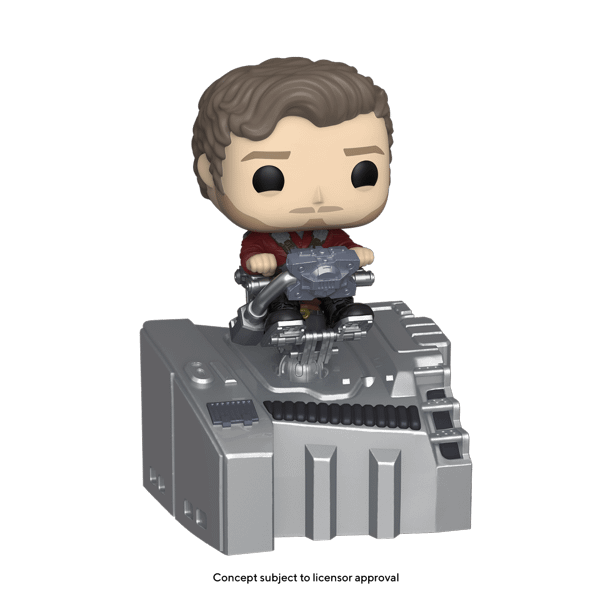 He can be seen having a jolly ol' time as he listens to "Rubberband Man"—though, it's strange there isn't a more notable dancing action sculpted into the figure.
Complete The Guardians' Ship... Eventually
The idea of combinable Funko sets isn't new for the company. For Marvel, there is already a complete diorama out there depicting the iconic circle shot in The Avengers, and the final piece of their famous Shawarma scene just went on sale. Mostly the idea has been related to Marvel projects, though Star Wars does have a Hoth-themed setup.
When combining the concept of these scene-based collections with the expansive library that Marvel Studios has to bring to the table, collectors will quite literally never run out of things to buy—until Funko themselves go out of business. Which, in of itself, is rather unlikely.
It's a shame the first entry for this "Rubber Band" scene set is rather bland. Sure Star-Lord was just sitting in the chair in the movie as well, but the company could have put a little more effort into some sort of action for the figure to do. Hopefully, the rest of the Guardians will have something more unique about them, instead of everyone sitting stoically in their seats.
Audiences can see the Guardians of the Galaxy next in Thor: Love and Thunder, which releases in theaters on July 8, 2022.