On this day, four years ago, Marvel Studios introduced the world to Wakanda for the first time in Black Panther. Audiences followed Chadwick Boseman's titular hero as he returned home after the events of Captain America: Civil War. Little did he know that his ascension to King would run into a bit of turbulence thanks to Michael B. Jordan's Killmonger.
The last time audiences saw the leader of Wakanda was after the Avengers and their allies triumphed over Thanos. He can be seen with his family celebrating the dawn of a new day as fireworks go off over the city.
Now, it's easy to get caught up in the sadness of real-life circumstances that have occurred since the scene first aired. However, instead of letting the weight of the world set in, why not enjoy this newly announced, ultra-detailed statue of the King himself?
Black Panther Gets An Ultra-Detailed Statue
Sideshow Collectibles announced a brand new highly detailed statue of Chadwick Boseman's Black Panther to celebrate the release of the original film four years ago.
The figure sees the hero standing tall while sporting his debut suit from Captain America: Civil War.
A helmeted head can be seen in the initial photos, with those classic silver eyes looking back at viewers. 
The head sculpt will be interchangeable, with the piece including an option to display Black Panther without his helmet on, showing off the likeness of the late Chadwick Boseman.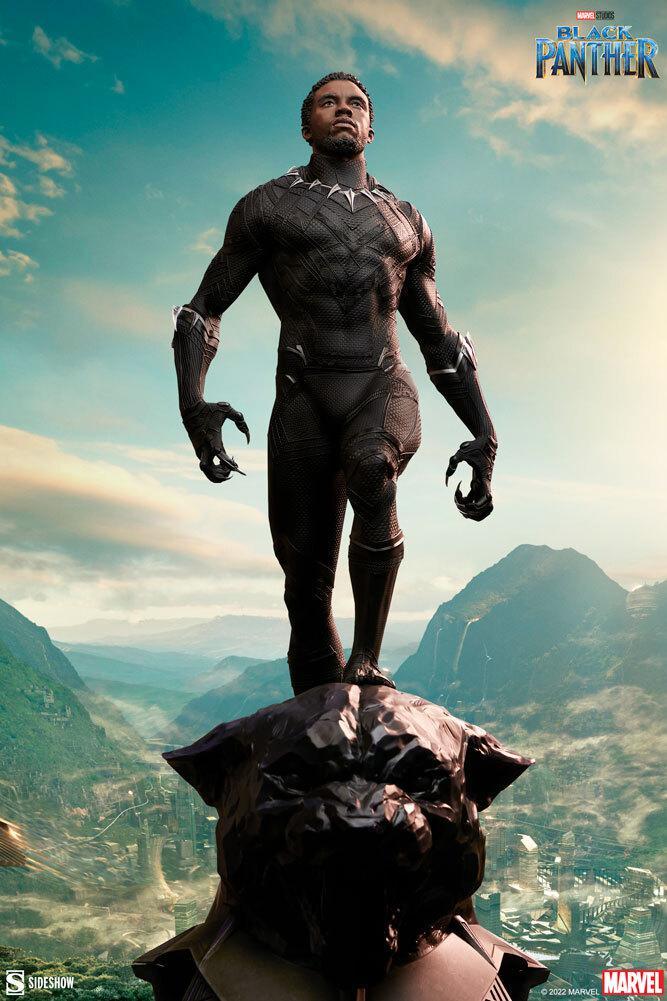 As for the base of the figure, the King is standing on top of the now-iconic Black Panther statue that was first seen in the post-credits scene of Civil War.
Those wanting the statue better have room for it, as it will stand at 26.5" tall, 11.5" wide, and 15" deep. This photo even includes a handy apple for scale.
Celebrating A Wakandan Legacy
While the statue would be great to have in one's collection, the asking price is relatively high—especially since a lot of the detail reads fairly soft. For the price point, one would think the company could have put more work into making it seem higher quality and less plastic-y.
Sure, there is still plenty of detail present, despite lacking some much-needed sharpness. This can mostly be seen in the suit's fabric, with every notch, weave, and fabric transition accounted for.
Lots of that price likely goes into the sheer size and presence of the piece. Standing over two feet tall, it will no doubt catch people's eyes immediately and make for a great conversation starter.
The next time fans can catch up with the world of Wakanda will be with Black Panther: Wakanda Forever on November 11. The movie will reportedly see Letitia Wright's Shuri take a more prominent role and introduce Dominque Thorne's Riri Williams, aka Ironheart, to audiences. Not only that, but they may have to go up against Namor himself—the king of Atlantis.