Warning: This article contains spoilers for Episode 8 of What If...? 
Marvel Studios' debut animated series for Disney+ What If...? has kept with the MCU's Phase 4 central theme of the multiverse, and it hasn't shown any signs of slowing down with the show's latest installment. 
Since its August 11 premiere, What If...? has explored the possibilities of T'Challa as Star-Lord, a zombie apocalypse, Thor as an only child, and more with The Watcher as the audience's guide. 
The most recent episode, titled "What If... Ultron Won?," featured Black Widow's Natasha Romanoff and Clint Barton's Hawkeye as the sole survivors of an escalated Age of Ultron universe where the Avengers failed to stop Ultron from destroying the world.
While all of the stories shown in What If...? belong to different realities, they have echoed what audiences have seen within the MCU so far, including a new twist on that heartbreaking death scene from Avengers: Endgame.
What If's Twist on Black Widow's Endgame Death 
In Avengers: Endgame, Natasha and Clint journey to Vormir during the film's time heist to obtain the Soul Stone, unaware that the price for the Soul Stone is a soul in return.
When they learn what the stone requires, the two fought each other for the chance to sacrifice themselves, with Natasha getting the upper hand and sacrificing herself for Clint and his future with his family. 
In What If...?, Clint lost his family when Ultron released the world's nuclear weapons. So, in an attempt to save Natasha and an Ultron sentry containing Arnim Zola's A.I., Clint was the one to let go of Natasha's hand, sacrificing himself for the greater good. 
Despite the differing circumstances and locations, What If...? reversed the shot from Endgame where Clint is struggling to hold onto Natasha's hand.
The series also mirrored a similar shot from Endgame where, instead of Natasha looking up at Clint before freeing herself from his grasp, Hawkeye is the one looking up at Black Widow.
Clint also tells her "I don't want to fight anymore," while in Endgame, Nat says, "Let me go. It's okay."
What If...? also included a shot of Natasha and her reaching out for Clint as he falls. 
In Endgame, however, this shot is a little different as it's closer to Clint's face as he's suspended over the cliff on Vormir.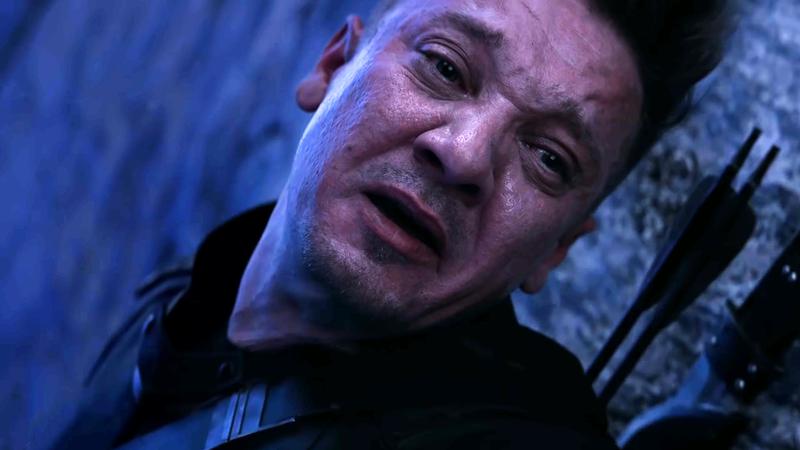 The paralleled scenes from What If...? and Endgame differ more from this point as Clint is shown firing down on the Ultron sentries as he falls. 
Endgame went for a wider shot showing more of the cliff Natasha kicks off of as she begins to fall. 
The final shot of the What If...? sequence also goes wide, showing an Ultron sentry and Clint falling to their deaths above the hundreds of other Ultron sentries.
While different in angle and lighting, this scene does manage to mirror the weight and emotion of seeing a hero's final moments. 
Is What If a Tragic Series? 
What If...? has struck a fascinating balance of presenting parallel scenes from the films that are often shot-by-shot, and then introducing an X-factor that leads to the stories playing out to very different results. 
Therefore, this parallel storytelling device from the show's most recent episode is nothing new for the series, and the same can be said for the surprisingly tragic content. 
In fact, most of What If...? has been on the heavy side in terms of emotion with characters meeting their deaths in various ways most weeks. However, those deaths have largely come through alternate circumstances that the MCU films never explored. 
Nevertheless, this scene between Clint and Natasha was different because it so strongly mirrored what audiences saw in Endgame, just with the two roles reversed. It also offered fans another moment with Natasha and Clint that highlighted their close bond - something that's now a thing of the past within the current MCU.
It's also interesting to note that Natasha's death in Endgame was also a sort of parallel from Gamora's death in Avengers: Infinity War, meaning Marvel fans have witnessed this type of death three different times now between the various MCU projects. 
Still, the events of "What If... Ultron Won?," as well as Clint's sacrifice, are far from over. The happenings of this episode are expected to play out in the next (and final) episode of What If...?'s Season 1, which will premiere on October 6 on Disney+.
LATEST NEWS
TRENDING