Although set photos from The Flash Season 9 offered a glimpse of its Arrowverse villain, the first trailer finally unveiled the official look at Javicia Leslie's evil Batwoman speedster. 
The final season of Grant Gustin's titular speedster is jam-packed with Arrowverse guest stars, and one of them is the Batwoman actress. Leslie will do double duty in the Arrowverse's final batch of episodes as the actress will portray two characters, her own Gotham hero and Red Death. 
Set photos revealed that Leslie's Red Death would team up with a surprising Season 1 villain, spelling trouble for Team Flash and the returning Batwoman.
Now, new footage shed some light on the villain's motivations and a fresh look at the character.
The Flash Highlights Arrowverse's Evil Batwoman
The CW officially unveiled The Flash Season 9's extended trailer, giving fans a taste of what to expect in the Scarlet Speedster's final run. 
Red Death is front and center in the new trailer, with the evil Batwoman looking over Central City as if waiting to strike: 
A closer look at the villainous speedster was also spotted:
An extended look at Barry Allen asking an unknown ally for help was unveiled: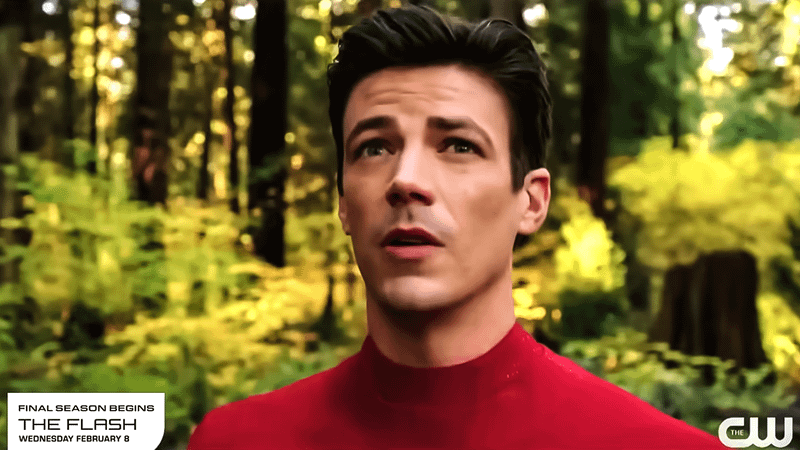 Interestingly, the trailer also showed that Barry is aware of when Iris will become pregnant, teasing a potential ramification toward the timeline:
The trailer then included an intense look at the Flash's battle against the post-Crisis Captain Boomerang:
The full trailer can be seen below: 
Why Red Death Arrives in The Flash Season 9 (Theory)
Although the footage is brief, Javicia Leslie's Red Death looks menacing and scary in the new trailer for The Flash. 
Given that the villain is both a speedster and has the ability and wit of Batwoman, Red Death seems poised to be a formidable foe for Central City's protector. 
Moreover, the trailer also revealed why the Red Death arrives in Central City, confirming that she is around to build a time machine. It remains to be seen why she wants to travel back in time, but it could have something to do with Bruce Wayne. 
In the Arrowverse's Earth Prime, Bruce Wayne's whereabouts are unknown. Red Death could be seeking revenge against Bruce, potentially blaming Batman for why she became an evil speedster.
It's possible that the same Earth where Red Death is from has the same predicament, and holding Central City hostage could force Team Flash to help her build the time machine. 
The Flash Season 9 is set to premiere on The CW on Wednesday, February 8 at 8 p.m. ET/PT.