Marvel Studios is truly showing off its weird and wacky side with What If...? as the multiverse-hopping series explores alternate takes on legendary MCU events and characters. 
So far, the studio has taken inspiration from Captain America: The First Avengers, Guardians of the Galaxy, Fury's Big Week, and Doctor Strange. After a long wait, this week's installment will finally explore a scenario many fans have been anticipating since the first trailer as zombies invade the Marvel Cinematic Universe.
The exact circumstances of their arrival remain unclear, but a newly-released promo appears to have hinted at a Quantum Realm origin for the mysterious virus.
What If...? Promo Teases Quantum Realm Connections
In a post on the official Marvel Studios Twitter account, a new promo has been released for this week's zombie-centric episode of What If...?.
During several shots, a zombified Hank Pym can be seen in his Quantum Realm suit.
At the time of this scene, Pym has already become infected and can be seen attacking Steve Rogers' Captain America.
As the zombie appears to successfully overpower Rogers, this scene will likely depict Captain America's undead transformation.
Hank Pym wearing his Quantum Realm suit potentially indicates the apocalyptic virus could originate from Marvel's microscopic world.
Michael Douglas' retired hero has only been seen wearing this suit as he traveled to rescue Janet van Dyne from the Quantum Realm during Ant-Man and the Wasp.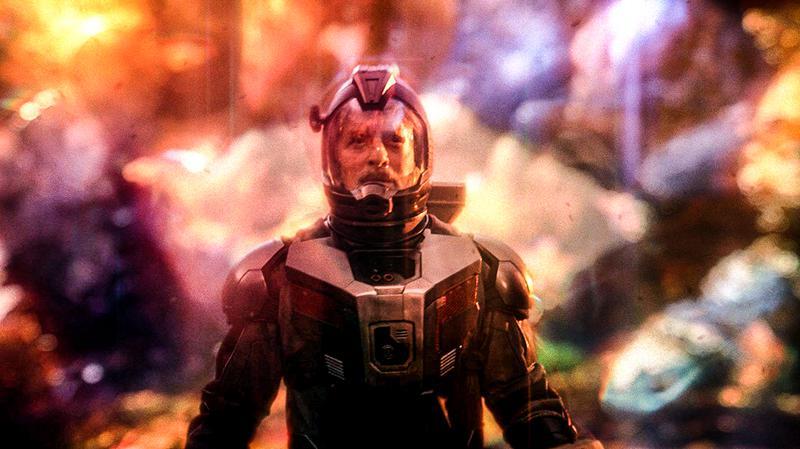 Previously released images showcased an infected Janet van Dyne in the Quantum Realm, potentially indicating Hank Pym may become infected during his rescue mission as the former heroes accidentally spread the virus into the world. 
The episode will take place following the opening of Avengers: Infinity War as Bruce Banner arrives through Heimdall's Bifrost to a drastically different world.
The promo can be seen in the Tweet below:
What If... Zombies?! Discover the answer to the question in a new episode of Marvel Studios' #WhatIf, streaming tomorrow on @DisneyPlus. pic.twitter.com/tU8XoPagVL
Ant-Man and the Wasp's What If...? Scenario
Marvel Studios appears to be putting an alternate spin on the ending of Ant-Man and the Wasp with this week's episode as a powerful virus escapes the Quantum Realm and infects the world. By following Bruce Banner's perspective on the events, viewers will dive right into the middle of the zombie epidemic. 
As last week's Doctor Strange-inspired episode ended on a truly grim note with the destruction of his world, Marvel is clearly happy to end its What If...? tales on a darker note. With the episode likely to explore the surviving heroes' struggle to defeat the zombified hordes, it's entirely possible the infected may ultimately prove victorious.
The first four episodes of What If...? are streaming now, exclusively on Disney+.