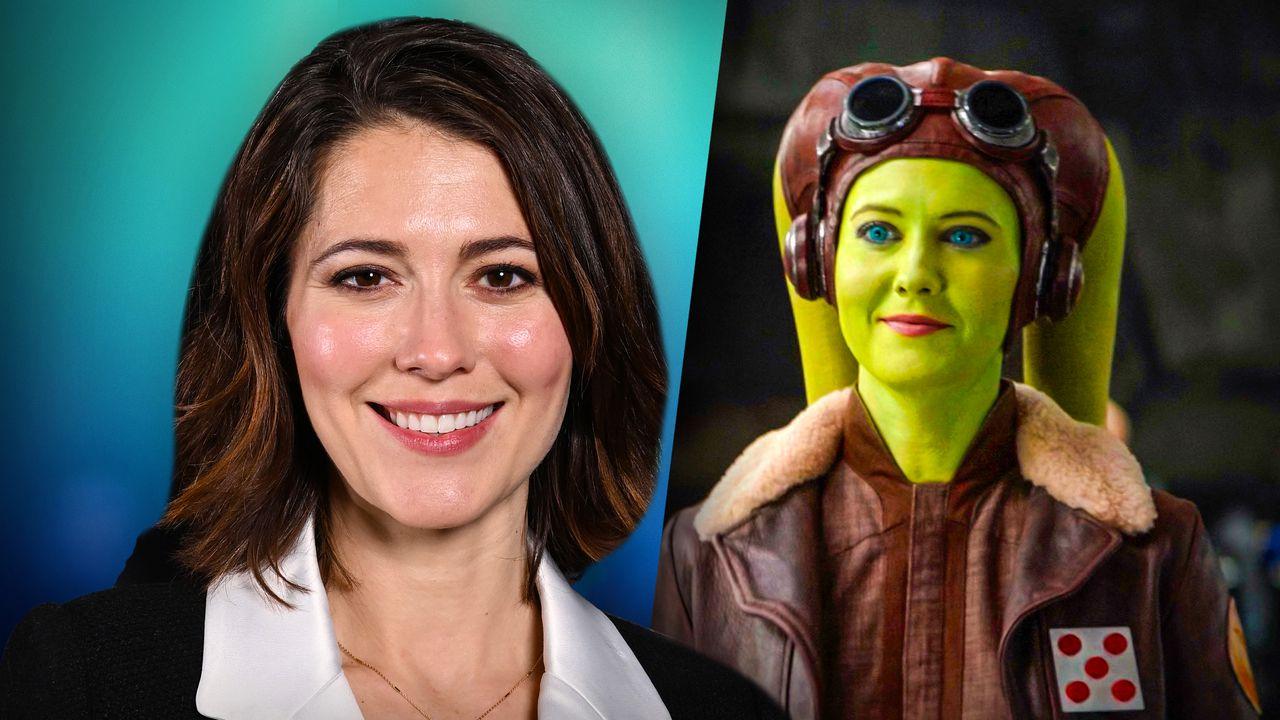 Lucasfilm's Dave Filoni had a Star Wars to-do list for Ahsoka's Mary Elizabeth Winstead.
For those who feel Ahsoka on Disney+ requires audiences to do their animated Star Wars homework, they weren't the only ones. 
According to Winstead, who plays Star Wars Rebels pilot Hera Syndulla in live-action, series showrunner Dave Filoni requested a certain thing from the Ahsoka star before cameras began rolling.
Dave Filoni's Star Wars Homework for Mary Elizabeth Winstead
In an interview with Empire, which was conducted prior to the ongoing SAG-AFTRA strike, Mary Elizabeth Winstead revealed that Dave Filoni gave her a Star Wars Rebels watchlist. 
Star Wars Rebels was a four-season, 75-episode Star Wars animated series set 14 years after Episode III: Revenge of the Sith and leading up to Rogue One: A Star Wars Story.
The show followed a group of rebels prior to the organization of the Rebellion Alliance who was largely led by Hera Syndulla, a talented Twi'lek pilot and now New Republic General. 
According to Winstead, Filoni gave her "a list of episodes and specific scenes" from Star Wars Rebels, specifically those focusing on "how much she loves to fly:"
"Dave gave me a list of episodes and specific scenes. There was a lot of looking at episodes that focused on how much she loves to fly, and the way that turned on her spirit and her energy."
However, Winstead wasn't the only member of Ahsoka's cast asked to catch up on character canon. 
Natasha Liu Bordizzo, who plays Ahsoka's Mandalorian trainee Sabine Wren, also caught up with Star Wars Rebels but decided to stop watching "after we started filming:"
"I did not watch 'Rebels' at all after we started filming. I wanted to separate that whole kind of expectation. I think it's just healthy, because you're finding a different truth in live-action."
While Ahsoka is a semi-Star Wars Rebels spin-off, this new live-action chapter differs in more ways than just its medium. 
Ahsoka's cast is largely made up of women with Ahsoka Tano, Sabine Wren, and Hera Syndulla as its leading cast, along with new female villains as well. 
This fact is something Winstead found both "natural" as well as "incredible:"
"Even though it is so incredibly rare, it just felt so natural. It just didn't really click in my mind until we were a little bit into production, and I was looking around going, 'Oh my gosh, look at all these women. This is incredible.'"
How Ahsoka Acknowledges Hera Syndulla's Rebels Story
Given how integral piloting is to the character of Hera Syndulla, Dave Filoni's request was the best thing he could do to help Mary Elizabeth Winstead prepare for the role. 
But while those Star Wars Rebels episodes focused on her love of flying and the purpose she finds in flight, they likely provided much-needed context for her character's story. 
While it's true that piloting charges "her spirit and her energy," it's important to know she grew up during The Clone Wars before helping form the Rebel Alliance, and she also filled a maternal role for the Rebels crew, making Ezra Bridger's disappearance akin to losing a child
In addition, Hera led the Rebels team with Kanan Jarrus, a former Jedi Padawan and Order 66 survivor with whom she was romantically involved. 
She also witnessed Kanan sacrificing himself to save her and the crew before she gave birth to their son, Jacen Syndulla, who was recently revealed in live-action. 
While Episode 3 of Ahsoka suggested Hera couldn't provide backup to Ahsoka and Sabine, fans are confident Hera will have ample opportunity to showcase her flying skills and see more of what Winstead learned and implemented from watching Hera in Star Wars Rebels.
Ahsoka is currently streaming on Disney+, with new episodes debuting at 9 p.m. ET every Tuesday.