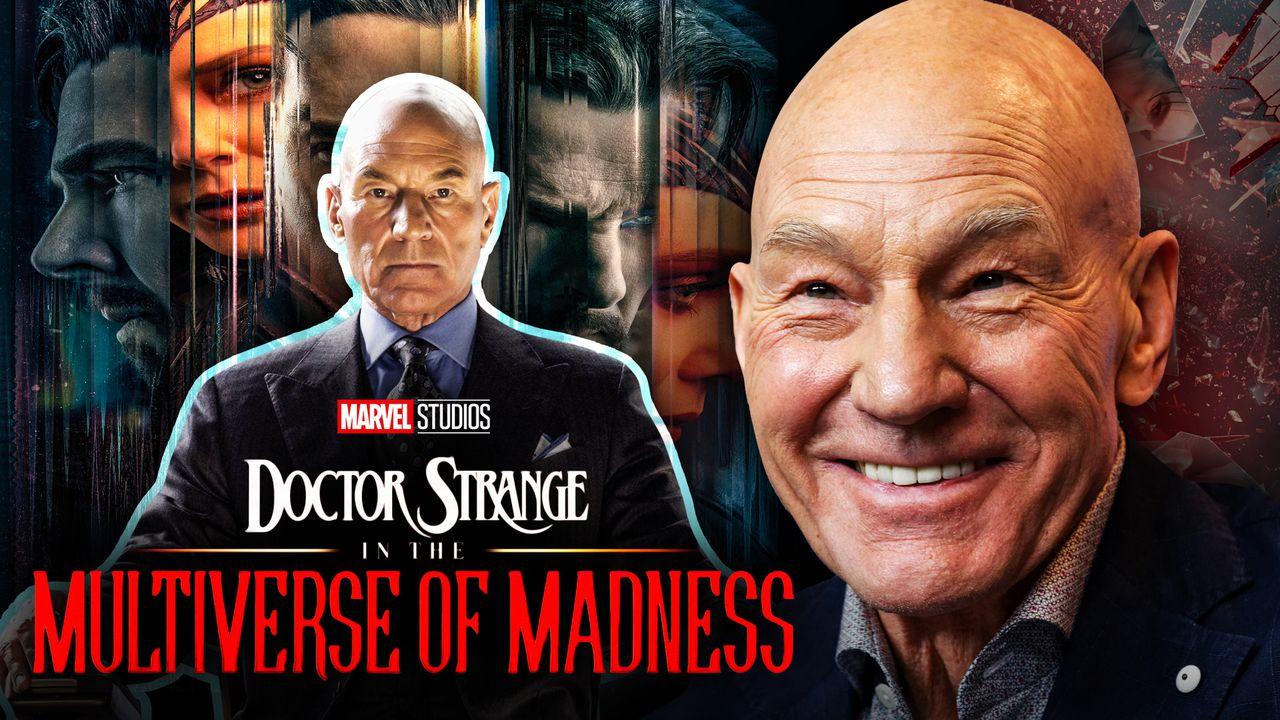 Doctor Strange in the Multiverse of Madness has become the hottest topic on the internet thanks to its second full trailer that debuted at Super Bowl LVI. Piggy-backing off the Multiversal shenanigans that started in Spider-Man: No Way Home, the Doctor Strange sequel could take things to new levels of crazy with its cast. From Patrick Stewart as Professor X to Ryan Reynolds as Deadpool, seemingly anyone who's played a Marvel character is on the table.
Stewart, in particular, has found himself at the center of many conversations thanks to the belief that his voice told an imprisoned Doctor Strange "We should tell him the truth." As the camera moved to what appeared to be the veteran actor's head and shoulder, the possibilities of the Multiverse's expansion shot to new levels of insanity.
Of course, nothing will be confirmed regarding Stewart's inclusion until Multiverse of Madness releases in theaters due to Marvel Studios' constant secrecy, but that won't stop fans from discussing the idea.
Now, the man himself behind Professor X shared his thoughts on the matter, although it didn't lead to any confirmation in the slightest about anything.
Professor X Star Speaks on Doctor Strange Sequel
In an interview with ReelBlend's Kevin McCarthy, X-Men star Patrick Stewart addressed the rumors regarding his return as Professor X in Doctor Strange in the Multiverse of Madness.
When asked if he knew about his trending status online, Stewart admitted to being too busy to look at it, even with how many people were contacting him about the new trailer.
Seemingly joking, he made it clear that he was "at home" getting ready to enjoy the Super Bowl, so there was no way it could have been him:
"I don't look at a lot of social media, and that is mostly a time issue. But, I must say, before bedtime on Sunday evening, I've had plenty of communication, friends and some people I hardly knew at all making reference to 'Is that you?! Is that you?!' Well, of course, you know, I was just at home waiting to watch football, so how could it possibly have been me? So we'll have to wait and see, won't we?"
As for the specific question of whether it was his voice fans heard in the trailer, he alluded to it being somebody trying to imitate his voice in an interview with ComicBook. He looked back to how people have been doing that for the better part of 60 years, claiming no responsibility for that happening in this trailer:
"You know, people have been imitating my voice ever since I came on the stage 60 years ago," Stewart said of the trailer. "So, I can't be held responsible for that."
No Strange Spoilers from Stewart Anytime Soon
Just as Andrew Garfield and others from the No Way Home cast did throughout 2021, Patrick Stewart remains tight-lipped on anything that could be considered a spoiler for Marvel Studios' next blockbuster movie.
Stewart boasts one of the longest superhero movie careers in history, having played Charles Xavier for 17 years between 2000's X-Men and 2017's Logan. It's not out of the realm of possibility for him to still be playing the role after only five years away, but with the X-Men now under Marvel Studios' umbrella, the chance for a reprisal is something that can't be ignored.
Almost immediately after Multiverse of Madness' second trailer debuted, fans were convinced that Stewart's iconic voice was the one heard speaking to the good doctor, especially with rumors pointing to the Illuminati coming into play.
With just over two months until the film premieres, nothing official will come from Marvel Studios either until the film debuts or until the team feels the time is right. However, with an appearance this big on fans' radars, it won't be a topic that fades into the distance any time soon.
Doctor Strange in the Multiverse of Madness is set to debut in theaters on May 6, 2022.